The Franchise King Joel Libava on Full Disclosure in Franchise Content Marketing
Joel Libava is a former franchise broker who became King…  More specifically, The Franchise King®.  Joel consults with people looking to invest in a franchise.  He writes and sells books on franchising.  He helps franchisors tell their stories through sponsored content on his high traffic websites and newsletters.  He is a tireless promoter and aggressive communicator…  But he diligently discloses sponsored content and keeps it distinct from his own independent blog posts and opinions. by Sean Kelly
(UnhappyFranchisee.Com)  Joel Libava is a second-generation franchise guy – His late father was a franchise broker and founder of the firm International Franchise Development.
Joel Libava is the self-crowned* and undisputed The Franchise King®, a tireless communicator and promoter who dons his crown and scepter whenever things start getting too serious.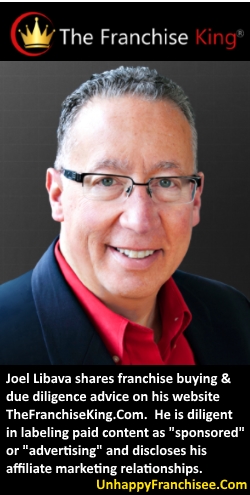 He is a prolific writer, blogger, columnist, content producer and seller of everything from franchise books to consultations and consulting engagements to sponsored content and franchise listings on multiple franchise sites (with his main being The Franchise King®).
* Mr. Libava claims he was actually "crowned" The Franchise King® by the head of the Cleveland Chamber of Commerce, ind informs me that The Franchise King is a registered trademark and should have the ®
I sometimes wince to see some of the franchises promoted on his site (sometimes they simply appear through contextual ads or affiliate links he doesn't control), knowing that they've racked up a goodly number of complaints on UnhappyFranchisee.Com.
But one thing that I have found about Joel is that he is very scrupulous about disclosing promotional and sponsored content, and including notifications about affiliate relationships and promotional links.
In other words, he doesn't use the friendly, jovial and trustworthy persona that he has earned to betray the trust of his readers… many of whom are potential franchise investors.
He lets you know when a blog post is appearing as a paid advertisement as opposed to a personal endorsement.
I sent The Franchise King® links to my first two posts ( NO LIMIT AGENCY & 1851 Magazine: Beyond Ethical Limits?, Nick Powills, 1851 Franchise & No Limit Agency: An Investigation ) on Nick Powills' No Limit Agency which also publishes 1851 Magazine.  In my opinion, this promotional program is highly deceptive, and I wanted to get the King's official decree.
Being the nice guy and benevolent ruler that he is, he declined to speak directly about Powills & 1851 Magazine, but shared his own professional guidelines that he adheres to.
Joel wrote:
I don't know enough about 1851, The No Limit Agency, or Nick Powills to say whether their PR/marketing plans are legit-or if they even work.

It depends how their programs were originally presented. I can only tell you how I do things.

First off, it's important to note that I learned the proper way to disclose marketing relationships from some of the brightest minds in small business and online marketing. That's because there weren't many people in the franchise community who were doing what I was starting to do at the time.

With this in mind, let me share what I do when I have a marketing relationship with a franchisor or a supplier.

When my marketing proposal goes out, I include two super-important things.

A. Any links that go to their website will be "nofollow."

In a nutshell, a "nofollow" link informs search engines to not count the link as a ranking factor. That's because links are used as a ranking factor by search engines, and a link to an advertisers website is considered a paid link, which is a huge no-no.

B. The second thing I state is that the articles I write (that are included in my franchise marketing packages) are clearly marked as "Sponsored" posts. Example

It's a disclosure. It tells readers that the post was paid for.

One more thing, and this has to do with disclosures.

The bottom portion of my website includes important information about how the website-and my company, makes money. It's something that all websites need to have-if they generate income.

The bottom line: Disclose. Clearly.
It really comes down to honesty being the best policy, doesn't it?
I continue to ask Nick Powills to join the conversation and address these concerns, but have heard nothing to this point.
I shall invite him once again to join in open and honest dialogue.  In the meantime, I invite public relations and marketing professionals to weigh in with their opinions regarding full disclosure of payment and authorship in promotional publishing, digital and print.
Joel also weighed in on the Dr. John Hayes Pay-for-Play controversy:  New Book Exposes Lies, Scams, And Pay For Play In Franchising
NOTE:  All companies and individuals discussed on Unhappy Franchisee are invited to submit corrections, clarifications, rebuttals or opinions by commenting on individual pages and/or by emailing us at UnhappyFranchisee[at]Gmail.com.  Thank you in advance for engaging in open and honest debate, as is the American way.
READ The Series "Dr. John Hayes' Franchise Fraud School & Pay-For-Praise Emporium!":
Series Index & Overview: Dr. John Hayes' Franchise Fraud School
Part 1:  Dr. John Hayes & His 12 Amazingly Deceptive Franchises
Part 2: 6 AMAZING Franchise Deceptions of Dr. John Hayes
Part 3:  FASTSIGNS CEO Catherine Monson named Valedictorian, Franchise Fraud School
Part 4:  Dr. John Hayes' Book Reviews Given an "F" for Fraudulent
Part 5:  FASTSIGNS Franchise Deception Seems, Well, Amazing. Comments?
Part 6:  DICKEY'S BARBECUE Franchise Reveals Deceptive Pay-for-Praise Tactics
Part 7:  Dr. John P. Hayes Franchise Books Pulled From Amazon
Part 8:  DENTAL FIX RX Franchise Complaints
Part 9:  The Amazing Franchise That Vaporized: Palm Beach Vapors
Part 10:  United Franchise Group (UFG) Franchise Complaints
Part 11:  NO LIMIT AGENCY & 1851 Magazine: Beyond Ethical Limits?
Part 12:  Nick Powills, 1851 Franchise & No Limit Agency: An Investigation
Part 13:  A PR Firm Should Pitch, Not Impersonate, The Media – Fishman PR
Part 14:  Nick Powill's "Whole Gig is a Scam" – Rhonda Sanderson, Sanderson PR
Part 15:  Franchise King Joel Libava on Full Disclosure in Franchise Content Marketing
FRANCHISE DISCUSSIONS by Company
_____________________________________________________________
OTHER FRANCHISE DECEPTION-FOR-DOLLARS POSTS:
FRANCHISE BUSINESS REVIEW Pay-For-Praise
FBR Franchise Business Review Promoting Illegal Earnings Claims?
Are Franchise Business Review Winners Violating the FTC Act?
FRANCHISE BUSINESS REVIEW: Justify or Retract Your Bogus Franchise Award
Dr. John Hayes Named Dickey's Barbecue Pit one of the 12 Amazing Franchises for 2015.  Here's how things turned out:
Dickey's Barbecue Pit: The Musical
ARE YOU FAMILIAR WITH NICK POWILLS, 1851 FRANCHISE MAGAZINE, & NO LIMIT AGENCY? 
PLEASE SHARE A COMMENT BELOW OR EMAIL US IN CONFIDENCE (UnhappyFranchisee@Gmail.Com).
TAGS: Nick Powills, 1851 Magazine, 1851 franchise, No Limit Agency, BizCom Associates, BizCom Press, Dr. John Hayes, Dr. John Hayes franchise expert, Joel Libava, The Franchise King, unhappy franchisee