Real franchise information – free from PR-agency spin and sugar-coated, sales-driven hype – is hard to come by.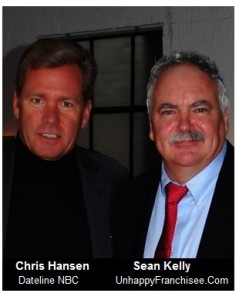 That's why the writer, editors and producers from top business and consumer publications turn to UnhappyFranchisee.Com for the real scoop.
Publications like The Wall Street Journal, Forbes, The Washington Post & Bloomberg Businessweek and media outlets like NPR and Dateline NBC turn to UnhappyFranchisee.com for assistance in getting the insider information and opinions from those in the know:  the franchisees who own and operate the hundreds of thousands of franchises across America.
If you are working on a franchise-related (or blogging related) story and want an alternative to the industry propaganda, contact UnhappyFranchisee.Com publisher Sean Kelly at UnhappyFranchisee[at]gmail.com for a fast and helpful response.
[Left:  Sean Kelly, Publisher of UnhappyFranchisee.Com, provides franchising information and insights to major newsmagazines, such as Dateline NBC. Below: Sean Kelly was featured in the blockbuster expose of 7-Eleven wage theft by Australian Broadcast Company's award-winning "Four Corners"]
[This list is under construction – please check back for updates]
See Which Publications Rely on UnhappyFranchisee.Com and Franchise Expert Sean Kelly
Bagels, fraud and false identities: nationwide scam targets Adams Morgan by Yousef Alshammari  December 13, 2019
Thinking about a franchise? Key mistakes to avoid  by Andrea Coombes  April 19, 2013

Blogs Provide Insight to Would-Be Franchisees by Richard Gibson  March 24, 2009

13 Mistakes New Franchisees Make — And How To Avoid Them by Karsten Strauss May 27, 2014
Bigger than burgers and fries, franchising blamed for low wages  by Chip Mitchell and Shannon Heffernan, WBEX Chicago, April 7, 2014

UnhappyFranchisee.com featured on NPR's Franchising: Behind the Burgers by Chip Mitchell and Shannon Heffernan,   WBEZ in Chicago.

 
Returning from war and turning to franchising By Olga Khazan March 2, 2012
Considering a franchise? Be wary  By Liz Weston, MSN Money  May 1, 2013
Can selling second-hand clothes be profitable?  by Francine Kopun  March 14, 2014

Pass/Fail 8 franchisees claim negative results at USA Mobile Drug Testing

  Julie Bennett March 2013

Entering blogosphere  by Ellen Shubart  March 2007

Attacks from the blogosphere What Cuppy's learned the hard way by Julie Bennett September 2007

Battling the blogs  What to do if you come under a Web attack  Julie Bennett  October 2007

Q&A with Sean Kelly, Franchise Blogger  The Franchising Industry Veteran Discusses His Newest BlogLJN's Franchising Business & Law Alert, August 2008
Financial Trouble Plagues Some Health Club Franchisees  by Stuart Goldman, Executive Editor, February 1, 2008

Butterfly Life Founder Loses Lawsuit Over Free Speech  July 1, 2014  Editor Stuart Goldman

 
Mark Golob Targets Franchisee Speech  2/23, 2014 Corbin Williston

Free Speech Wins! Butterfly Fitness Ex-CEO Mark Golob, Lawyer Nikolaus Reed Lose Defamation Suit against Unhappy Franchisee 6/2/14

Part 2: Freedom of the Press Includes Bloggers

Butterfly Fitness' Timetable of Trouble with California's Regulators

Benefits and Burdens of Owning a Franchise: Westchester County Franchise Owners Face Challenges in a Bad Economy, Offer Tips by Chuck Green with Ben Brody Q1 2013
Press Coverage on Specific Controversies
BOOKS
| | |
| --- | --- |
|   | The Fissured Workplace: Why Work Became So Bad for So Many and What Can Be Done to Improve It  by David Weil |
| | The Legal Environment of Business"Gathering information about many opportunities is difficult.  As in many other areas, the Internet provides some useful sources… horror stories can abound.  Unhappy Franchisee provides many sad tales…"  Roger E. Meiners, Al H. Ringleb, Frances Edwards Cengage Learning, Jan 1, 2014 |
| | |
| | Become a Franchise Owner!: The Start-Up Guide to Lowering Risk, Making Money, and Owning What You Doby Joel Libava   December 6, 2011 |
| | What's Next? Updated: Finding Your Passion and Your Dream Job in Your Forties, Fifties and Beyond by Kerry Hannon |
| | Civility in the Digital Age: How Companies and People Can Triumph over Haters, Trolls, Bullies and Other Jerks by Andrea Weckerle |