Franchise Attorneys: For information on being added to our franchise attorney directory, Contact ADMIN at UnhappyFranchisee.com
Featured Franchisee Attorneys
Leonard A. Bellavia (Click for Profile)

Bellavia, Blatt & Crossett, P.C.

Mineola, NY

Represents: Franchisees

Stanley M. Dub (Click for Profile)

Law Offices of Stanley M. Dub

Cleveland, OH

Represents: Franchisees & Emerging Franchisors

Law Office Of Jonathan E. Fortman, LLC,

St. Louis, MO

Primarily represents: Franchisees

Jeffrey Goldstein (Click for Profile)

Goldstein Law Firm

Washington, DC

Exclusively represents: Franchisees

Partner, Ichter Thomas, LLC,

Atlanta, GA

Primarily represents: Franchisees

Principal at Lagarias Law Offices

San Francisco Bay Area, CA

Represents: Franchisees

Jerry Marks (Profile)

Senior Partner, Marks & Klein, LLP

Red Hook, NJ

Primarily represents: Franchisees

Dan Davis (Profile)

Associate, Ichter Thomas, LLC,

Atlanta, GA

Primarily represents: Franchisees
Franchisee Attorneys by State
California
Peter Lagarias, San Francisco Bay Area, CA
Kevin B. Murphy – Franchise Foundations – San Francisco, CA
Georgia
Cary Ichter, Atlanta, GA
Dan Davis, Atlanta, GA
Missouri
Jonathan Fortman, St. Louis, MO
Minnesota Ronald K. Gardner – Dady & Gardner, P.A. – Minneapolis, MN Among other distinctions, Ron is former counsel for the CFA Curves Franchisee Association (now inactive) and has helped many Curves franchisees negotiate with the franchisor.
New Jersey
Jerry Marks, Red Bank, NJ
Justin Klein, Red Bank, NJ
New York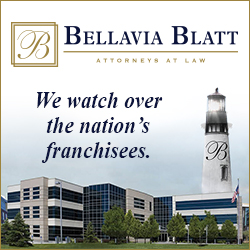 Leonard A. Bellavia  Mineola, NY
Paul Steinberg, New York, NY
Ohio
Stanley M. Dub, Cleveland, OH
Texas
Richard Solomon, Houston, TX
Washington, D.C.
Jeffrey Goldstein