Nick Powills, 1851 Franchise & No Limit Agency
We are investigating the tactics, the ethics and the wisdom of Nick Powills' and No Limit Agency's admittedly clever "hybrid" approach to franchise public relations and lead generation.  Powills and the clients on his testimonial page says it works.  But is it ethical?  Is it legal?  And could it backfire on the clients of No Limit Agency & 1851 franchise magazine? Part 2 of a Series. by Sean Kelly
(UnhappyFranchisee.Com)
In the first 10 parts of our investigation into the booming pay-for-praise and lies-for-loot area of franchise marketing and public relations, we focused on Dr. John Hayes' Pay-for-Praise Emporium and Franchise Fraud School.
Our 11th post (NO LIMIT AGENCY & 1851 Magazine: Beyond Ethical Limits?)  introduced a decidedly less colorful but likely more potentially dangerous pay-for-credibility practice that is being used by the large number of franchise sellers who have signed up with Nick Powills and No Limit Agency, publisher of 1851 Franchise magazine and website.
In that post, we described how No Limit Agency (NLA) and its clients post promotional stories about their franchise opportunities in an online "news" magazine published by Powills and NLA PR staffers posing as journalists.  While 1851 vows to label all paid content as "sponsored," we've found that No Limit Agency/1851 magazine only designates 35%-49% of client content "sponsored" (and even then with just a small tag).
Powills takes the deception so far as to grant franchise website awards, judged by Powills, NLA/1851 staffer Sean Fitzgerald and industry cronies like Michelle Rowan of Franchise Business Review and Craig Slavin, to their own clients… sometimes for websites NLA produced.
Deception Works!  High Praise from 1851 Clients.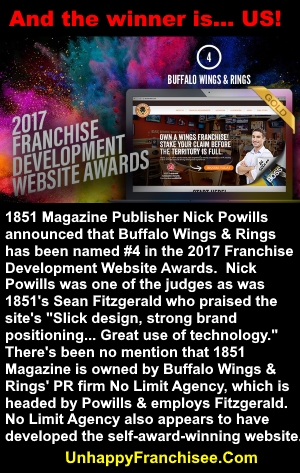 In client testimonials included in the promotional Learn More About 1851 PDF posted on the 1851Franchise.Com website, Chad Tramuta, Franchise Development Manager of Smoothie King, praised the program:
The franchise industry has been waiting for innovation that works.  1851 magazine helped tell our story on way to closing more than 100 deals in 12 months.
Scott Thompson, VP of Development for Premium Franchise Brands, stated:
Hands down the most important development tool in franchising.
Philip Schram, Chief Development Officer of Buffalo Wings & Rings, stated
As the pilot brand for 1851 in 2014, we were able to sell 5 times the franchises that we sold in 2013.
Matt Kelton, Chief Operations Officer, Showhomes stated:
We spent $400 on a specific growth market and sold a franchise.
We can understand why Buffalo Wings & Rings and Showhomes would need the most credibility-for-the-buck at that time, as state regulators expressed concern that their precarious financial situations might keep them from being able to support their franchisees.
California and Minnesota both required Buffalo Wings & Rings to escrow franchise fees for new franchises until they opened, and the 2016 FDD contains this required disclosure statement:
AS OF 12/31/2015, WE HAD ONLY $1 250,927 IN CURRENT ASSETS AND HAD $1,817,493 IN CURRENT LIABILITIES THIS MEANS THAT FOR EVERY DOLLAR OF LIABILITIES DUE WITHIN ONE YEAR, WE HAVE ONLY $0 .69 IN CURRENT ASSETS
The Showhomes 2018 Franchise Disclosure Document (FDD) has this required disclaimer:
THE FRANCHISEE WILL BE REQUIRED TO MAKE AN ESTIMATED INITIAL INVESTMENT RANGING FROM $50,700 to $84,860. THIS AMOUNT EXCEEDS THE FRANCHISOR'S
STOCKHOLDER'S EQUITY AS OF DECEMBER 31, 2016, WHICH IS $1,857.
So that $400 Matt Kelton spent to get to invest in Showhomes was equivalent to 22% of the franchisor's net worth.
How Does No Limit Agency Pitch Deception Marketing?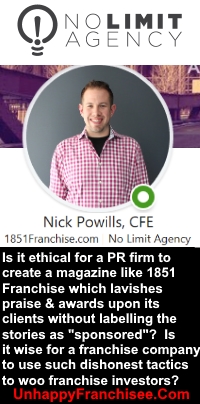 In the explanation of its 1851 franchise marketing scheme, the No Limit Agency-produced page states,  "We take… marketing, advertising, PR, social and digital and blend it together into one."
Traditionally, legitimate magazines and newspapers made a sharp distinction and clear separation between editorial content and advertising, and it has always been considered highly unethical and damaging to the publisher's brand if the two were intermingled.
The Codes of Ethics of Public Relations Associations such as the PR Council and PRSA clearly state that PR firms must act with honesty and transparency, and that paid media placements or paid endorsements be clearly disclosed.
The FTC Rule also requires publishers and advertisers to clearly disclose paid media and endorsements to readers and potential purchasers in order to not be deemed deceptive trade practices.
No Limits Agency is proud of its clever strategy:
… when we create a piece of content, it should extend across all channels.

A press release can be turned into a media pitch, repositioned into an article to use on one of our two content marketing platforms, serve as the foundation of a social media campaign and be visually represented in an infographic.
Unfortunately, Nick, a press release – which is a communication clearly marked as being from either a company or that company's public relations agency – CANNOT be ethically "repositioned" as an article written by an imaginary, objective 3rd party and published on a "content marketing platform" created by a PR firm to look like a legitimate industry publication.
So the Nick Powill's amazing "innovation" that Mr. Thompson says the franchise industry has been waiting for, seems to be the abandonment of the clearly and legally required boundary between paid (but undisclosed) advertorials and earned media coverage from legitimate and credible publications.
No Limit Agency: Deceiving Investors With Fake Articles in a Fake Magazine
The graphic below is from the 1851 Promotional PDF on the 1851franchise.com website.  (We have added closed-captioning translations in black & red to aid the ethics-impaired)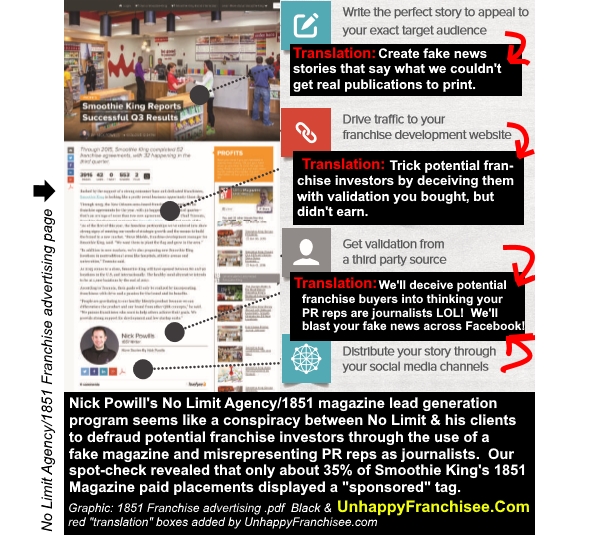 No Limit Agency gives clients flexible options to match their credibility buying needs.
$1,000 per month gets 1 fake story, $3,000 buys 3 fake stories per month, and those in need of even more obfuscation can call for custom pricing…
Sign up with 1851 and you will get to publish glowing, fake articles that look like they were written by actual journalists (but weren't) about your franchise opportunity.
The promotional .pdf entitled "About 1851" lays out the program:
"Each brand that joins 1851 receives a dedicated page to host content on a 3rd party industry website, earning instant credibility."
The dedicated page is a subdomain with a URL like SmoothieKing.1851Franchise.Com that features all the pay-for-play articles directed by the franchise seller, but that looks like part of a industry magazine called "1851 Magazine."
The "instant credibility" comes from the fact that all the wonderful things the franchise sellers say about themselves in the articles are made to look like the opinions and research of actual bylined journalists (with titles like "1851 staff contributor" or "1851 Editor") but are actually No Limit PR account executives, content writers, or even graphic designers.
1851 claims that all paid-for content is labeled as "Sponsored" content, but that's simply not true.
The example article in the Smoothie King graphic above contains no "Sponsored" content label.
In fact, we reviewed 93 promotional articles published about Smoothie King in 1851 magazine in 2016.
Only 33 (35%) of the Smoothie King articles were labeled as sponsored content.
(31.8% of Famous Toastery articles were labeled "Sponsored" as were less than half of Buffalo Wings & Rings' paid content.)
Many of the franchise sellers post the 1851 stories on Twitter and Facebook as if they are real, earned stories, and many display the 1851 feed on their websites not as press releases or blog posts, but as Franchise News.
Opinions Invited:  Isn't Fraud "Repositioned" as Truth is Still Fraud?
I don't know Nick Powills and have never dealt with him personally or professionally.
I admire his energy and his eagerness to promote his clients.
I might have found his cute YouTube videos in which he and his sidekick Cassie toss M&M's in each other's mouths or play Connect4 endearing except for two things.
The first is that I've reviewed the Glassdoor reviews from former employees who describe No Limit PR as a high-pressure, telemarketing boiler room with a terrible reputation among legitimate media.  Comments from former employees give a consistent description:
"It's not really an Agency, it's some sort of PR/Cold Calling Franchise marketing company."

"It's not a real company. All the PR/Advertising/Marketing tactics are gimmicks…"

"This 'Agency' does NOT do PR. The account team is forced to spam media outlets by making blind-sided sales calls all day long. No relationship building with the media in any way… This business has ZERO credibility in the PR/Communications world."

"A call center gig – not a traditional PR job as advertised"
The second is that what Nick Powills appears to be doing, in my opinion, is helping questionable franchise companies create an image of credibility that they haven't earned – with the goal of deceiving, if not defrauding, franchise investors.
And while Nick Powills, No Limit Agency, and 1851 Franchise Magazine may seem to be advancing the brand images of their clients, aren't they also setting them up to be criticized and exposed for questionable representations and fraudulent inducement of franchise investors?
I welcome opinions from all viewpoints and all sides of this issue.  Comment below or send an email to unhappyfranchisee[at]gmail.com.
READ The Series "Dr. John Hayes' Franchise Fraud School & Pay-For-Praise Emporium!":
Series Index & Overview: Dr. John Hayes' Franchise Fraud School
Part 1:  Dr. John Hayes & His 12 Amazingly Deceptive Franchises
Part 2: 6 AMAZING Franchise Deceptions of Dr. John Hayes
Part 3:  FASTSIGNS CEO Catherine Monson named Valedictorian, Franchise Fraud School
Part 4:  Dr. John Hayes' Book Reviews Given an "F" for Fraudulent
Part 5:  FASTSIGNS Franchise Deception Seems, Well, Amazing. Comments?
Part 6:  DICKEY'S BARBECUE Franchise Reveals Deceptive Pay-for-Praise Tactics
Part 7:  Dr. John P. Hayes Franchise Books Pulled From Amazon
Part 8:  DENTAL FIX RX Franchise Complaints
Part 9:  The Amazing Franchise That Vaporized: Palm Beach Vapors
Part 10:  United Franchise Group (UFG) Franchise Complaints
Part 11:  NO LIMIT AGENCY & 1851 Magazine: Beyond Ethical Limits?
FRANCHISE DISCUSSIONS by Company
_____________________________________________________________
OTHER FRANCHISE DECEPTION-FOR-DOLLARS POSTS:
FRANCHISE BUSINESS REVIEW Pay-For-Praise
FBR Franchise Business Review Promoting Illegal Earnings Claims?
Are Franchise Business Review Winners Violating the FTC Act?
FRANCHISE BUSINESS REVIEW: Justify or Retract Your Bogus Franchise Award
Dr. John Hayes Named Dickey's Barbecue Pit one of the 12 Amazing Franchises for 2015.  Here's how things turned out:
Dickey's Barbecue Pit: The Musical
ARE YOU FAMILIAR WITH NICK POWILLS, NO LIMIT AGENCY, OR 1851 MAGAZINE? 
PLEASE SHARE A COMMENT BELOW OR EMAIL US IN CONFIDENCE (UnhappyFranchisee@Gmail.Com).
TAGS: No Limit Agency, No Limit PR, No Limit Agency franchise marketing, 1851 magazine, 1851 Franchise, 1851 Project, Nick Powills, Sean Fitzgerald, Buffalo Wings & Rings franchise, Philip Schram, Nader Masadeh, Chad Tramuta, Smoothie King franchise, Scott Thompson, Premium Franchise Brands, Jan-Pro franchise, Matt Kelton, Showhomes franchise, franchise public relations, pay-for-praise, pay-for-play, franchise PR agency, franchise marketing agency, unhappy franchisee