6 AMAZING Franchise Deceptions of Dr. John Hayes
Dr. John Hayes claims he's an internationally respected franchise expert.  He claims that he has identified the 12 most amazing franchise opportunities and written a book about them.  He claims that that book's a best seller inspiring wildly enthusiastic positive reviews.  The world's leading franchise expert and best-selling author couldn't be lying his ass off… could he?
(UnhappyFranchisee.Com)  by Sean Kelly
Yesterday I posted an overview of a publishing venture by the esteemed Dr. John Hayes, in conjunction with Scott "Scooter" White, CEO of BizCom Press and BizCom PR.
Previous Post:  Dr. John Hayes & His 12 Amazingly Deceptive Franchises
Next Post: FASTSIGNS CEO Catherine Monson named Valedictorian, Franchise Fraud School
The public face of this venture is a book authored, supposedly, by Hayes entitled "12 Amazing Franchise Opportunities – Second Edition."  (The first edition was "12 Amazing Franchise Opportunities for 2015")
I did some digging into John Hayes & BizCom's publishing operation with the help of some cooperative inside sources.
Here are the deceptive practices I uncovered.  I would like to hear your honest opinion:  Are these guys engaged in harmless puffery or are they, as I feel at this moment, borderline sociopaths running a fraud school?
What do you make of this?  Please leave a comment below, or email me in confidence at UnhappyFranchisee[at]Gmail.com.
Deception #1:  That Dr. John Hayes Selected "12 Amazing Franchises" Based on Merit
The author and publisher claim that the two "12 Amazing Franchise Opportunities" books are the result of the objective research and analysis into 3,000 franchise opportunities, and the selection, by an internationally respected expert, of the most impressive 12 opportunities available.
According to a February, 2018 press release from publisher and publicist BizCom:
"[Dr. John Hayes] masterfully compiles and presents a cadre of concepts destined for greatness, providing readers with a qualified funnel from over 3,000 franchise concepts down to 12 that are worthy of consideration," writes Dr. Benjamin C. Litalien, CFE, founder and president of FranchiseWell, in the book's Foreword.
However, UnhappyFranchisee.Com has obtained a promotional flyer that clearly indicates that the book is a pay-for-play advertising opportunity, akin to a book-length advertorial, presented publicly as an objective business book.
The target audience for the promotional pitch includes franchisors and other franchise sellers.
The headline reads:  "Promote your Amazing Franchise opportunity in the next book by Dr. John P. Hayes."
Under the subhead "Delivering value far beyond the cost," the BizCom offers franchisors the opportunity to be named an "Amazing" franchise for a low-low price:
The cost to include a chapter about your franchise opportunity in Amazing  Franchise Opportunities (2018) is only $5,000.

The book will be published in both e-Book (automatically downloadable) and paperback formats.
For the $5,000 fee, franchisors were also promised exposure in the book'-based PR campaign, a custom cover and downloadable ebook they can post on their website and use as a marketing tool, and five paperback copies with more available at a discounted price reserved for Amazing franchisors.
To view the flyer, click here: 12 Amazing Franchise Opportunities Sales Flyer (PDF)
Deception #2:  That John Hayes Wrote "12 Amazing Franchise Opportunities"
Not only did the franchisors pay to be included in the book supposedly authored by Dr. John Hayes, they were required, it seems, to provide the copy for their own chapters.
According to the flyer:
Here's how it works

If your story meets our criteria as an Amazing Franchise Opportunity, you will provide  us with a 2,000 – 2,500 word article about your business along with up to three high-quality photographs and your company logo.

We'll give you guidelines for  preparing the article, or for an additional fee we can write the chapter for you.

Once we receive your chapter, Dr. Hayes will edit the text and offer suggestions to  help improve the sales potential, but you will have the final approval of your story…

Dr. Hayes will also write the book's Foreword to emphasize why you and the other franchisors included in the book represent Amazing Opportunities.

He will also write  an introduction that proceeds your chapter in the book…
March 6, 2018, Plano, TX–based copywriting service Positively Proofed tweeted:
Positively Proofed
@CleanCopy411

So proud to contribute as a copy editor and writer of recently released "12 Amazing Franchise Opportunities – Second Edition." This is a must-read for anyone considering buying a franchise.  S/o to @BizComPR
So the franchise companies wrote their own chapters.  Positively Proofed did the copyediting.
In addition to the chapters supplied by the 12 amazing franchises, the book is padded with seemingly generic, possibly recycled articles like so many available for free on the Internet("Is Franchising Right For You?" "How to Investigate Before You Invest in a Franchise," "How to Succeed With a Franchise Broker").
It's unclear how much, if any, original authoring that author Dr. John Hayes did on this book.
Deception #3:  That The Promoted Franchise Opportunities Are "Amazing"
I have skimmed over the 23 franchise opportunities identified by Dr. John Hayes as "amazing" and found that some might be good, most are run-of-the-mill, several are questionable, a few are ludicrously bad and none, arguably, are amazing.
They are pretty much what you'd expect from selection criteria that seems to boil down to 1) Has access to $5,000, 2) Is willing to give it to BizCom/Dr. John Hayes.
The 2018 Amazing Franchise Opportunities list includes the following:
Xpresso Delight.  An Australia-based coffee vending franchisor with NO operating experience, track record, brand recognition in the U.S. market.  Began bid for U.S. expansion in late 2017. Franchisees will have to pay for automated coffee equipment, place them for free in participating offices, provide the coffee and "all consumables except fresh milk" and service each machine each week at no charge to the business.  For all this capital and time commitment, the franchisee receives a "small per-cup fee" collected by the franchisor. Their book section includes a possible FTC earnings claim violation. (See below)
Lime Painting.  A Denver area residential painting company that started offering franchises in late 2017.  Lime Painting looks like a nice painting company, but appears to have no operational franchise experience, no track record, and no name recognition outside of the Denver/Boulder market.  Nice folks, but the most amazing thing about them is how hard they bought into Dr. John Haye's franchise marketing schtick  (radio show, book, video). Their book section includes a possible FTC earnings claim violation. (See below)
River Street Sweets – Savannah's Candy Kitchen.  Another inexperienced franchisor with a limited track record and no name recognition outside their current markets.  The company began franchising in 2015, and rather than taking a controlled, efficient, regional expansion approach the first franchise locations were opened in scattershot locations from Pooler, Georgia to Key West, FL to Lancaster, PA and soon Texas and New York.  Another rookie mistake was the inclusion of its company-owned sales revenue in its self-written chapter, likely a violation of FTC regulations prohibiting undisclosed Financial Performance Representations (earnings claims). (See below)
Dr. John Hayes' first edition of "12 Amazing Franchise Opportunities for 2015" included one of the worst franchise companies with one of the highest franchisee failure rates of recent history (the Dickey's Barbecue Pit franchise) and one franchise company that disbanded last year due to regulations imposed by the FDA (Palm Beach Vapors).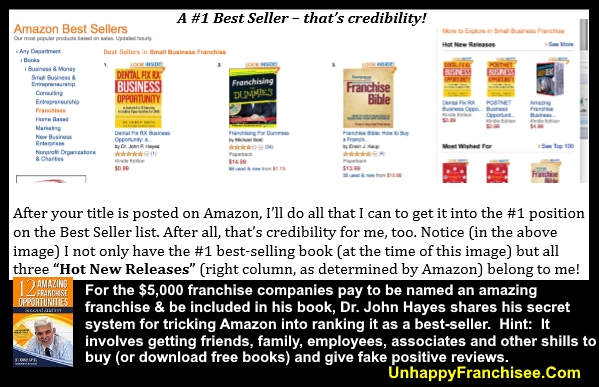 Deception #4:  That John Hayes' Books are Amazon "Best-Sellers"
As part of Dr. John Hayes' Franchise Deception-for-Dollars service, he coaches participating franchisors on his system for artificially manipulating the Amazon system to get "best-seller" status – without even having to sell a single book honestly and legitimately.
In John Hayes' internal coaching materials (obtained by UnhappyFranchisee.Com), he explains that there is an initial "review" stage when the book is first posted with a review price of .99.
Dr. Hayes instructs:
Anyone can buy the book on the sales page, then return to the sales page to post the review (see image below).

Ask your sales team, your admin team, your support team, family, friends, franchisees, etc. to review the book….

Get people to buy the book and review it.  It is against Amazon's policy to pay people to review the book, but we can ask (I often beg!) people to buy and review the book.
Dr. John Hayes directs franchisors to use shill purchasers and shill reviewers during the review, free-giveaway and sales stages to inflate both the sales ranking of his books and to create bogus positive reviews that will add credibility to both his publications and, supposedly, the franchise opportunities.
He celebrates the case study of FASTSIGNS successful effort to deceive Amazon, book customers and prospective franchisees:
Literally within an hour of FASTSIGNS' marketing team learning that Amazon had posted the FASTSIGNS Business Opportunity ebook, the team went to work to solicit reviews of the book. They asked members of their Home Office Team, members of their Franchise Sales Team, and members of their Franchise Network to go to Amazon.com, purchase the ebook (purposely priced at 99 cents to attract reviewers), and review it . . . once the ebook began selling, and readers posted reviews, the title moved into the #1 position on the Amazon Best Seller list for the Small Business Franchise category.  As of this writing, the title has kept that position for 3 days – that's extraordinary because the list is updated hourly!
Read Dr. John Hayes' How Franchisors Can Generate More Leads Coaching Sheet for 2015 franchisor group
Read Dr. John Hayes' Helping You Sell More Franchises By Building Credibility For Your Brand! Coaching Sheet for 2015 franchisor group
Deception #5:  That Dr. John Hayes' Has ANY regard for the Truth
Dr. John Hayes' comfort with and enthusiasm for deception is truly a thing to behold.
It's actually kind of scary.
He gleefully tells the franchisors who paid to be in his book:
After your title is posted on Amazon, I'll do all that I can to get it to the #1 position on the Best Seller list.

After all, that's credibility for me, too.

Notice (in the above image) I not only have the #1 best-selling book (at the time of this image), but all three "hot new releases" (right column, as determined by Amazon) belong to me.
It does not seem to occur (or matter) to Dr. John Hayes that does NOT have the #1 best-selling book, and likely never has.
To be best-selling, at least to rational people, a book must be actually purchased by actual consumers who intend to actually read it.
The accomplishment that has Hayes so jubilant is that he used a system of shill purchases, shill reviews, and free downloads to create the illusion of having a best-selling book.
He instructs franchisors to deploy this system of deception – just as he encourages all to have employees, family, friends and Amazon "reviewers" to leave shill reviews – without once acknowledging the blatantly dishonest and unethical nature of those actions.
Nowhere in the materials I've reviewed did Dr. John Hayes, Scott White, or BizCom provide guidance on promoting his main or the branded spin-off books to legitimate readers who would actually purchase, read, and provide candid comments on the book.
Deception #6:  That Dr. John Hayes Will Help Build – Not Endanger – Your Franchise Brand
Dr. John Hayes, Scooter White and the BizCom gang claim their deceptive "12 Amazing Franchise Opportunities" program will help build a franchisor credibility and brand.
I think the opposite is true – and believe that they are putting their franchisor clients in danger both of possible reputation-damaging publicity and adverse legal action.
I took a hard look at what the BizCom gang was up to after a savvy entrepreneur asked for my opinion.  "This book reads like brochure copy," he said, and asked me to take a look at it.
It's now clear that brochure copy is exactly what the franchisor-written chapters are.  The entrepreneur lost all respect for these 12 franchise companies and Dr. John Hayes when he realized he had been sold a business book that was actually an undisclosed paid advertorial.
The danger of looking unethical
I actually have had a positive view of FASTSIGNS and thought it was a decent franchise concept and company.
I was confused as to why FASTSIGNS would actively participate in the Pay-For-Praise services provided by John Hayes, BizCom, and, separately, FBR Franchise Business Review.  CEO Catherine Monson's testimonial for John Hayes' book as a brand builder and her gleeful admission of the use of shill commenters and book purchasers are confusing and troubling.
Do FASTSIGNS and Catherine Monson really have so few legitimate accomplishments that they need to pretend they were selected for Hayes' book?  Is it really worth the negative press they might get if it turns out they paid for the endorsement – but didn't disclose it?
Of even greater concern is the damage snake oil peddlers and charlatans like Professor Dr. John Hayes do to young, neophyte franchisors who think they've found a trusted advisor and mentor.
Not only will Dr. Hayes unburden them from any excess funds that could be put toward more legitimate purposes, but it appears he is fine exposing them to legal risks as well.
The danger of not disclosing paid endorsements
The Federal Trade Commission (FTC) requires businesses to clearly indicate and disclose when a celebrity or industry expert making an endorsement or recommendation has received compensation of any kind.  Dr. John Hayes is clearly endorsing the 12 amazing franchises in each book, and it appears that he is being paid, but there's no disclaimer or disclosure statement to be found.
Not only would this appear to put all involved in danger of legal action by the FTC, the attorneys of franchisees whose buying decision may have been influenced by John Hayes' endorsement of their amazing franchise can cry fraudulent inducement, as these franchisors are not disclosing that they, in fact, paid John Hayes and BizCom to crown theirs as an amazing franchise opportunity.
The danger of illegal Franchise Performance Representations (FPR)
The FTC also forbids franchisors from furnishing sales and earnings representations unless they are clearly substantiated and documented Financial Performance Representations in Item 19 of the company's Franchise Disclosure Document (FDD).  While I am not an attorney and do not have access to all of these companies' FDDs, there are numerous representations in these books that look like potential illegal earnings claims, such as:
"[Lopez's second location] resulted in sales of $5.5 million in sales revenue and $1.4 million in gross profit in Lime's first four years." (Lime Painting)
"Within two weeks the business had earned a quick $2000."  (Xpresso Delight)
"The two retail store chains  are comprised of more than 18 stores with joint revenues exceeding $35 million" (River Street Sweets – Savannah's Candy Kitchen)
Franchise Industry Professionals:  Isn't Enough Enough?
One of windbag Dr. John Hayes' gazillion "best-selling" books is titled "7 Dirty Little Secrets of Franchising."
I can guarantee that the good doctor ain't disclosing the real dirty little secrets of franchising, such as the secret that hundreds of new franchisors appear each year, sign up for International Franchise Association (IFA) conferences and exhibit at trade shows, hire industry gurus and con-sultants like Dr. John Hayes, and PR firms like BizCom, listen to their malarkey until they run out of money and are replaced by new, bright young faces with hot new concepts that look a lot like the hot new concepts they just replaced.
Windbags like Dr. John Hayes and pay-for-praise peddlers like Eric Stites of Franchise Business Review (FBR) attend speak at IFA events and greet new franchisors like magic bean sellers greeting rubes on the Boardwalk.
Puffery is one thing, but what Dr. John Hayes, Scott White and BizCom PR are doing here is promoting outright fraud.
My question for franchise industry professionals is:  Why do we let them?
READ The Series "Dr. John Hayes' Franchise Fraud School & Pay-For-Praise Emporium!":
Part 1:  Dr. John Hayes & His 12 Amazingly Deceptive Franchises
Part 2: 6 AMAZING Franchise Deceptions of Dr. John Hayes
Part 3:  FASTSIGNS CEO Catherine Monson named Valedictorian, Franchise Fraud School
Part 4:  Dr. John Hayes' Book Reviews Given an "F" for Fraudulent
Part 5:  FASTSIGNS Franchise Deception Seems, Well, Amazing. Comments?
FRANCHISE DISCUSSIONS by Company
DOCUMENTS CITED IN THE SERIES:
12 Amazing Franchise Opportunities Sales Flyer (PDF) (selling chapters for the 2018 book)
John Hayes's Coaching Sheet on Manipulating Amazon: FASTSIGNS (2015)
John Hayes' Coaching Sheet on Using Shill Amazon Purchases & Reviews (2015)
OTHER FRANCHISE DECEPTION-FOR-DOLLARS POSTS:
FRANCHISE BUSINESS REVIEW Pay-For-Praise
FBR Franchise Business Review Promoting Illegal Earnings Claims?
Are Franchise Business Review Winners Violating the FTC Act?
FRANCHISE BUSINESS REVIEW: Justify or Retract Your Bogus Franchise Award
Dr. John Hayes Named Dickey's Barbecue Pit one of the 12 Amazing Franchises for 2015.  Here's how things turned out:
Dickey's Barbecue Pit: The Musical
ARE YOU FAMILIAR WITH DR. JOHN HAYES & HIS PUBLICATIONS, SCOTT WHITE, BIZCOM PUBLISHING AND/OR ANY OF THE 23 AMAZING FRANCHISES THEY ARE TOUTING? 
PLEASE SHARE A COMMENT BELOW OR EMAIL US IN CONFIDENCE (UnhappyFranchisee@Gmail.Com).
TAGS: Dr. John Hayes, Dr. John Hayes franchise expert, Scott White, Bizcom Press, 12 Amazing Franchises, franchise books, franchise fraud, franchise marketing, bad franchises, FASTSIGNS franchise, franchise scams, fake news, Catherine Monson Fastsigns, Joe Malmuth, United Franchise Group, Robert A. Spuck, Farm Stores Franchising,  Scott Mortier, Dental Fix RX, unhappy franchisee