Dr. John Hayes & His 12 Amazingly Deceptive Franchises
Dr. John Hayes, self-described franchise expert and "best-selling" author, claims that he has narrowed down 3000 possible offerings to just 12 AMAZING franchise opportunities… which he shares with prospective investors in his new "best-selling" book.  Is "12 Amazing Franchise Opportunities Second Edition" a legitimately researched and honestly presented book… or is it a deceptive for profit sham designed to mislead prospective franchise buyers … in possible violation of the Federal Trade Commissions rules regarding paid endorsements?
(UnhappyFranchisee.Com)  by Sean Kelly.  This is the first post in a series exploring the Franchise Deception-for-Dollars segment of the Franchise Industry.
Read Part 2 here:  6 AMAZING Franchise Deceptions of Dr. John Hayes
Investing in the wrong franchise can result in crippling financial and personal devastation.
Individuals and families who suffer a franchise failures often suffer the loss of retirement and college funds, personal savings, credit scores and assets.  Those who invest in a franchise and fail often find themselves facing bankruptcy, and sometimes lose their family homes to foreclosure.
And the fallout from trusting the wrong franchise company isn't just financial.  Franchise owners who recruited family members as investors often have those relationships damaged or lost altogether, and many marriages can't withstand the strain caused by with a failing or failed franchise business.
For this reason, prospective franchisees are often desperate to find a trusted advisor who can guide them safely to sound and sensible franchise opportunities, and away from flawed, dubious or deceptively marketed franchises.
Through his massive and ongoing online propaganda effort, Dr. John Hayes portrays himself as that honest and honorable advisor prospective franchise owners can trust… the would-be entrepreneur's guru in shining armor.
Dr. John Hayes: A Legitimate & Honest Franchise Advisor?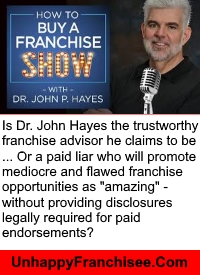 Dr. John Hayes claims franchise buyers should trust him because he is "one of the world's most published authors and speakers on the topic of franchising" and is the "Titus Chair for Franchise Leadership and director of the Titus Center for Franchising at Palm Atlantic University in West Palm Beach, Florida."
He claims to have written more than 20 books on franchising, many of them "best-selling," and that he's been a successful franchisee, franchisor and franchise advisor.
A few years back, Hayes published a book called "12 Amazing Franchise Opportunities for 2015."  In January, 2018, BizCom Press released the second edition of the book.
According to the promotional press release for Dr. John Haye's "12 Amazing Franchise Opportunities – Second Edition,":
"[Dr. John Hayes] masterfully compiles and presents a cadre of concepts destined for greatness, providing readers with a qualified funnel from over 3,000 franchise concepts down to 12 that are worthy of consideration," writes Dr. Benjamin C. Litalien, CFE, founder and president of FranchiseWell, in the book's Foreword.
He claimed that he had reviewed the 3000 available franchise opportunities and funneled them down to just 12 "amazing" franchise opportunities.
He used his status as supposed franchise guru to assure prospective franchise owners that these were credible companies, and that their franchise concepts were among the safest and best-poised for growth.
Dr. John Hayes' Recommendations Influence Franchise Buyers, Franchisors Say
According to some franchisors featured in the book, prospective franchisees trusted Dr. John Hayes enough to contact these "amazing" franchise companies and, in some cases, invest tens or even hundreds of thousands of dollars on the franchises that Dr. Hayes' claimed to have researched and thoroughly vetted before recommending.
Scott Mortier, Vice President of Business Development for franchisor Dental Fix RX, states that within weeks of publication he sold a franchise "to a credible lead who came directly from the book!"
Joe Malmuth, Vice President of United Franchise Group, states "my goals are not only to find quality entrepreneurs, but to also produce validation and credibility for our brands, and Dr. Hayes and his book have been a fantastic resource that has brought us further credibility and expert validation…"
Robert A. Spuck, Director of Franchise Development for Farm Stores Franchising, LLC, states "We all know how hard it is to get a prospect to fill out a form giving us contact information. We have posted a free download of '12 Amazing Franchise Opportunities' on our website and… our lead flow has been terrific."
Franchisors reported that having been selected for Hayes' book boosted the credibility of their franchise offering in the eyes of prospective owners, and bestowed such ancillary benefits as being mentioned in the almost unanimously glowing Amazon book reviews.
Catherine Monson, CEO of FASTSIGNS International, Inc., wrote "The book served as a catalyst for people to comment not only about the content of the book, but also about the benefits of owning a FASTSIGNS franchise. It was a very effective way to gain credibility for the brand, and those comments remain on Amazon.com forever! We also enjoyed working with BizComPress as they helped our team coordinate an effective publicity campaign centered around the book."
Dr. John Hayes' 23 Amazing Franchise Opportunities
2015 Edition

2018 Edition

America's Swimming Pool Co.(ASP)
Farm Stores
Mr. Appliance
Pinot's Palette
Wingstop

Camp Bow Wow
Jon Smith Subs
LINK Staffing
Office Pride
Sandler Sales
River Street Sweets
Xpresso Delight
Zerorez
Scott White & BizCom Press Declare Dr. Hayes' Books a Huge Success!
According to BizCom Press, publishers of John Hayes' books, the two editions of "12 Amazing Franchise Opportunities" and related spin-off books were immediate best-sellers that have earned nearly unanimously positive reviews and ratings from Amazon customers.
So Dr. John Hayes and the CEO of BizCom Press, Scott "Scooter" White, seem to have created a Win-Win-Win situation for all involved.
Hayes & White, it would seem, receive the accolades and handsome book-sale revenue that come with a string of Amazon bestsellers.
Readers, most of whom are would-be franchise owners, get the benefit of trustworthy recommendations from a reknowned expert – and insider tips on which hot franchises have the least risk and greatest earnings potential.
And the 23 hand-selected, carefully vetted franchise companies get the recognition they deserve for the vision, insights, refinements and flawless execution it takes to create a truly amazing franchise opportunity.
It's Win-Win-Win… Unless They're All Lying…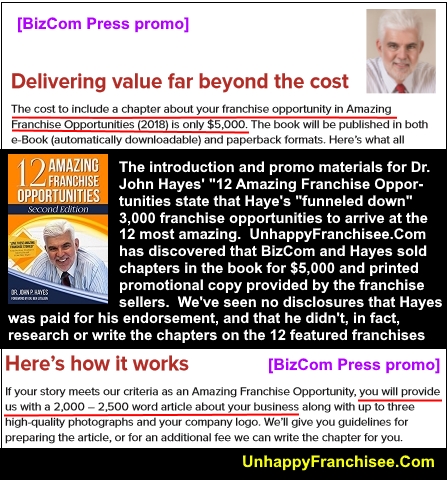 It's rare when the planets align in such a way that good people are able to come together in such a way that benefits not only each other, but the wider world as well.
And here we have these good and ethical experts like John Hayes and Scott White bringing together the creators of amazing franchise opportunities who are willing to share their success secrets and support with the good, creditworthy franchise shoppers doing their due diligence on the Internet.
It's a beautiful thing.
Unless, of course, it's all a lie.
Unless, of course, Dr. John Hayes and Scott White are really greedy opportunists who have recruited franchisors whose own real-world accomplishments and franchise concepts are not enough to win over prospective franchisees…
Unless, Hayes & Bizcom tempted those franchise sellers with an offer to artificially boost their credibility in the eyes of prospective franchise owners… putting them at the potential risk of being exposed for using a deceptive, paid endorsement without the required disclosures.
And unless Dr. John Hayes sold the desperate and/or inexperienced franchisors a tool and a system designed to trick prospective franchise owners into thinking that these select franchise opportunities have been thoroughly researched and recognized – by a leading expert – as superior to 2988 competitors, including some of the world's largest companies.
What if they are simply lying?
If that is the case, Dr. John Hayes would have created a WIN-LOSE-LOSE scenario in which only he and his partner Scott "Scooter" White would come out enriched.
If my suspicions prove correct, this raises some important questions about those who enable or allow such predatory practices.
If this does turn out to be a Franchise-Deception-for-Dollars scheme, would the franchise industry, including those 2988 competitors, still let such douchebaggery go unchallenged… and continue to allow Dr. John Hayes to present himself to franchisors & franchise prospects as a respected and trustworthy franchise expert?
And would the Federal Trade Commission – which forbids companies from displaying paid endorsements unless they are clearly disclosed as such – not crack down on such a flagrant and unconscionable effort to defraud the public?
Those are questions we'll be seeking to answer in the next installment of the Franchise Deception-for-Dollars series… so check back soon.
READ The Series "Dr. John Hayes' Franchise Fraud School & Pay-For-Praise Emporium!":
Part 1:  Dr. John Hayes & His 12 Amazingly Deceptive Franchises
Part 2: 6 AMAZING Franchise Deceptions of Dr. John Hayes
Part 3:  FASTSIGNS CEO Catherine Monson named Valedictorian, Franchise Fraud School
Part 4:  Dr. John Hayes' Book Reviews Given an "F" for Fraudulent
Part 5:  FASTSIGNS Franchise Deception Seems, Well, Amazing. Comments?
ALSO READ:
FRANCHISE DISCUSSIONS by Company
OTHER FRANCHISE DECEPTION-FOR-DOLLARS POSTS:
FRANCHISE BUSINESS REVIEW Pay-For-Praise
FBR Franchise Business Review Promoting Illegal Earnings Claims?
Are Franchise Business Review Winners Violating the FTC Act?
FRANCHISE BUSINESS REVIEW: Justify or Retract Your Bogus Franchise Award
Dr. John Hayes Named Dickey's Barbecue Pit one of the 12 Amazing Franchises for 2015.  Here's how things turned out:
Dickey's Barbecue Pit: The Musical
ARE YOU FAMILIAR WITH DR. JOHN HAYES & HIS PUBLICATIONS, SCOTT WHITE, BIZCOM PUBLISHING AND/OR ANY OF THE 23 AMAZING FRANCHISES THEY ARE TOUTING? 
PLEASE SHARE A COMMENT BELOW OR EMAIL US IN CONFIDENCE (UnhappyFranchisee@Gmail.Com).
TAGS: Dr. John Hayes, Dr. John Hayes franchise expert, Scott White, Bizcom Press, 12 Amazing Franchises, franchise books, franchise fraud, franchise marketing, bad franchises, FASTSIGNS franchise, franchise scams, fake news, Catherine Monson Fastsigns, Joe Malmuth, United Franchise Group, Robert A. Spuck, Farm Stores Franchising,  Scott Mortier, Dental Fix RX, unhappy franchisee .