Are Franchise Business Review Winners Violating the FTC Act?
Hundreds of franchise companies attempt to assure franchise buyers that their franchise opportunity is a safe investment by prominently communicating that Franchise Business Review has named them a "Top Franchise" according to franchisee satisfaction.  Are those who pay Franchise Business Review legally required to disclose their FBR award as a paid endorsement subject to the FTC Act?
(UnhappyFranchisee.Com)  Is your franchise company using its Franchise Business Review ranking or award (FBR50, FBR Top 200 Franchises, etc.) in your franchise sales and marketing effort?
Have you paid Franchise Business Review for services related to its ranking and promotion of your company as a top franchise?
Are you aware that the Federal Trade Commission (FTC) requires advertisers to disclose all paid endorsements?
Is a Franchise Business Review Ranking or Award a Paid Endorsement Requiring Disclosure?
The Federal Trade Commission publishes numerous guides and warnings stating that advertisers must clearly disclose the nature of paid endorsements to consumers.
What constitutes a paid endorsement?
The FTC instructs those providing endorsements::
If your audience thinks that what you say or otherwise communicate about a product reflects your opinions or beliefs about the product, and you have a relationship with the company marketing the product, it's an endorsement subject to the FTC Act.
Franchise Business Review regularly communicates its belief that its award winners have the highest franchisee satisfaction rankings.
Many, if not all, award recipients have a relationship with the company.
The FTC states:
…if there's a connection between an endorser and the marketer that consumers would not expect and it would affect how consumers evaluate the endorsement, that connection should be disclosed… The same is usually true if the endorser has been paid or given something of value to tout the product. The reason is obvious: Knowing about the connection is important information for anyone evaluating the endorsement.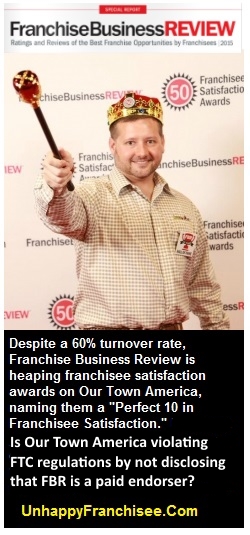 Franchise Business Review claims that it is not paid for surveying franchisees, and refuses to disclose whether how much they charge award winners and participants for "consulting" or quarterly access fees.
When asked about the financial arrangement between FBR and the award winners it promotes on its website and in its published guides, FBR President Michelle Rowan said "we do not feel obligated to share any information about who has, or has not paid, for the service. It's not relevant to our lists or reports."
It certainly seems likely that Franchise Business Review awards and rankings may meet the criteria of an endorsement subject to the FTC Act.
What do you think?  Should Franchise Business Review award recipients disclose their financial arrangement with the company in their promotions and press releases?
Has your franchise attorney reviewed this issue and stated an opinion?  Share your opinion or findings in a comment below.
FTC:   Advertisers Are Responsible for Clear and Conspicuous Disclosures of Paid Endorsements.
If FBR's award, ranking or advertising of a company does, in fact, require disclosure, the FTC states that the advertiser is responsible for making sure that the disclosure is "clear and conspicuous."
It seems the advertiser wouldn't be off-the-hook for claims being made by FBR in their guides or elsewhere.  the FTC states:
Your company is ultimately responsible for what others do on your behalf. You should make sure your public relations firm has an appropriate program in place to train and monitor members of its social media network. Ask for regular reports confirming that the program is operating properly and monitor the network periodically. Delegating part of your promotional program to an outside entity doesn't relieve you of responsibility under the FTC Act.
What steps has your company taken to make sure that you do not violate FTC regulations in your advertising relationship with Franchise Business Review?  Share a comment below.
Franchisor Forced to Offer Franchisees Rescission Over Claims in FBR Special Report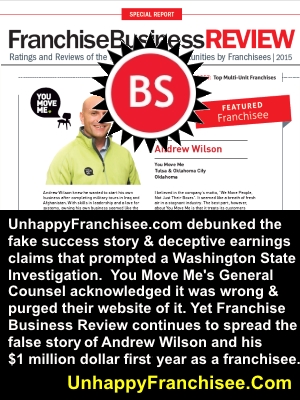 While this example is not directly related to the topic of disclosing FBR awards as paid endorsements, it serves as a cautionary tale for those who think that they will not be held responsible for representations made within the Franchise Business Review special reports which, in our opinion, intentionally provide paid advertising content in the guise of objective editorial articles.
In 2016, the California Department of Corporate Oversight issued a Notice of Violation against O2E Brands You Move Me franchise company and required them to offer rescission of their franchise agreements over undisclosed earnings claims planted in what seemed like a candid franchisee interview in an FBR Multi-Unit franchise guide.
The Notice of Violation against You Move Me LLC states:
Franchisor offered or sold franchises to residents of California from March 2014 through May 2015 by advertising unlawful financial performance representations that were not disclosed in the franchise disclosure document and failing to disclose materials facts regarding the business experience of the franchisor's first franchisee Andrew Wilson in violation of Section 31201 of the Code.

The liability to the franchisor is that franchisees may sue for damages suffered as a result of the violation of Section 31201
Franchisors should take note that they can be held accountable for violations of state and federal violations, even if those violations are disguised as inadvertent and under the control of what seems like and independent, reputable research report.
RELATED READING:
Federal Trade Commission Links on Endorsements:
FTC Endorsement Guides:  What People Are Asking (PDF)
The FTC's Endorsement Guides: What People Are Asking
Franchise Business Review:
FRANCHISE BUSINESS REVIEW Pay-For-Praise
FRANCHISE BUSINESS REVIEW, Eric Stites Threaten Defamation Suit Against UnhappyFranchisee.Com
UnhappyFranchisee.com Responds to Eric Stites, Franchise Business Review's Legal Threat
You Move Me – A Bogus Success Story
YOU MOVE ME Franchise Brian Scudamore Making Illegal Earnings Claims?
FRANCHISE BUSINESS REVIEW Promotes Illegal Earnings Claims Disavowed by Client
MODE Franchise Award
FRANCHISE BUSINESS REVIEW: Justify or Retract Your Bogus Franchise Award
Struggling MODE Franchise Wins Franchisee Satisfaction Award. Seriously.
UnhappyFranchisee.Com
FRANCHISE DISCUSSIONS by Company
Thanks and Praise for UnhappyFranchisee.Com
ARE YOU FAMILIAR WITH FRANCHISE BUSINESS REVIEW, ERIC STITES, MICHELLE ROWAN?  DO YOU THINK ADVERTISERS SHOULD DISCLOSE FBR AWARDS ARE PAID ENDORSEMENTS?  SHARE A COMMENT BELOW.
TAGS: Franchise Business Review, FBR, FBR50, Eric Stites, Michelle Rowan, FTC, Federal Trade Commission, Paid endorsements, Online Endorsements, , Fake Franchise News, MODE franchise, Ciara Stockeland, O2E Brands, Brian Scudamore, You Move Me franchise, IFA, International Franchise Association, unhappy franchisee, UnhappyFranchisee.Com