Struggling MODE Franchise Wins Franchisee Satisfaction Award. Seriously.
Ciara Stockeland's MODE retail franchise seems mired in turmoil with franchise agreements ending in terminations, take-backs and lawsuits.  How is it that MODE and the Franchise Business Review claim that it has one of the highest franchisee satisfaction rates in the country?
(UnhappyFranchisee.Com)  The MODE Designer Fashion Closeout Prices website proudly declares
MODE Named Top Franchise for 2017!

MODE has been named a Top Franchise for 2017 from Franchise Business Review! We've been rated an Outstanding Brand by our very own Franchisees!  Want to know more about the FBR50?  Check out their video to learn about how MODE was honored and what this means!
In the accompanying video (posted in its entirety below), Franchise Business Review President & COO Michelle Rowan makes these representations:
Every year we survey thousands of franchisees to gauge their satisfaction…

We ask them critical questions about their brand's leadership, training and corporate support, marketing and promotional programs, communication, technology, and product development and innovation.

We also measure their financial performance and their overall satisfaction with the brand.

Would they recommend the franchise to others?

And if they had to do it all over again, would they still invest in the brand today?

We use this data to formulate their franchisee satisfaction score and to name our satisfaction award winners.

Our awards tell the true story of franchising:

Where are the franchisees most satisfied… and which brands offer the best opportunities for success.

They are the brands with the highest franchisee satisfaction, the brands with the best training and support for franchisees,  the brands that care enough to ask their franchisees what they really think.

Just as important as the brands that are on our list are the brands that aren't.  A franchise cannot buy its way onto our list through sponsorship or advertising dollars.

What matters is performance, and we measure it the best way you can:  by surveying franchisees.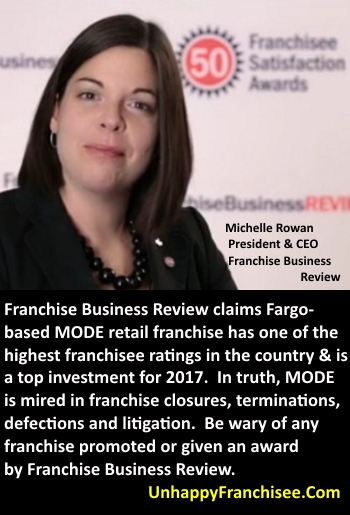 Franchise Business Review claims that it surveys MODE franchisees with more than 30 questions each year, that it analyzes their financial performance, and that their satisfaction is so great that they've been named as Best Emerging Franchise  in 2015 and to their Top Franchise List by Franchisee Satisfaction for 2016 and 2017.
MODE Franchisees Are So Happy They Are Closing, Rebranding, and Countersuing?
Yesterday, we published our findings that MODE franchise disclosure documents indicated that approximately 9 MODE stores had been either closed or had their franchise agreements terminated, reacquired, or ceased operation for other reasons.  The franchisor has filed a lawsuit against a MODE franchisee in South Carolina, and that franchisee has filed a countersuit for fraud, violations of franchise law, and more.  Read it here:
Ciara Stockeland, MODE Franchise: A Fake Success Story?
It seems perplexing that in the midst of what seems like all-out internal discord, MODE is promoting that it has higher franchisee satisfaction than 3000-4000 franchise companies.
To hopefully clear up the confusion, UnhappyFranchisee.Com is reaching out to MODE founder & President Ciara Stockeland & Franchise Business Review President and COO Michelle Rowan to explain:
When were MODE franchisees surveyed by Franchise Business Review?
How many MODE franchisees were sent surveys each time?  How many completed the surveys?
Were terminated franchisees or those who recently left the system for other reasons included in the surveys?
Can you provide a summary of the results of each survey?
For transparency purposes, how much has MODE paid Franchise Business Review in the previous 5 years for related or unrelated services?
MODE Franchise Owners & Former Owners:  Are You the Most Satisfied in the Country?
UnhappyFranchisee.Com is also asking MODE franchisees (past & present) to confirm their high satisfaction level on a confidential basis.
MODE franchisees are invited to rate their satisfaction using the same grading scale and categories used in the Franchise Business Review summary.
We've also added three questions.  Please email your answers to UnhappyFranchisee[at]gmail.com
MODE Franchisees (Past & Present):
HOW DO YOU RATE YOUR OVERALL SATISFACTION WITH THE MODE FRANCHISE PROGRAM?
Please rate each franchise area using this numerical scale:
5 excellent  4  very good  3  good  2  average  1  poor
Training & Support?
Franchise System?
Leadership?
Core Values?
Franchisee Community?
Self-Evaluation?
Financial Opportunity?
General Satisfaction?
Overall (average)
Additional Questions:
– Would you recommend the MODE franchise opportunity to a close friend or relative?
– If you could do it over again, would you invest in the MODE franchise opportunity?
– If you are a former franchisee, how much do you estimate you made or lost by investing in the MODE franchise?*
Please include store or stores owned and time frame of ownership.
Individual numbers will not be publicly disclosed – only an average if 3 or more are received.
Please copy and paste and submit via email to UnhappyFranchisee[at]gmail.com
DO YOU AGREE THAT THE MODE FRANCHISE IS A TOP FRANCHISE OPPORTUNITY FOR 2017?  WHY OR WHY NOT?  SHARE YOU OPINION BELOW.
At MODE, we do more than simply partner with our franchisees from a business perspective. We mentor each and every franchisee and go above and beyond to ensure they have the necessary skills to become leaders in their communities and the authors of their own success story.

MODE President Ciara Stockedale, 7/19/16, "How to Increase Franchise Opportunities for Women"  International Franchise Association website
"We make a tremendous effort to increase profitability for our franchisees. We understand that if they are successful, we are successful," says Stockeland of MODE. "We receive weekly store reports and monthly P&L statements from each of our franchise locations that we compile and analyze on a monthly and quarterly basis. After reviewing the data internally, our Franchise Relations Director visits with each owner to discuss their highs and lows, their goals, and their struggles."

Ciara Stockeland, Franchise Business Review, Best Emerging Franchise Report 2015
ALSO READ:
FRANCHISE DISCUSSIONS by Company
ARE YOU FAMILIAR WITH CIARA STOCKELAND & THE MODE FRANCHISE OPPORTUNITY? WHAT DO YOU THINK?  SHARE A COMMENT BELOW.
TAGS: Ciara Stockeland, Jim Stockeland, MODE franchise, MODE franchise opportunity, MODE Clothing, MODE discount fashions, MODE franchise complaints, MODE lawsuit, Ciara Stockeland lawsuit, Franchise Business Review, FBR, FBR50, Michelle Rowan, fake franchise news, fake franchise success story, unhappy franchisee