FRANCHISE BUSINESS REVIEW, Eric Stites Threaten Defamation Suit Against UnhappyFranchisee.Com
Franchise Business Review claims that it "brings transparency to the franchise industry" by interviewing thousands of franchise owners and publishing objective rankings of franchise companies by their franchisee satisfaction.  Yet when Unhappy Franchisee asked why they claim a fledgling franchise with a 50% franchise failure rate could be among the top franchises for 2017, CEO Eric Stites threatened us with a lawsuit for defamation.
(UnhappyFranchisee.Com)  by Sean Kelly, Publisher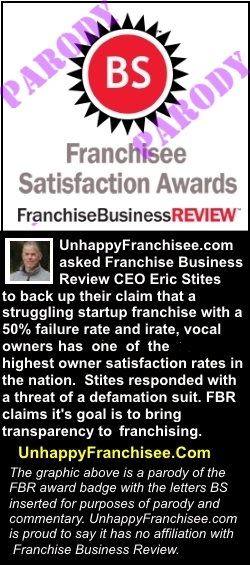 I guess I've gone too far this time.
It's Monday morning… I haven't even finished my second pot of coffee and I've been threatened with a defamation lawsuit by a pillar of the franchise community, Franchise Business Review CEO Eric Stites.
Over the weekend, I committed the most the sin against Eric Stites and fair damsel Michelle Rowan that the franchise industry propaganda and fake news machine considers unforgiveable:  I asked questions.
In an email sent to FBR's Stites and Rowan, I crossed the thin blue line by asking for clarification about their claim that the troubled MODE franchise chain, which has 8 locations open and an estimated 9 that have closed, been terminated and/or reacquired, could be deemed one of the top franchise opportunities for 2017 based on the satisfaction of their franchisees.
I wrote:
Ima Franchisee  Mar 25 (2 days ago)

to Eric, mrowan

Eric & Michelle:

Hoping that you can answer some of the questions raised in these posts about your claims regarding the MODE franchise opportunity.

Ciara Stockeland, MODE Franchise: A Fake Success Story?

Struggling MODE Franchise Wins Franchisee Satisfaction Award. Seriously.

Could you please explain:

When were MODE franchisees surveyed by Franchise Business Review?
How many MODE franchisees were sent surveys each time?  How many completed the surveys?
Were terminated franchisees or those who recently left the system for other reasons included in the surveys?
Can you provide a summary of the results of each survey?
For transparency purposes, how much has MODE paid Franchise Business Review in the previous 5 years for related or unrelated services?

Thanks,

Sean

UnhappyFranchisee.Com
This morning, I received this email from Eric Stites:
Eric Stites  8:44 AM (2 hours ago)

to me, Michelle

Sean – I love how you throw me, Michelle, and FBR under the bus, and personally attack us before you have all the facts… and then you contact us with these questions. Are YOU serious?

Please remove our names and the FBR brand from your website within the next 24 hours or you will be facing a defamation lawsuit.

Eric Stites, CFE

CEO and Managing Director

FranchiseBusinessREVIEW

125 Brewery Lane, Suite 5, Portsmouth, New Hampshire 03801

Direct 603.433.2266  |  Cell [redacted] | eric@FranchiseBusinessReview.com
Should UnhappyFranchisee.Com Remove All References Franchise Business Review by 8:44 am 3/28/17?
Should Unhappy Franchisee remove all reference to Eric Stites, Michelle Rowan, Franchise Business Review, and FBR & FBR50 brand by tomorrow's deadline?
Should we delete our questions regarding the naming of MODE a one of Today's Top Franchises 2017 based on franchisee satisfaction even though franchisees are in revolt?
Should we delete how we exposed and debunked the fake franchisee success story of Andrew Wilson published by Franchise Business Review on behalf of Brian Scudamore's You Move Me?
FBR Franchise Business Review Promoting Illegal Earnings Claims?
"In our first year, we did almost 3,000 moves and it's only gone up from there. If we eventually expand to another location, we'll be even busier! …After doing $1.3 million in revenue in 2014, we're projected to hit about $2 million in 2015…"

2015 Franchise Business Review Multi Unit Special Report, "Featured Franchisee Andrew Wilson"

UnhappyFranchisee.Com exposed the fact that Wilson's "first year" franchise was actually the established, successful moving company that served as the chain's prototype… and he was an experienced mover in his third year in business.
Should we not mention that even after the You Move Me General Counsel admitted to franchise examiners that the story was deceptive and improper, Franchise Business Review didn't pull the story?
Should we delete our post about whether Brian Scudamore, franchisor of WOW! One Day Painting, You Move Me, 1-800-GOT-JUNK used FBR Franchise Business Review to distribute illegal earnings claims:
YOU MOVE ME Franchise Brian Scudamore Making Illegal Earnings Claims?
What about our posts on the Our Town America franchise?
FRANCHISE BUSINESS REVIEW: Hype For Hire? Credibility for Cash? Our Town America Getting Its Money's Worth
Should we delete our posts about Franchise Business Review's representations about Qualicare?
QUALICARE Franchise Providing Illegal Earnings Claims?
Should we erase the questions we raised about Franchise Business Reviews Senior Care Franchise Report?
FRANCHISE BUSINESS REVIEW Senior Care Report Raises Questions
Let us know what you think!
Contribute to the UnhappyFranchisee.Com Legal Defense Fund
If you believe that UnhappyFranchisee.Com should continue to stand up to the bullying and threats of those who believe in protecting and promoting disreputable companies and underhanded franchise practices, please consider contributing to the Unhappy Franchisee.com Legal Defense Fund, or make a general contribution of your choosing here.
Or if you've been helped in any way by this website, but can't afford a financial contribution, please leave a testimonial or word of appreciation here:
Thanks and Praise for UnhappyFranchisee.Com
UnhappyFranchisee.Com: A Support Group for Franchise Owners
ALSO READ:
FRANCHISE DISCUSSIONS by Company
ARE YOU FAMILIAR WITH FRANCHISE BUSINESS REVIEW, ERIC STITES, MICHELLE ROWAN, THE FBR50 FRANCHISE RANKINGS?  SHARE A COMMENT BELOW.
TAGS: Franchise Business Review, FBR, FBR50, Eric Stites, Michelle Rowan, Fake Franchise Awards, Fake Franchise News, MODE franchise, Ciara Stockeland, Brian Scudamore, You Move Me franchise, Qualicare franchise, Our Town America franchise, IFA, International Franchise Association, unhappy franchisee, UnhappyFranchisee.Com