OUR TOWN AMERICA Franchise
The Our Town America franchise is heavily hyped via franchise awards and accolades from "market research company" Franchise Business Review.  Is the franchise hype justified? Or is Our Town America a high-turnover franchise with paid-for awards?
(UnhappyFranchisee.Com)  Our Town America franchise marketing hypes its many awards from franchise lead generation firm Franchise Business Review (FBR):
Franchise Business Review All-Time Top Companies
Franchise Business Review Hall of Fame
FBR Top 50 Franchises
FBR Top Franchises for Vets
FBR Top 25 Multi-Unit Franchise Opportunities
All of FBR awards are based on surveys with 34 Our Town America franchisees.
But are Franchise Business Review surveys engineered to provide misleading accolades to those willing to pay for their services, like Our Town America?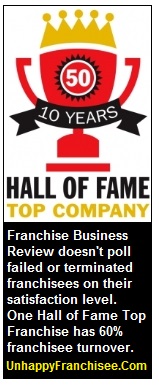 For example, The Our Town America FBR survey states "All active franchise owners were invited to participate in this survey process… any franchise owners that [sic] had left the franchise system prior to the survey process were not included."
Wouldn't surveying the opinions of those who left the Our Town America system be an important part of gauging franchisee satisfaction?
As it turns out, Our Town America has a very high turnover rate of 60%.
Our Town America Franchise Turnover Rate:  60%
A look back through past FDDs reveal a rather unimpressive growth record.  From 2007 to the beginning of 2014, the number of Our Town America franchises declined 24%, from 42 to 32.
More disturbing, the franchise chain appears to have a 60% franchise turnover rate during that time.  There were a total of 80 active franchise agreements during that time period.  A total of 48 of those franchise agreements were terminated (16), transferred to new owners (10), reacquired by the franchisor (9) or ceased operations for other reasons (13).
60% turnover rate does not seem to us indicative of a happy franchisee base.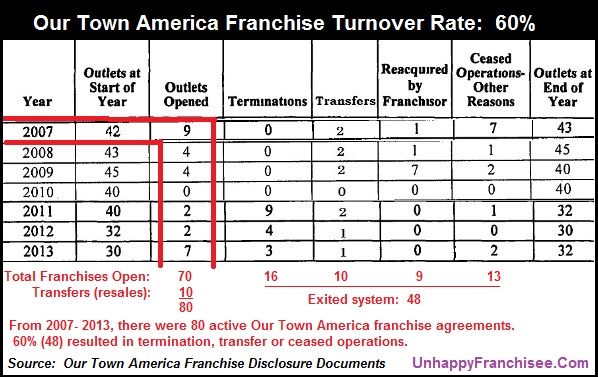 Our Town America Franchisee in Maryland Got His Money Back
Our Town America ran afoul of Maryland franchise laws in 2007.  Maryland was requiring them to escrow their franchise fees until they were earned.  Our Town America sold an unregistered franchise using an FDD that didn't mention the escrow requirement.  According to its current FDD:
In the Matter of Our Town America, a Franchising Corporation (Case No. 2006-0686, February 23, 2007). This matter arose out of the sale of a franchise in Maryland after our registration in Maryland expired. We were initially registered to sell franchises in the State of Maryland in 2005, which registration was conditioned upon our deposit of all initial fees we received from Maryland franchisees into an escrow account until our initial obligations under the Franchise Agreement had been satisfied.

.

Our 2005 registration expired on September 7,2006. On the same date we accepted a check for $15,000 from a prospect. We did not place that amount into the escrow. However, we did give the prospect a franchise disclosure document but that franchise disclosure document did not reference the escrow account. We were investigated by the State of Maryland with respect to this sale. We entered into a Consent Order with the State of Maryland under which we were required to register our franchise disclosure document in the State of Maryland, provide a copy of that document to the franchisee in Maryland who we had taken the $15,000 check from, provide that franchisee an opportunity to rescind his Franchise Agreement, and enroll an officer of ours responsible for franchise compliance in a franchise law compliance program approved by Maryland.

.

The franchise sale was rescinded and we refunded all monies paid to the franchisee.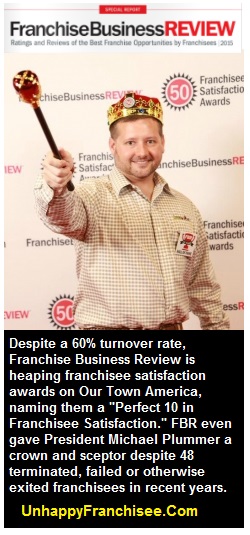 Our Town America, it seemed, got caught trying to pull a fast one.
When they got caught, the Maryland franchisee jumped at the chance to get his/her money back and get out of the franchise system.
More evidence that Our Town America franchisees may not be as satisfied as they and Franchise Business Review would have you believe.
Are Our Town America Franchisees Satisfied?  Why or Why Not?
What do you think?
Are all the franchisee satisfaction awards for Our Town America justified?
If so, why has the franchise declined in size in recent years?
Why does it have such a high franchisee turnover rate?
Share a comment and your views below.
ALSO READ:
FRANCHISE DISCUSSIONS by Company
FRANCHISE BUSINESS REVIEW: Hype For Hire? Credibility for Cash? Our Town America Getting Its Money's Worth
FBR Franchise Business Review Promoting Illegal Earnings Claims?
YOU MOVE ME Franchise Brian Scudamore Making Illegal Earnings Claims?
ARE YOU FAMILIAR WITH THE OUR TOWN AMERICA FRANCHISE OPPORTUNITY?  SHARE A COMMENT BELOW.
TAGS: Our Town America, Our Town America franchise, Michael Plummer, Franchise Business Review, Franchise Business Review Awards, FBR, FBR 50, Michelle Rowan, Eric Stites,  franchise advertising, franchise marketing, franchise awards, unhappy franchisee