Ciara Stockeland, MODE Franchise: A Fake Success Story?
Ciara Stockeland is promoting herself as a successful entrepreneur and her MODE retail fashion concept as a franchise success story.  But where's the success behind this "story"?  We invite those promoting the MODE franchise, those heaping on the awards, and those who bought into the MODE franchise whether the hype is justified… or if this is another fake franchise success story.
(UnhappyFranchisee.Com)  Google "Ciara Stockeland" and you'll see the story of an entrepreneurial superwoman.
Behold:
Ciara Stockeland testifying before Congress on behalf of small business owners.
Ciara Stockeland accepting a national SCORE small business award at a gala in Washington D.C.
Ciara Stockeland touted by business publications from Fargo Inc. to Entrepreneur as "The Queen of Overstock" who is "reinventing retail" with her discount fashion franchise, MODE.
Ciara Stockeland being recognized as a Dream Big Award finalist.
Ciara Stockeland being interviewed by the International Franchise Association on women in franchising, or sharing her insights on successful franchising on her own blog.
Ciara Stockeland between the colorful rows of designer clothing, looking as Midwestern/suburban wholesome and contemporary as any model in Good Housekeeping or minivan commercials.
And there's family photo of Jim and Ciara Stockeland and their angelic children… perhaps the only family photo more perfect than the one that come with the frame.
What did this woman do to deserve all of this fame?  you might ask.
And how can I get in on this beautiful success story?
We Searched for the Success in the MODE Success Story.  No Luck So Far…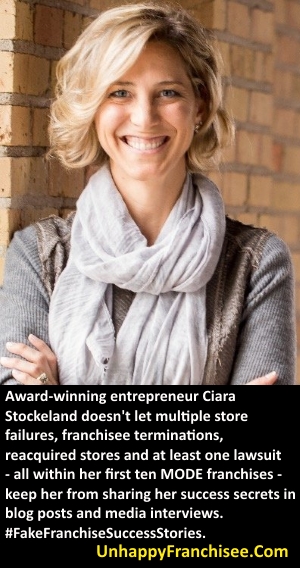 Perusing the MODE franchise disclosure documents (FDD) and website, we had a hard time finding any justification for calling the apparently troubled MODE start-up being a franchise success story.
In 2006, Ciara Stockeland apparently opened a high end maternity clothing store in Fargo, ND called Mama Mia.
According to the MODE creation myth, she was offered a truckload of overstock clothing a trucking company was trying to unload, so she took a temporary space next door and sold it as off-price designer clothing.
The discount concept did better than Mama Mia, so she converted her maternity boutique to an off-price fashion concept and brand called MODE.
Ciara opened a second company-owned MODE in Maple Grove, MN… which closed not long thereafter.
Ciara Stockeland sold franchises in Eagan, Roseville, and Woodbury, Minnesota.
They all closed.
She sold a franchise in Grand Forks, ND.
Ciara's franchise company reacquired it and the franchisee (Denise Sanders left the system).
She sold franchises in Sioux City, IA, Overland Park & Wichita, KS.
They all closed or rebranded.
Ciara Stockeland sold a franchise to Tracy MacKellar for Mt. Pleasant, SC.
Tracy MacKellar claims Stockeland reneged on her promises to customize the inventory for her southern climate.
Mackellar claims MODE was debiting her account thousands of dollars each month without explanation or authorization.
Mackellar claims she discovered Stockeland was buying from a co-op (not from designers as represented), marking up the inventory 100%, then still charging 7% for royalties and marketing.
Mackellar rebranded and the franchisor sued.
Tracey MacKellar has countersued Mama Mia, Inc. dba MODE for fraud, breach of contract, unlawful sales practices, violations of the North Dakota Franchise Investment Law and the South Carolina Business Opportunity Sales Act.
8 MODE Stores are Open,

9 Mode Stores Were Terminated, Seized or Ceased Operation, and 1 (so far) Resulted in a Lawsuit & Countersuit  
At the risk of sounding like a mean, brutish blogger picking on a perky, award-winning and inspirational female entrepreneur… I have some questions for Ciara Stockeland, MODE corporate employees, MODE mentors, advisors & award presenters as well as current, former and prospective MODE franchisees:
1)  Should a new franchise company with more stores closed than open be regarded as a success… or a failure?
2)  If a franchisor suffers a 50% closure rate, multiple terminations, reacquisitions and at least one lawsuit within its first ten franchises, would the prudent thing to do be to
stop franchising, fix the problems & prove the concept by growing company stores with its own capital, or
continue to encourage others to invest in an unproven franchise concept, maintain primary focus on growing to 75 stores, maintain the appearance of success through phony, paid-for awards (like Franchise Business Review's FBR50) and forcing lawsuits and gag orders on failed franchisees?
3)  Ciara seems to attribute store failures to the fact that her franchisees are not her.  In a recent interview, she states:   "I think because when I sold that first store, and even the second, and third, I just figured everyone was me…. I soon came to realize that not everybody is me…"
Could the store failures have another explanation? 
According to the franchisor's (Mama Mia, Inc.'s) 2017 FDD, 82.5% of the franchisor's total revenue is derived "from products and services that we acquired from third-party vendors and resold to franchisees, or that we invoiced franchisees for based on third-party vendors we engaged on their behalf."
So could the problem be that Ciara Stockeland's business model appears to be to control and mark-up every item, from inventory to business cards, the franchise is required to purchase, then charge a 5% royalty and 1% ad fund fee on on the franchisee's gross sales?
Could the problem be a little too much Ciara Stockeland, rather than not enough?
MODE Stores Currently Open – 8
MODE Terminated Locations or Franchises – 9

Iowa – 2 locations

Cedar Rapids, (Company-owned)

Sioux City (Tammy & Rick Bertrand)

North Dakota – 4 locations

Bismarck (Birst &  Carlson Holdings, Inc.)

Fargo (Company-owned)

ND Williston (Kim Wenko)

South Dakota – 2 locations

SD  Sioux Falls

SD Rapid City

Iowa – 1 location

IA  Sioux City, IA –  (Leeds Project, LLC)

Kansas – 2 locations

KS  Overland Park, KS  (Hilltop 6)

KS Wichita  (Team Durham Enterprises, Inc.)  LITIGATION

Minnesota – 4 locations

MN Eagan  (Franchisee Bobbi Bush – Rintoul)

MN  Maple Grove (Denise Sanders)

MN Roseville  (RPM Boutique LLC )

MN Woodbury  (RPM Boutique LLC )

North Dakota – 1 Location

ND  Grand Forks  (1st owners: Q & O Enterprises, 2nd: Kay Derry)

South Carolina – 1 Location

SC  Mt. Pleasant  ( Tracey MacKellar, MODE MP, LLC)  LITIGATION
ALSO READ:
FRANCHISE DISCUSSIONS by Company
ARE YOU FAMILIAR WITH CIARA STOCKELAND & THE MODE FRANCHISE OPPORTUNITY? WHAT DO YOU THINK?  SHARE A COMMENT BELOW.
TAGS: Ciara Stockeland, Jim Stockeland, MODE franchise, MODE franchise opportunity, MODE Clothing, MODE discount fashions, MODE franchise complaints, MODE lawsuit, Ciara Stockeland lawsuit, fake franchise news, fake franchise success story, unhappy franchisee