DICKEY'S BARBEQUE PIT Franchise Closures, Internal Turmoil Revealed By UnhappyFranchisee.Com
Dickey's Barbecue Pit is being portrayed as one of America's greatest current success stories, with a dozen new franchise locations opening each month, international expansion on the horizon, and business awards being heaped on its celebrated leader Roland Dickey, Jr.  However, franchise watchdog website UnhappyFranchisee.Com has released a series of reports revealing troubling secrets behind the company's aggressive hype.   Could America's largest barbecue chain be heading for a crash?
(UnhappyFranchisee.Com)  DBRI, the Dallas-based franchisor of Dickey's Barbecue Pit, refuses to respond to inquiries regarding recent franchise failures and signs of both franchisee and employee distress.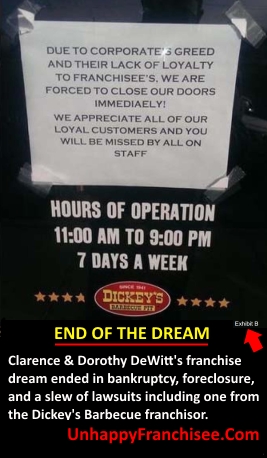 In fact, Dickey's internal press machine keeps churning out press releases about new store openings and questionable awards being bestowed upon CEO Roland Dickey, Jr.
Despite Dickey's claims of growth and success, the Unhappy Franchisee franchise watchdog website has been fielding complaints and disturbing insider reports that the self-proclaimed Dickey's success story may be in danger of going up in smoke.
Today, the Dickey's Barbecue Pit in Knightdale, NC closed.
Yesterday (2/27/17) franchise locations in St. George and Washington, Utah closed their doors.
Last week (on 2/22/17), Florida Dickey's franchise owners posted on Facebook that both their two Jacksonville locations were now closed.  One had just opened less than two months earlier.
The week before, on 2/15/17, the Arizona Daily Star reported that local franchisee had closed his Dickey's Barbecue Pit locations in Tucson and Oro Valley and reopened them both as Jackson's restaurants.
Earlier in the month, a franchise owner closed all four of his Houston-area Dickey's  in the same day.
All told, we've uncovered evidence of more than 30 Dickey's Barbecue Pit franchise locations believed to have closed since December, 2016.
In addition to the closures, Unhappy Franchisee has documented evidence of widespread franchise churning, which is the practice of reselling failed or failing franchises to new owners, to either hide a high failure rate by keeping non-viable locations open and operating, to collect new fees or royalties from a succession of owners, or both.
When franchises are churned,  a single store may represent lost investments incurred by several previous owners in addition to that of the most recent franchisee.
At Least 35 Dickey's Franchises in 12 States Closed in Past 3 Months

*
With the help of numerous Dickey's franchise owners, Unhappy Franchisee has compiled a list of more than 30 Dickey's locations in 12 states that have been shuttered from December, 2016 through February, 2017.
Many more Dickey's Barbecue Pit restaurants are struggling to remain open, and it's we've been told more closings are likely.
Since December 1, 2016, franchise owners in Dickey's home state of Texas closed 8 locations in Conroe, Corpus Christi, Frisco, Houston, Katy,  Spring, and Tomball, Texas.
California is believedto have experienced 7 closures from December to February, with Dickey's units shuttered in  Stockton, San Ramon, Sunnyvale, Pleasant Hill, Jackson, and Tracy.
In Utah, four Dickey's Barbecue Pit locations closed (American Fork, South Jordan, St. George, Washington)
Florida franchisees suffered three losses, with one Orlando Dickey's closing in December and both the Jacksonville locations closing on the same day in February.
Franchise owners in North Carolina closed three Dickey's franchises (Greenville, High Point, Knightdale) in recent months.
Arizona (Tucson, Oro Valley),  and Nebraska  (Grand Island, Lincoln) and each lost 2 Dickey's franchise locations.
Dickey's franchise locations also reportedly closed in Illinois (Wheaton), Louisiana  (Monroe), Mississippi  (Starkville), Pennsylvania (Easton) and Wisconsin (Menomonie).
Dickey's franchise owners in Colorado, California, Utah also exited the system by transferring franchise ownership to other owners, likely at a loss of some or all of their investments.
See our full (work-in-progress) list of  previous closures and known ownership transfers here:
DICKEY'S BARBECUE PIT Closed Location List
* Since DBRI continues to ignore our repeated requests for confirmation or corrections regarding our Dickey's Barbecue Pit Closed Location List, we must gather information about store closing from our insider sources and public records.  Please consider all numbers and information as estimates that were verified to the best of our ability, but may have since changed.
Franchisees Blame Combination of Factors For Failures; Employees Fear More Layoffs
Unhappy Franchisee has provided a safe haven where franchisees and employees alike can safely share their experiences and challenges with the management of DBRI.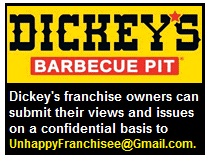 Franchisees and employees may share their opinions and experiences through confidential emails to UnhappyFranchisee[at]gmail.com or by leaving anonymous comments on any related post.
We have been told by anonymous sources that early last year, Roland Dickey, Jr. took on huge debt through Wells Fargo in order to buy out his cousin's and other family members' shares of the company.
Some believe this caused a financial strain that resulted in two waves of employee layoffs.   Multiple Dickey's former employees have told us that there were two waves of employee layoffs, one early in 2016.   Dickey's corporate employees  have expressed a concern that the third wave of layoffs within two years may be coming.
At the same time, Dickey's franchisees have reported that early in 2016, they experienced a sharp drop in the amount and the effectiveness of Dickey's consumer marketing to drive traffic to their locations.  Despite being contractually obligated to do so, President Renee Roozen has ignored requests for an audited accounting of franchisee ad fund expenditures. (Letter to DICKEY'S President Renee Roozen re: Withheld Marketing Report)
Many franchisees have complained that they are experiencing sales drops in the negative double digits, in part because of drastic and arguably ill-conceived Dickey's menu changes that franchisees say have hurt sales and driven up costs.
Unpopular changes in food distributors and other vendors has been cited as other factors putting a strain on franchisee's ability to operate profitably.
While many of these allegations are rumors and opinions, they represent the views of troubled home office employees, former employees and franchise owners who have contacted us.  DBRI has been repeatedly asked to comment on these allegations, but have declined to respond.
Dickey's Legal Department is Swift & Unforgiving Against Failed Franchisees
One might think that a franchisor like Dickey's would express concern, sympathy, and even appreciation to the many franchisees experiencing substantial financial losses.
After all, these are individuals who believed in the Dickey's brand, invested in the Dickey's franchise, and followed the Dickey's system of operation.
Yet one would be wrong when it comes to the franchisor Dickey's Barbecue Restaurants, Inc. (DBRI).
DBRI seems to have two faces.
The first face is that of the seemingly dedicated, conscientious, successful barbecue-speaking professional side that denies that there are major problems within its system and keeps parading out questionable press releases and meaningless awards.
The second face is the mean-spirited, vindictive, bullying side led by an in-house legal team headed by General Counsel Christine Johnson.
Last year, Johnson stated that her in-house legal team included four full-time attorneys.  That's approximately one full-time attorney for every hundred Dickey's franchise owners.   Add to that support staff and numerous outside law firms, Dickey's seems to have planned for great numbers of franchise store transitions and disputes well in advance.
Christine Johnson's resume proudly
And Dickey's is using its investment in heavy legal firepower to the fullest.  In-house attorneys like Johnson and Matthew Frizzo slap broken franchise owners with legal demands for hundreds of thousands of dollars within days of closing, allegedly dispatch 3rd parties to steal and destroy franchisee property, and bully and attack Dickey's franchisees with such vehemence that they sent at least one franchisee (a husband and father of two young girls) to the emergency room in cardiac arrest.
The franchisee had put his heart, soul and family finances into trying to make his two Dickey's locations work, but could no longer afford to keep his doors open.  They day he received Dickey's legal notice that they were coming after him with every legal means available, he suffered massive chest pains.  At the time, he was driving with his two young daughters in the back seat.
Not long after he was admitted to the cardiac unit (the same day he DBRI's notice that they intended to sue him), Dickey's sent a crew to strip the franchisee-owned signage from his two stores and destroy them.
Says Sean Kelly, publisher of UnhappyFranchisee.com, who has heard the stories of many failed and failing Dickey's franchise owners:
Every one of those franchise closings represents financial and personal hardships for one or more families.  Some represent strained and broken marriages, or family homes lost to foreclosure.

In my opinion, there is something seriously wrong with people who aggressively sell a franchise opportunity, encourage individuals to invest their savings, IRAs and even put up their homes on the line as collateral… and then threaten, bully and SUE them when they lose everything.  I don't understand it.  I don't know how Roland Dickey, Jr., Renee Roozen, Christine Johnson, Bryan Pelt and the rest of their team sleeps at night.  They must have studied Quiznos, which didn't relent in their attacks on franchisees until at least one I know took his own life directly as a result.

How do these people get themselves motivated every morning?  Do they look in the mirror and say "Let's go crush those fools who trusted us into dust today!  That heart attack was good… But today let's push someone completely over the edge!"

The business and franchise media need to stop promoting this fake success story, and DBRI employees need to voice their opposition to the way franchisees are being treated, and put an end to this abuse.
Also read:
DICKEY'S BARBECUE PIT Closed Location List
DICKEY'S Franchise Owners: Tell DBRI Your Biggest Concerns, Anonymously
DICKEY'S Franchise Owners Share Frustrations & Fears
DICKEY'S BARBECUE PIT Franchise Complaints
Dickey's Barbecue Restaurants Inc. Threatening to Sue U.S. Army Veteran
ARE YOU A DICKEY'S FRANCHISE OWNER?    PLEASE SHARE A COMMENT, OPINION OR REQUEST WITH DBRI.  COMMENT BELOW OR EMAIL IN CONFIDENCE TO UNHAPPYFRANCHISEE[AT]GMAIL.COM
Dickey's Barbecue Pit, Dickey's. Dickey's BBQ,  Dickey's franchise closings, Dickey's Franchisees, Dickey's Barbecue Pit Restaurants Inc., Dickey's franchise problems, Dickey's layoffs, Dickey's franchise turnover, Dickey's failure rate, Dickey's store closings, Dickey's franchise failure rate, Renee Roozen, Dickey's Renee Roozen, Dickey's bankruptcy, Dickey's lawsuits,  Dickey's Barbecue Pit franchise, Dickey's franchise, Dickey's Barbecue Pit franchise complaints, Roland Dickey Jr, , barbecue franchise, barbeque franchise, BBQ franchise