DICKEY'S Franchise Issues: Marketing
Dickey's franchise owners can anonymously share their views with franchisor DBRI on Dickey's marketing support, use of the marketing fund, local marketing needs and other important issues… through the Letters to Dickey's Program.
(UnhappyFranchisee.Com)  LETTERS TO DICKEY'S is a collaborative, interactive series that invites Dickey's Barbecue Pit franchise owners to candidly (and anonymously) tell their franchisor (DBRI) what they think and how they feel about the franchise issues and challenges facing them.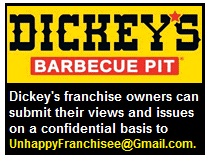 Dickey's franchisees are invited to share their opinions on the topics most important to them by sending a confidential email to UnhappyFranchisee[at]gmail.com, or posting a comment below. 
This post is dedicated to DBRI's marketing program, marketing support use of the systemwide marketing fund, and the effect of current marketing on Dickey's franchisees' businesses.
If you would like to read or add comments on other issues, please go to:
DICKEY'S Franchise Owners: Tell DBRI Your Biggest Concerns, Anonymously
You can also view and provide input on these issue-specific pages:
Dickey's Menu Changes & Menu Management
Dickey's Threats, Bullying & Churning of Franchisees
This page is a work-in-progress.  We have posted comments from anonymous Dickey's franchisees and will continue to update it as we receive new comments.
Marketing is always one of the most contentious areas of the franchisor-franchisee relationship, and Dickey's Barbecue Pit is no exception.
UnhappyFranchisee.Com has been highly critical of the handling of a recent promotion (3 Reasons DICKEY'S Should Abort its Sweepstakes NOW – UPDATED) and the lack of transparency in regard to the Dickey's systemwide marketing fund (Letter to DICKEY'S President Renee Roozen re: Withheld Marketing Report ).
Dickey's franchisees are invited to share their opinions of the current marketing support, and provide recommendations and requests to DBRI for improvements they'd like to see in 2017.
Here are some of the anonymous comments we've received so far:
A multi-store Dickey's franchise owner wrote:
I'm a multi store owner/operator with Dickey's Barbecue Pit.  We have a store with sales down 20+% this year and another store that has been open a year that has been losing money pretty much the entire time it's been open.

I attribute the loss mainly to lack of/terrible marketing. Dickey's changed our marketing and our sales started to drop dramatically. I'm trying to get an accounting of how they spend our marketing fund but haven't gotten a response yet. Something fishy is definitely going on because we pay enough into the marketing fund where we should be able to get much better marketing and advertising.

I don't know where the money is going, but I'm pretty confident it's not going to marketing.
A Dickey's franchise owner wrote:
last year of marketing had done nothing…they seem to think our demo is 25 y.o.  my dickeys are in a retirement town and it is tourist heavy from Oct-May and our slow time is summer.  I have explained to them numerous times and I get the response "oh we get it"  well they don't they continue on advertising on a radio station that my demo does not listen to!!  We are now entering the 2nd year of them doing the same thing and it will have the same results…Also only advertising for 1 week per month on radio doesn't do it, it must be done for the entire month…people need to hear dickey's all the time.  And there is a fact that my sales did NOT show any improvement during that 1 week which means the station DOES NOT WORK
Another Dickey's franchise owner wrote:
No help on how to drive customers into the store (this is done through correct marketing)  text blasts ect. dont' work that is targeting customers who we currently have
A Dickey's Franchisee wrote:
No marketing. Just face book and text messges. Thats a joke. Not worth 4% monthly fee.

After the first 3 months of opening, sales drop down to the floor. It feels as if Dickeys lives out of grand openings.
Another Dickey's franchisee wrote:
The marketing they offer is a joke. They are spending all my marketing money on 1sports talk radio station from 6pm-9pm at night. I requested artwork to promote a salad which was denined because it was not part of the core menu but was told i was allowed to sell the salad.
Anonymous franchise owner wrote:
One thing I find fishy is that they say they will do "extra" marketing for stores that do certain things that they set forth. For example, if stores show that they're doing community marketing, cold calls, sampling, etc. then they will pay extra in marketing to those stores. I asked if that comes out of the marketing fund and my FD said no, but I doubt DBRI is going to take money from somewhere else to pay for extra marketing.
Another anonymous Dickey's franchise owner wrote:
At the end of last year they ran promotions for Kids Eat Free on Halloween, military get a free meal on Veteran's Day, Kids Eat Free on Black Friday. I'm all for supporting veterans/troops and while the positive PR is good, I'm not in a position to be giving away free food. Knowing that they profit (kickbacks) from us giving away free food hurts.

For Kids Eat Free on Black Friday we were told it would be advertised through digital marketing, email and text blast. The text was sent out Friday afternoon at 3. No email and I'm guessing no digital marketing. So I'm giving away free kids meals even though NOBODY is coming in asking for the free Kids meal because nobody saw it advertised. A total joke of a marketing effort. It would be interesting to know if they profit from the free ice cream we serve everyday.
A multi-unit Dickey's franchisee wrote:
The short fact of the matter is that we pay tens of thousands of dollars to a Marketing Fund, and you cannot hardly find one customer a day who walks through our doors as a result of DBRI's marketing plan.

We could spend 1/2 of what we give to DBRI locally and have a very comprehensive and effective marketing campaign supporting our businesses. DBRI has increasingly done less and less to market the brand, and they have denied our requests for marketing support, instead insisting that the minimal and ineffective marketing plans they have in place are the direction we need to go. We suspect that our marketing dollars are being spent on projects that do not build the brand in our communities (G4 buildouts in corporate locations). We know that our marketing dollars go towards frivolous things like bar tabs for NAFAAC members while they are flown into Dallas for a quarterly 1.5 hour meeting. We also suspect that our marketing dollars have gone toward equipment that have little or no marketing value (grill presses, TIB). DBRI is taking hundreds of thousands of franchisee dollars for marketing and they are not driving anyone into our local stores.

Franchisees are not given an annual, detail level expense report on the marketing fund.

As far as a marketing focus goes, DBRI has long known that our target audience in nearly every location is older men & women who have the income to afford quality food. It has become apparent that DBRI's leadership team has intentionally shifted their focus away from this existing customer base, and has decided to shift their focus towards millennials. Franchisees have urged DBRI to remain loyal to the customer base that has driven our success for years. Franchisees warned that millennials did not typically have the makeup to support our business concept. DBRI ignored this feedback and instead made it clear from changes in new artwork, new music, new marketing channels, young focus/test groups and the new menu that they were trying to chase the millennial customer, at the expense of losing our existing customer base. This resulted in an immediate increase in complaints and an immediate, dramatic decline in sales.
Another Franchisee wrote:
Some franchisees implemented a text/email based promotion system that also created a database on our customers. The local systems were very effective in driving foot traffic and helping franchisees identify our repeat guests. DBRI rolled out their own version of this system, directing franchisees to end theirs. DBRI's system gives franchisees no option of creating locally driven promotions that drive traffic on the right items at the right times for their specific location. DBRI's promotions are far less effective than ones driven by franchisees. DBRI's systems do not share customer information that once belonged to franchisees, helping us to better target our local marketing efforts. Franchisees and customers have no way of maintaining and managing their profiles as they once did with the locally owned systems.
A Dickey's franchisee wrote:
I had negotiated terms with Groupon and ValPak for a marketing campaign that would drive some foot traffic for my store. As we approached the launch date, reps from both companies informed me that DBRI had taken over negotiations for all DBRI franchisees. My terms were cancelled, and I was instead allowed only to opt in or out of the campaigns offered through DBRI, which had poorer terms.
Another Dickey's Barbecue Pit franchise owner shared:
Our Anniversary special mailer for October hit homes on November 1st. We were told it was because mail was held up due to election mailers. One franchisee who was given this excuse paid for a mailer out of their own pocket and did not experience the "election backup", getting his own mailing dropped on Oct. 21st and it began hitting the next day. Special Anniversary emails were sent out to customers before the Anniversary product had arrived, causing confusion and complaints from guests.
Check back soon for updates:
Dickey's franchisees: we will share your opinions, feedback, and marketing requests with DBRI right here – share a comment below or send us an email in confidence.
DICKEY'S FRANCHISE OWNERS:  ADD YOUR VOICE!  POST A COMMENT BELOW OR SEND US AN EMAIL IN CONFIDENCE TO UNHAPPYFRANCHISEE[AT]GMAIL.COM.
Also read:
DICKEY'S Franchise Owners: Tell DBRI Your Biggest Concerns, Anonymously
DICKEY'S Franchise Issues: Menu Management
DICKEY'S Franchise Issues: Switch from U.S. Foods to SYSCO
Letter to DICKEY'S President Renee Roozen re: Withheld Marketing Report
DICKEY'S BARBECUE PIT Closed Location List
DICKEY'S Franchise Owners Share Frustrations & Fears
DICKEY'S BARBECUE PIT Franchise Complaints
DICKEY'S BARBECUE PIT Makes a Terrible Promotion Worse
Dickey's "The Middle" Family Reunion Sweepstakes Contest Details
Dickey's Barbecue Restaurants Inc. Threatening to Sue U.S. Army Veteran
ARE YOU A DICKEY'S FRANCHISE OWNER?    PLEASE SHARE A COMMENT, OPINION OR REQUEST WITH DBRI.  COMMENT BELOW OR EMAIL IN CONFIDENCE TO UNHAPPYFRANCHISEE[AT]GMAIL.COM
Dickey's Barbecue Pit, Dickey's franchise owners, Dickey's Franchisees, Dickey's Barbecue Pit Restaurants Inc., Dickey's advertising agency, Dickey's Barbecue Advertising Spending, Dickey's Barbecue advertising budget, Dickey's marketing, Dickey's local store marketing, Renee Roozen, Dickey's Renee Roozen, President Renee Roozen, Dickey's menu,  Dickey's Barbecue Pit franchise, Dickey's franchise, Dickey's Barbecue Pit franchise complaints, Roland Dickey Jr, , barbecue franchise, barbeque franchise, BBQ franchise