DICKEY'S Franchise Issues: Switch from U.S. Foods to SYSCO
LETTERS TO DICKEY'S is a collaborative, interactive series that invites Dickey's Barbecue Pit franchise owners to candidly (and anonymously) tell their franchisor (DBRI) what they think and how they feel about the the franchise issues and challenges facing them.  Dickey's franchisees are invited to share their opinions on the topics most important to them by sending a confidential email to UnhappyFranchisee[at]gmail.com, or posting a comment below.  This post is dedicated to DBRI's decision to switch food suppliers from US Foods to Sysco, and the effect it's had on Dickey's franchisees' businesses.
(UnhappyFranchisee.Com)  Dickey's franchise owners:  What would you like Dickey's Barbecue Restaurants, Inc. to know about the effect the switch from US Foods to Sysco has had on your Dickey's franchise?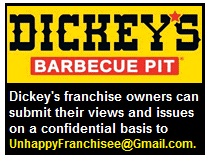 What changes would you like Dickey's to make in this area in 2017?
Add your opinion to those below by leaving a comment at the bottom of this post of sending an email, in confidence, to the site ADMIN at UnhappyFranchisee[at]gmail.com.
We will then compile all comments on each subject and submit them to DBRI senior management for review and comment.
Feel free to see and comment on the other issues in the Letters to Dickey's series here:
DICKEY'S Franchise Owners: Tell DBRI Your Biggest Concerns, Anonymously
You can also view and provide input on these issue-specific pages:
Dickey's Menu Changes & Menu Management
Dickey's Threats, Bullying & Churning of Franchisees
Letters to Dickey's Series:  Share Your Views on the Switch to Sysco
Back in 2012, Dickey's made sure every media outlet knew it had signed an exclusive agreement with Sysco, the nation's largest food distributor:
Dickey's agreement with Sysco is a significant milestone for the fast-casual restaurant chain as it offers added value through substantial cost savings and improved efficiencies for franchise owners.  The agreement with Sysco is the latest step in Dickey's aggressive growth strategy.
Some time after that, Dickey's switched to US Foods with little or no fanfare, no press releases and no ticker tape parades like the Sysco deal.
Then, in 2016, Dickey's unceremoniously switched BACK to Sysco.
In a story about closed Dickey's franchises in Wisconsin, Dickey's President Renee Roozen was quoted as saying that Dickey's changed distributors from US Foods to Sysco in order to better serve franchisees and lower costs.
Dickey's President Renee Roozen  stated:  ""Dickey's made the switch to Sysco to better serve our franchise owners. We are already seeing improvement in price and service. This is reflected in the feedback our franchise owners and guests are providing."
However, many Dickey's franchisees claim that costs went up and credit terms worsened after the switch.  Some franchisees have told me that U.S. Foods terminated the relationship with Dickey's because of payment issues.
Here are some of the comments we've received so far.
Share your comments below, or send them in an email to UnhappyFranchisee[at]gmail.com.
One Dickey's Franchisee wrote:
We were lead to believe that we would have credit terms. For us Sysco continued to deliver for three weeks(two of those weeks we were still paying US Foods) before they notified us that we needed to have a ZERO balance before they would deliver another truck. For Franchisees who are already struggling with cash flow to come up with WEEKS of truck bills with HIGHER prices was a killer for all of us.

What changes should DBRI make in this area in in 2017?

Offer Credit terms that were promised from the beginning, they should be similar to what owners had PRIOR to UsF. Some owners had up to 21 days! To go from that to ZERO is ridiculous. Stop the mark ups! Our pricing is supposed to be BETTER then the consumer, but, yet I can go to any local meat market and get better pricing then we are offered!
One Dickey's Franchisee wrote:
Switch to Sysco from USfoods…I had a great relationship with USFoods.  14 net etc.    Now with the Sysco food prices have increase (due to more vendor rebates being sent to wycliff?) and 0 terms for payment.  Typically a vendor gives a 2 net 10 for the uneducated or for those in dallas this means if I pay the vendor within 10 days of receiving product I am to receive 2% off my bill or is that something DBRI pockets themselves?
Another Dickey's Franchisee wrote:
Franchisees were told that DBRI was switching our supplier of goods from US Foods to Sysco.

Franchisees were told that this change was to improve the service we received.

Franchisees were told that delivery days would remain the same, key drops would remain the same, overcharging of items would be credited and credit terms would be negotiated based on our individual creditworthiness.

None of this happened.

DBRI took over negotiations for credit terms on our behalf and gave us last minute news that we would be given NO credit terms, causing an extreme financial crisis as franchisees scrambled to pay off their old US Foods invoices while also paying on new Sysco invoices at the same time, and this took place during the worst financial downturn in company history (which resulted from DBRI's decision to abandon our customer base in search of millennial customers).

In addition to the financial burden caused by the credit terms, DBRI further worsened the situation by poorly managing the transition of goods. US Foods stopped supplying franchisees with goods before Sysco was able to supply them, which resulted in franchisees having to accept substitutes from Sysco that were not only far more expensive (one example is the "Missy" rope bag, normal price is just over $32.  The substitute they sent us was over $58 for the same quantity) but were also a far cry from the proprietary items in quality (one example here is that we were sent hot dogs as a substitute for Polish Kielbasa at just under $120 a case vs. $92 for our normal sausage).

In some instances, Sysco did not even have a substitute to offer, so franchisees literally had to drive all over the county sourcing their own substitutes.

At one point, franchisees were either unable to purchase Dickey's chicken, sausage, coleslaw, baked potato casserole, macaroni & cheese, barbecue beans, green beans, cleaning chemicals, paper towels, brisket rub, onion tanglers, to-go bags, drink cups, napkins, ice cream cones, side cups, rolls, buns, and even our own BARBECUE SAUCE.

Our local rep said that these issues were because DBRI is not communicating with the local Sysco offices.  DBRI says that is it the suppliers fault. We are left not knowing whose word to trust, but at the end of the day we are paying DBRI to provide a purchasing system that works.
Another Franchisee wrote:
High COGs [cost of goods sold]  is killing us!  You can find cheaper products in the open market vs our approved vendor (sysco).
A Dickey's Barbecue Pit Franchise owner wrote:
US Foods had a two week payment policy.

When we went to Sysco they (Sysco) wanted payment immediately.

That means most stores had to double up of food payments. It killed us.

My guess (again can't prove it) is Roland wanted the kickbacks from vendors to be accelerated to meet DBRI's year end numbers and the only way was to force franchises to pay SYSCO immediately. Stories like this are legion.

When gas went up a couple years ago. Sysco started charging a $25 "delivery" feel. My wife asked the driver about it one day. He said "not it is only $5". My wife showed him the statement. He said "$5 is standard the rest must be going to Dickeys. Everybody else I deliver to pays $5."
Another Dickey's franchisee wrote:
I'm keeping detailed track of additional costs I've incurred since the switchover to Sysco. They promised us on a company wide webinar back in October that we would get our money back but nothing yet. What a shocker!

Crazy thing is, on that same webinar they said that one of the reasons why we had to switch to Sysco was the high rate at which Dickey's franchisees were defaulting on their debt to US Foods. So the consequence of Dickey's treating franchisees badly is a new vendor with higher prices, worse terms, and horrible out of stocks! Thanks for nothing.
Another Dickey's franchisee wrote:
The Dickey's Corporation has its hand in many thing including owning the manufacturing of many proprietary Dickey's products and they own the distribution center Wycliffe Distribution. So Dickey's Corporation is making profit on the products we sell 4 times. Because they make profit when they sell the product to Sysco. They make profit if their product goes their their Wycliffe Distribution center. They make profit when Sysco sells the product to us in the form of a kick back. And they make a profit when we sell the product to a customer in the form of our royalty. Somehow, this just doesn't seem right.
Another Dickey's franchise owner wrote:
When Dickey's changed from US Foodservice to Sysco, it created a lot of headaches and financial burdens for us and I am sure all stores.  I suspect Sysco is paying Dickey's a little more than US Foodservice.
A multi-unit Dickey's franchisee wrote:
They changed us to Sysco and it's a poorly communicated cluster f- where the credit terms change. So we have the majority of stores struggling to pay bills and now we have to start paying USFoods and Sysco at the same time. Once again, probably nothing illegal there, but they're not doing anything to make things better.
Another Dickey's Barbecue Pit franchisee wrote:
It's my understanding that the recent switch over from US Foods to Sysco as the sole approved vendor was precipitated by the high number of franchisees who defaulted on their debts to USFoods.  That's what supposedly led to the resulting out of stocks and exorbitant new prices we've been forced to accept from Sysco.
Still another Dickey's owner wrote:
Dickey's was originally with Sysco, then went to US Foods, back to Sysco.   The menu boards they have us buy cost over $500 dollars.  We ended up doing the menu change and food vendor change at the exact same time and it's been a disaster.  We were overcharged by thousands of dollars in the first few orders and corporate initial told us we'd be refunded, but we have yet to see anything.  We weren't able to make new menu items because of the transition with food vendors and them not being able to provide certain products.  It was a very poorly planned and executed transition and we continue to have issues.  We went from 21 day payment terms with US Foods to same day invoice terms with Sysco, despite have sent our credit app when they requested it months before the transition.  We're now on a 7 day invoice with Sysco.
Dickey's franchisee stated:
Regarding the outrageous Sysco terms, or lack thereof (I too went from 2 weeks to 2 days), I have been told on 2 separate occasions by different people at Sysco that the current set up was DICTATED by Dickey's when they negotiated the agreement. I asked my contact, a Director at Sysco, if I could quote him on that and he said "Yes, go talk to them"…
A Dickey's franchise owner wrote:
High COGs, low availability or even out of stock. We had almost never experienced this with US Foods but now with Sysco this is just usual business. Dickey's is requiring us to order twice a week 55 cases to satisfy Sysco. If we not order so much each time we get slammed with a $50 delivery fee. How should we order so much if we don't have the business to do so?
Anonymous wrote:
Everything every one is saying is 100% true! I used to have 14 day terms with US Foods and almost 14 day terms with Sysco when I first opened. I was never late and never had any issues. Now that we go back to Sysco I get 2 day pay terms. That is utter crap as they more or less said there is no way to get our old terms.

I know of only a couple of stores if that many that actually got 7 day pay terms.

The new CEO is just a puppet of Roland Dickey Jr. Nothing is going to change. Sure she introduced new councils that are supposed to give us our voice but the only people they chose are "Yes Men". I don't think they picked anyone that actually would not agree with them.

I am not sure how they are supposed to be a fair voice if they don't choose people that will disagree with them. The decisions they have been making in the last year or two only benefits them. I have yet to see one that benefits us the franchisee. There are going to be more and more closings if they don't change.
Another owner wrote:
Very high Cogs. I havent been able to go under 40% since the Transition process between US Foods and Sysco.
Long time Dickey's franchise owner wrote:
For Dickey's to claim that switching to Sysco was a business decision that will lower cost or improve operations are just excuses. Every owner in Dickey's knows that it's a step down. How many wrong products we received weekly, increases in cost, no night drop delivery, product being substituted or even out of stock , there are just so many issues.

Not only these, Dickey's is forcing stores to switch to new menu that will lower average ticket and not telling us that those stores that are already switched are regretting it. There is just no transparency and if you want stores to succeed, they need to listen.

Renee sent out email after she was promoted to be the president of the company promising better correspondence and quicker response time, .. things are just getting worst and as one of the long time Dickey's owner, I'm not surprised at all. It's all promise, talk, threat and no action and improvement.
Dickey's franchisee wrote:
Those 2 first weeks were horrible.  And this week Sysco started charging me interest and penalties for not paying immediately.
An unhappy Dickey's franchisee wrote:
Tamala and the whole Dickeys "team" promised credit terms, but I didn't hear of anyone receiving them. We had great credit terms the first time around with Sysco, and were paid up and were set up on a truck to truck payment. Which normally would've been fine if we weren't paying two weeks of US Foods bills.
Recently, a franchisee complained:
Thanks for nothing, Sysco!   I'm supposed to get 2 deliveries a week from Sysco, there is NO WAY I can order 55 cases every time I place an order!

Sysco notified us that beginning February 1, 2017, all Dickey's locations will be charged a delivery fee for each order falling under the required case minimums.  They wrote that "The following breakdown is the agreed terms between Sysco and Dickey's Corporate that had been waived up until this point.

Order Size                        Small Order Surcharge

30 cases or less                               $75.00

31 – 45 cases                                 $50.00

46 – 54 cases                                 $25.00

55 and more                      No Delivery Charge
A Dickey's franchise owner stated:
Many of the items Dickey's REQUIRES the stores to have are not even available at Sysco, they are considered "special order" items and we need to order them 2-3 weeks in advance. Others are semi-permanently out of stock for no reason or explanation

Some items are only available in ridiculously large quantities like the caps for our Gallon Jugs for tea and lemonade: only available quantity is 2,200 pcs! It's going to take me 10 years to sell that many gallons of tea.

Finally, like many others have mentioned, the vast majority of products we buy from Sysco with no credit terms, can be found much cheaper elsewhere, up to 25-30% cheaper (e.g. Restaurant Depot, Costco, Sam's Club, Webstaurantstore.com, Amazon.com…), plus they all take credit cards, which as you know come with "30-day payment terms", and some even offer tax free sales and free delivery!!!
Dickey's franchise owners:
[Your views will be added here]
DICKEY'S FRANCHISE OWNERS:  ADD YOUR VOICE!  COMMENT BELOW OR SEND US AN EMAIL IN CONFIDENCE TO UNHAPPYFRANCHISEE[AT]GMAIL.COM.
Also read:
DICKEY'S Franchise Owners: Tell DBRI Your Biggest Concerns, Anonymously
Letter to DICKEY'S President Renee Roozen re: Withheld Marketing Report
DICKEY'S BARBECUE PIT Closed Location List
DICKEY'S Franchise Owners Share Frustrations & Fears
DICKEY'S BARBECUE PIT Franchise Complaints
DICKEY'S BARBECUE PIT Makes a Terrible Promotion Worse
Dickey's "The Middle" Family Reunion Sweepstakes Contest Details
Dickey's Barbecue Restaurants Inc. Threatening to Sue U.S. Army Veteran
ARE YOU A DICKEY'S FRANCHISE OWNER?    PLEASE SHARE A COMMENT, OPINION OR REQUEST WITH DBRI.  COMMENT BELOW OR EMAIL IN CONFIDENCE TO UNHAPPYFRANCHISEE[AT]GMAIL.COM
Dickey's Barbecue Pit, Dickey's franchise owners, Dickey's Franchisees, Dickey's Barbecue Pit Restaurants Inc., DBRI Inc, SYSCO, Sysco Dickey's, US Foods, Dickey's US Foods, Renee Roozen, Dickey's Renee Roozen, President Renee Roozen, Dickey's marketing fund, franchisee marketing fund, systemwide franchise marketing fund, franchise ad fund report,  Dickey's Barbecue Pit franchise, Dickey's franchise, Dickey's Barbecue Pit franchise complaints, Roland Dickey Jr, barbecue franchise, barbeque franchise, BBQ franchise