Letter to DICKEY'S President Renee Roozen re: Withheld Marketing Report
Letter to DICKEY'S President Renee Roozen re: Withheld Marketing Report  Dickey's Barbecue Restaurants, Inc. (DBRI) President Renee Roozen has stated her commitment to building positive relationships with the franchise owners of Dickey's Barbecue Pit.  The publisher of UnhappyFranchisee.Com invites Ms. Roozen to demonstrate that commitment by releasing the audited financial accounting of its marketing fund to Dickey's franchise owners, as DBRI is contractually obligated to do.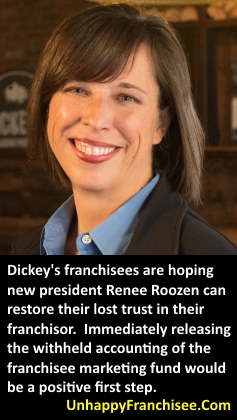 (UnhappyFranchisee.Com)  We've been focused on Dickey's marketing-related franchisee complaints this week.
Monday we exposed some deep flaws in the Dickey's current "The Middle" Sweepstakes promotion:  DICKEY'S BARBECUE PIT Sweepstakes: Enter to Win a $4,000 Tax Bill!
Tuesday we argued for Dickey's to pull the plug on the arguably unwinnable contest:  3 Reasons DICKEY'S Should Abort its Sweepstakes NOW – UPDATED
Wednesday we posted franchisee complaints that franchisor DBRI may be violating its franchise agreement by withholding the audited marketing fund accounting from franchisees:  DICKEY'S Franchise Owners Claim DBRI Refusing to Release Marketing Fund Report
Thursday (today) we are sending a letter (via email) to Dickey's Barbecue Restaurants, Inc. President Renee Roozen with questions about the marketing fund allegations, and suggesting that immediate release of the audited accounting would be a good opportunity to re-establish trust with struggling franchisees.
(Letter to DICKEY'S President Renee Roozen re: Withheld Marketing Report.
Here is our letter to Ms. Roozen.
We will post her reply when received.
(Hopefully, it won't be in the form of a legal demand… but if so we'll post that, too)
January 19, 2017

Ms. Renee Roozen

President

Dickey's Barbecue Restaurants, Inc.

4514 Cole Avenue

Suite 1000

Dallas, TX 75205

Dear Ms. Roozen:

Congratulations on your appointment as President of Dickey's Barbecue Pit, Inc.

UnhappyFranchisee.Com has been receiving complaints from Dickey's franchise owners for the past several years, and following multiple franchise related lawsuits.

While your quote in a recent press release was encouraging ("…I have learned how crucial relationships with our Owner/Operators are, and I look forward to developing a great partnership with them"), anyone with your years of experience knows that  franchisees are a skeptical bunch.  They understand that every new leader deserves a grace period, but they anxiously await to see whether her actions will match up with her rhetoric.

In your third month as President, I hope that you have seen that in addition to high COGs, high store turnover/failure rate, major changes in menu and store design and issues with vendor turnover and transitions, marketing support is a major concern of Dickey's franchise owners.  The current co-branded promotion with Warner Bros. (Dickey's "The Middle" Family Reunion Sweepstakes) did not help instill confidence in Dickey's marketing program.  The promotion is undeniably ill-planned, poorly executed, not understood even by franchisees, crew members or Franchise Directors, and provides little-to-no perceived marketing value to franchisees' sales. The supporting promotional materials are filled with inconsistencies and typos that remain uncorrected, even well into the promotion.

While the current Sweepstakes debacle may be publicly embarrassing for franchisees and make them question the competence and commitment of the Dickey's marketing team, there is a much more serious issue that threatens to undermine the trust Dickey's franchise owners have in the franchisor, Dickey's Barbecue Restaurants, Inc. (DBRI).  I believe that your immediate and proactive response to this issue would go a long way in establishing your commitment to developing great partnerships with the owner operators whose investments built and maintain the Dickey's chain.

Dickey's franchise owners are required to pay 4% (in some circumstances 2%) of net sales into a Marketing Fund that DBRI is to maintain in a separate account and use solely for marketing, sales-building and public relations programs for Dickey's restaurants.

Article 6 of the current Dickey's Franchise Agreement states, "A statement of the operations of the Marketing Fund shall be prepared annually by Dickey's and shall be made available to you [the franchisee] upon request."

The 2016 Dickey's Franchise Disclosure Document (FDD) states:
"A statement of the operations of the Marketing Fund will be prepared annually by Dickey's and will be made available to you upon request, as well as an accounting of Marketing Fund expenditures. Dickey's is not obligated to provide an accounting of each marketing program and spend for your individual Restaurant. The Marketing Fund is audited on an annual basis as part of Dickey's annual audit."
The FDD refers to numbers in the audited Marketing Fund report for Fiscal 2016, so it seems clear that the report already exists.

However, I have received reports from numerous Dickey's franchise owners who claim that their requests for the detailed accounting have been ignored, rebuffed, and even prompted retaliation from DBRI in the form of intimidating visits and snap inspections.

Yesterday, I posted a number of these complaints here:

DICKEY'S Franchise Owners Claim DBRI Refusing to Release Marketing Fund Report

http://www.unhappyfranchisee.com/dickeys-franchise-marketing-fund-report/

That post prompted more Dickey's franchise owners to share their frustrations and suspicions about the withheld reports.  One franchisee wrote:

Each time I requested marketing report the store got visited in few days by Compliance inspector I never met before. No reply to the request ever. But I got the message. And felt pain for daring to ask.

Another wrote:

I have requested 2013, 2014, 2015, and 2016 and guess what….no response. These are years old and should be available. If 2016 is not ready yet because of the year ending ok but why can't I get the rest of those. It seems like they are trying to go back and hide their tracks. These are supposed to be ready and available upon request. If they are requested we should have those files within 24 hours. Roland Dickey Jr is just getting greedy and not taking care of their owners that bought into their concept.

Yet another wrote:

I was told that they received my request and had to forward it to Legal for approval.  What does the Legal department have to do with it?  Why wouldn't the Marketing Department be sending out the Marketing Accounting as required by the contract?  I was also told we would have to set up a meeting to go over it.  Why is this such a big deal?  What are they hiding?

Another Dickey's franchise owner wrote:

I have requested the the accounting report for the marketing fund for months.  I have been told that they are "working on it," and will get it to me as soon as it's ready.  Why would they have to "work on it."?  The franchise agreement says they do it as part of the audit.  It should be a file that was available for distribution to franchisees last summer.  It sounds fishy that they have to "work on" an audited accounting.

Franchisees have stated that their Franchise Directors and VP Emily Bennett have treated each request as if it is a new and unique inquiry that they've never encountered before.  Franchisees talk with one another, so they know that this is not the truth.  They also report being told that they'll be required to arrange a meeting or Skype conference before the information can be shared. This, also, does not seem to be consistent with Dickey's agreement to provide a copy of the accounting upon request.

Ms. Roozen, can you please explain:

Has DBRI intentionally withheld the detailed marketing fund accounting that it is contractually obligated to furnish to franchisees upon request?
Why is DBRI not simply sharing the audited numbers of the Fiscal Year May 31, 2016, which have been available since summer 2016 or earlier?
Now that you are President, when can Dickey's franchisees expect to receive the marketing report for Fiscal 2016?  Fiscal 2017?

Ms. Roozen, I hope that you will embrace this opportunity to voice your respect for and acknowledgement of the contributions that Dickey's franchise owners continue to make in building and maintaining the Dickey's Barbecue Pit chain.

I'm sure that you would agree that without their willingness to take huge risks, and without their investment of time, money, blood, sweat and tears, there would be no international expansion plans this year, and there would be no growth awards for Dickey's and Roland Dickey Jr. to accept and publicize.

And while it may seem odd to be having this dialogue with the publisher of a website, it is an unfortunate reality that many Dickey's franchisees feel that they can trust UnhappyFranchisee.Com. They fear that if they voice their concerns directly, they may become the target of an aggressive and formidable in-house legal team.

Perhaps your response to this inquiry will be the first step in restoring the trust in DBRI these owners must have felt when they invested their families' financial futures in building the Dickey's franchise brand.

Sean Kelly

President, Relentless, Inc.

Publisher, UnhappyFranchisee.Com
Also read:
DICKEY'S BARBECUE PIT Closed Location List
DICKEY'S Franchise Owners Share Frustrations & Fears
DICKEY'S BARBECUE PIT Franchise Complaints
DICKEY'S BARBECUE PIT Makes a Terrible Promotion Worse
Dickey's "The Middle" Family Reunion Sweepstakes Contest Details
Dickey's Barbecue Restaurants Inc. Threatening to Sue U.S. Army Veteran
ARE YOU A DICKEY'S FRANCHISE OWNER, EMPLOYEE, OR CUSTOMER? DO YOU THINK RENEE ROOZEN SHOULD IMMEDIATELY RELEASE THE AUDITED FINANCIAL STATEMENT OF THE MARKETING FUND AS-IS, WITH NO SPIN?    PLEASE SHARE A COMMENT, TIP OR UPDATE BELOW.
Dickey's Barbecue Pit, Dickey's Barbecue Pit Restaurants Inc., DBRI Inc, Renee Roozen, Dickey's Renee Roozen, President Renee Roozen, Dickey's marketing fund, franchisee marketing fund, systemwide franchise marketing fund, franchise ad fund report,  Dickey's "The Middle" Family Reunion Sweepstakes Contest, Dickey's Barbecue Pit franchise, Dickey's franchise, Dickey's Barbecue Pit franchise complaints, Roland Dickey Jr, Dickey's Barbecue Pit offer, barbecue franchise, barbeque franchise, BBQ franchise,