3 Reasons DICKEY'S Should Abort its Sweepstakes NOW – UPDATED
The Dickey's "The Middle" Family Reunion Sweepstakes sponsored by Warner Bros. seems so illogical, so poorly conceived, and so amateurishly executed, one wonders if Warner Bros. might not have a hidden agenda.  Here's why DICKEY'S BARBECUE PIT should abort this promotion TODAY… before it causes more embarrassment… or worse.
(UnhappyFranchisee.Com) Are Dickey's Barbecue Pit and Warner Bros. running a sweepstakes scam by offering a prize entrants literally have NO chance of winning?
As we pointed out last Saturday, January 14, 2017, the day after the Official Rules were posted for Dickey's "The Middle" Family Reunion Sweepstakes contest, entrants would need a time machine to be eligible to win the promotion.
The Official Rules were first posted on Friday, January 13, 2017.
They state that to be eligible, "Entrant's entry must be received by Sponsor between 12:00:01 a.m. PT on Wednesday, November 9, 2016, and 11:59:59 p.m. PT on Friday, November 25, 2016."
So, the Dickey's Family Reunion Sweepstakes rules require entrants to have registered 2 months before the rules were posted, 2 months before the promotion was announced, and two months before the registration page even existed.
While at first we dismissed this as just an innocent typo in a promotion rife with typos and inconsistencies, it's now been 4 days since this requirement was published.
Is this an intentional trick to keep from having to award a Grand Prize?
Or has no one in Dickey's management bothered to read (or correct) the rules of the sweepstakes they are requiring their franchisees to promote?
Either way, Dickey's should be doing damage control by aborting this promotion before they look even more incompetent, apathetic and/or deceptive.
The Sweepstakes Debacle Undermines Dickey's Purported Credibility
Last week, the franchisor of Dickey's Barbecue Pit, DBRI, announced that it is restructuring to accommodate continued fast-paced growth in the U.S. and to launch its international expansion effort.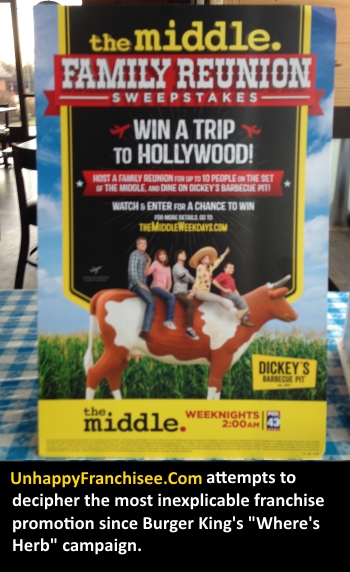 Former DBRI CEO Roland Dickey, Jr.was named to the top spot on a new parent company, his wife Laura Rea Dickey was named CEO of DBRI and Renee Roozen was named President of DBRI (even though she assumed the role last October).
Last week, DBRI sent in-store promotional posters, counter cards and table tents to its franchise stores with little-to-no explanation, just the mandate to display them.
The posters promote a Dickey's/Warner Bros. co-branded contest to run from 1/16/2017 through 2/3/17.
The sweepstakes features a chance to win a Dickey's-catered "Family Reunion" for 10 people to be held on the set of the tv show "The Middle" in Hollywood.
Some details of the promotion appeared on the collateral material in near-microscopic print, and Dickey's customers were directed to a promotional website for more details.
Last Friday, we found that the website they were promoting did not exist, and that Dickey's crew members and even a Franchise Director couldn't explain the promotion.  There were major contradictions and typos in the materials.  We wrote about it here:
Dickey's "The Middle" Family Reunion Sweepstakes Contest Details
When the site was finally updated, inconsistencies and typos made things even worse:
DICKEY'S BARBECUE PIT Makes a Terrible Promotion Worse
We discovered that the conditions to accept the prize were so onerous, we could not imagine any Dickey's customers would be willing to accept.  For example, the winner would likely have to pay taxes of $4,000 or more, plus unreimbursed expenses (such as having to pay tax on airfare and rooms, pay for meals and some transportation) that would put total expenses near $10,000 for the winner and 9 guests.
We asked: would pay $5,000 – $10,000 for the "prize" of eating barbecue at a replica suburban house that smells like the Salvation Army
DICKEY'S BARBECUE PIT Sweepstakes: Enter to Win a $4,000 Tax Bill!
Is Dickey's Hoping its Secret Promotion Quietly Goes Away?
Other than sending out the in-store display materials and putting up the hastily repurposed website (which still includes remnant of past promotions), neither DBRI nor Warner Bros. appear to be advertising or promoting the sweepstakes.
Less than 12 hours before the launch of the Dickey's "The Middle" promotion, there appears not to have been a single press release issued by Dickey's or Warner Bros.
So far, neither the Dickey's website nor any of its Facebook accounts contain a single mention of the promotion.
Dickey's President Renee Roozen should show leadership and ABORT this sweepstakes TODAY
In our opinion, the new DBRI President Renee Roozen should immediately announce her decision to abort this ill-conceived and mismanaged promotion before it does any more damage to the Dickey's brand.
She should explain what happened and apologize to franchisees for the false start.
And she should voice her commitment to providing the level of marketing professionalism and effectiveness that will be critical to the survival of Dickey's franchises, and in turn critical to Dickey's future growth and success.
We've listed some of the reasons why loudly and openly killing this promotion is a wiser move for Ms. Roozen than just hoping it will die quietly of its own accord.
Reason #1:  Out of Respect for Dickey's Franchisees
As we pointed out in the earlier post, the promotion looks as if it were thrown together at the last minute with many errors and loose ends.  As the one who must interface with the customer, this put the Dickey's franchise owners and crew members in an awkward position with their customers.
During a visit days before the promotion started, no one at our local Dickey's location could figure out how the promotion works.  Even a multi-state Franchise Director could not explain the basics of the promotion.
Franchisees in many markets are embarrassed to tell customers they are required to watch a sit-com rerun at 1:30 am or even as late as 3:30 am in order to enter.
The promotional materials give contradictory instructions.  For example, the counter card and Official Rules instruct entrants to watch for and text in a "Word of the Day," while the promotional video and website says to watch for a featured character and text the "Heck of the Day."
The materials and even the Official Rules contain significant errors and typos.  For example, the Official Rules that were first posted 1/14/17 state "Entrant's entry must be received by Sponsor between 12:00:01 a.m. PT on Wednesday, November 9, 2016, and 11:59:59 p.m. PT on Friday, November 25, 2016.'"  The error – if it is an error – is uncorrected as of this writing.
The unclear nature of the promotional details and the unreliable and conflicting details on the website just serve to cause a distraction and confusion in Dickey's stores, with no clear benefit to franchise owners.
Reason #2:  Out of Respect for Dickey's Customers
A case could be made that this is not a legitimate sweepstakes promotion at all, that Warner Bros. and maybe Dickey's must know that the featured Grand Prize will likely never be awarded or accepted.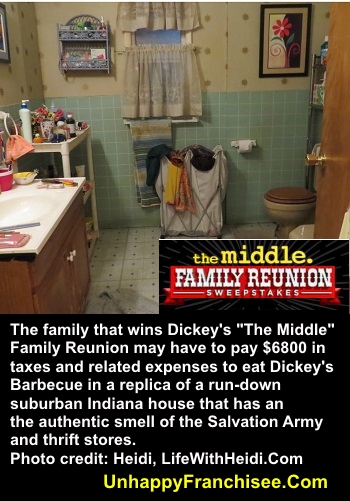 In our opinion, a case could possibly be made that the Dickey's "The Middle" Family Reunion Sweepstakes is a deceptive scheme designed to collect mobile phone and personal data from Dickey's customers tricked into entering a contest they'd likely never accept even if they won.
Consider that:
Those entering the contest may be under the impression that the winner will visit a live set of "The Middle," and will get to meet actors of the show.  However, the Official Rules only refer to a visit to the set, which is a replica of a messy suburban house on a lot in Burbank, CA.
There is only a single eligible date for the on-set Family Reunion to be held, and Warner Bros. hasn't disclosed the date.  When a winner is selected "on or around" February 15th, 2017, the winner will be notified by text.  Within 24 hours, the winner must commit to taking the trip on the date designated by Warner Bros. or the winner will be disqualified and an alternate "may be selected."
Within 24 hours of notification, the winner "must execute an Affidavit of Eligibility, Liability Release and Publicity Release (collectively, "Affidavit/Release"). The Sponsor will require a tentative Grand Prizewinner to also execute a Travel Release and Guest Travel Release. The Affidavit/Release must be returned to the Sponsor within twenty-four (24) hours of Prizewinner's receipt of the Affidavit/Release. A disqualification will result and an alternate entry will be selected if the Affidavit/Release is not returned to the Sponsor within the specified time."
It's not clear whether the winner must designate which 9 participating family members within 24 hours or be disqualified.
The Winner is responsible for paying taxes on the prize, which has an Approximate Retail Value ("ARV") of Twelve Thousand Three Hundred and Nineteen Dollars ($12, 319.00).  The rule of thumb for taxes on prizes is 1/3 of the value, so the "winner" would be responsible for paying in the ballpark of $3700 – $4000 in taxes.
The winner and guests are responsible for paying air travel taxes, hotel taxes, travel from home to the airport, insurance, meals, parking, gratuities and incidentals. With tax on the flight and hotel, the winner could be facing another $500 in expenses, $5000 for the entire group.
The promotional video promises the winner $500 in cash, but the Official Rules state they they'll receive a $500 gift card.
If we read the Official Rules correctly, Warner Bros. has the right, at their sole discretion, to simply award the winner $1000 and call it a day.
When it comes down to it, Warner Bros. has made accepting the questionable prize so prohibitive and so unreasonable that it's hard to imagine that they intend to ever host a Dickey's Family Reunion on the set of "The Middle" at all.
If Dickey's is not complicit in what could possibly be a bogus scheme to collect personal data and never award the promised Grand Prize, Renee Roozen should protect Dickey's customers and abort this promotion until these terms and WB's intentions can be investigated and evaluated.
Reason #3:  To protect DBRI's credibility and Dickey's brand image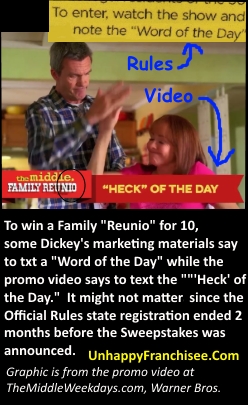 DBRI may have been bamboozled.
They may have been seduced by the thought of partnering with a big name like Warner Bros.
They may feel they are not responsible for the contradictory instructions and the error-ridden, sloppily repurposed website.
But at the end of the day, DBRI's responsibility is to protect the Dickey's Barbecue Pit brand.
They can only do that by protecting and supporting those who represent the brand on the front line:  Dickey's franchise owners.
And the Dickey's brand  will only be respected by customers if Dickey's treats those customers with respect.
Tricking customers into divulging personal information with a misleading and shoddily produced sweepstakes, and offering them a prize that they will likely, in the end, find unfeasible to accept is not treating customers with respect.
If Roland Dickey, Jr., Laura Rea Dickey and Renee Roozen want to keep claiming they are conscientious and competent leaders of a world-class company, they need to acting the part.
They can start by immediately aborting the embarrassing "The Middle" Family Reunion Sweepstakes and apologizing to franchisees for wasting their time and energy.
Then perhaps they can tell their legal team to take a break from threatening and suing struggling franchise owners, and allocate some time to holding promotional partners like Warner Bros. accountable for damaging the credibility of Dickey's in the marketplace.
But hey, what do we know.  these are just our opinions.  If we're off-base, please set us straight with a comment below or an email to UnhappyFranchisee[at]Gmail.com
ARE YOU FAMILIAR WITH THE DICKEY'S "THE MIDDLE" FAMILY REUNION SWEEPSTAKES?    PLEASE SHARE A COMMENT, TIP OR UPDATE BELOW.
Dickey's Barbecue Pit, Dickey's "The Middle" Family Reunion Sweepstakes Contest, Dickey's The Middle Contest, Dickey's sweepstakes, Dickey's win a family reunion, Dickey's Barbecue Pit franchise, Dickey's franchise, Dickey's Barbecue Pit franchise complaints, Roland Dickey Jr, Dickey's Barbecue Pit offer, barbecue franchise, barbeque franchise, BBQ franchise
Follow our continuing analysis of the Dickey's Franchise program: