DICKEY'S Franchises for Sale (UPDATED)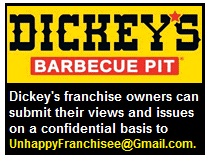 DICKEY'S BARBECUE PIT Franchises for Sale advertisement are plentiful online, many offered at low prices well below the franchise owner's initial investment.  We've listed more than 40 current Dickey's franchise resale listings below, along with the asking price.
(UnhappyFranchisee.Com)  Dickey's Pit Barbecue franchise locations for sale listings include existing businesses available across the U.S.
We've compiled a list of 41 Dickey's franchises for sale, including asking prices, which we've posted below.
Prospective owners:  Be sure to research what Dickey's owners have to say by following the links ate the bottom of this page.
Dickey's owners and brokers:  If you have a listing you'd like added, please leave it as a comment below.
If a listing has been sold or removed from the market, please let us know.  Share the sales price if known.
Dickey's Franchise Resales are Priced to Sell
When we launched this list on 12/8/16, we found 40 Dicky's Barbecue Pit franchise stores listed for sale on various listing sites online.
Number of Dickey's resales listed:  41
Average asking price:  $266,000
Cost to open new Dickey's:  $57,289 to $526,819*
* According to the Dickey's 2016 FDD
Also read:  DICKEY'S BARBECUE PIT Closed Location List
Dickey's Barbecue Pit Franchise Locations Listed for Sale
(last updated 12/8/16)
Location
Asking Price
Notes from Ad
ALABAMA
Mobile County, AL
$1,650,000 (3 Units – $550,000 each)
CALIFORNIA
Ladera Ranch, CA
$279,000
"In business since April 2015" BizBuySell
Los Angeles County, CA
$875,000 (2 Units – $437,500 each)
San Luis Obispo, CA
N/A
San Mateo County, CA
$400,000 (3 units – $133,333 each)
"3 Bay Area Dickey's"
"$2.47M in Sales!" BizBuySell
Yolo County, CA
$89,000
BizBuySell
COLORADO
Denver, CO
$315,000
See listing
Thorton, Colorado
$305,000
Gross $804,175
FLORIDA
Escambia County, FL
$395,000
"Includes a remote concessions trailer that adds over $70,000 in revenue and a delivery vehicle." BizBuySell
GEORGIA
Athens / Clarke
$39,000
 See listing
Athens / Watkinsville
$ 79,995 (2 units – $39,997 each)

"Two units offered at rock bottom pricing"

See listing

Atlanta – Kennesaw
$125,000
See listing (expired)
Flowery Branch, GA
$297,000
Original cost to open restaurant was nearly $400,000! BizBuySell
Woolsey, GA (Fayette County)
$250,000
Est. 2/27/14

2014 Gross Sales $600K for 11-months.

2015 Gross Sales $670,000

2015 Net Profit $164,000

Couple spends 35-hours managing business BizBuySell

IDAHO

Twin Falls

$30,000

Gross $487,726

MISSISSIPPI

Harrison County, MS

Tupelo, MS

Added 1/10/17

$995,000 (3 Units – $3331,666 each)

$115,000

Gross revenue $530,000

MINNESOTA
Day, MN
$399,000
See listing

"Gross: $723,598"

"Established: 2012"

North Branch, MN
$399,900
See listing
NEW JERSEY
Middlesex Co., NJ
$175,000
See listing
NORTH CAROLINA
Raleigh, NC
$650,000 (2 locations – $325,000)
BizBuySell
SOUTH CAROLINA
Abbeville Co., SC

$89.995  price dropped 1/10/17

See listing

Florence County, SC

$89.995  price dropped 1/10/17

See listing

"Sales of nearly $500,000…"

"priced to move…"

"being sold for pennies on the dollar."  BizBuySell

TENNESSEE
Clarksville, TN
$799,000
See listing
TEXAS
Commerce, Hunt County, TX

San Antonio, TX

  $40,000 (Price reduce 9/8/18)

$359,000  (2 units – $179,500 each)

See Listing

$603,127 gross

UTAH
Lehi, Utah

Updated 1/17 $55,000

1/26 Under contract

Gross sales $435,868
Lindon, UT
$100,000
See listing
Ogden, Utah
$175,000
Gross Income: $566,575
Salt Lake Co., UT
$49,000
See listing
Salt Lake City, UT
$195,000
See listing
West Valley, UT
$195,000
See listing
WASHINGTON
Pierce Co., WA
$1,050,000 (3 Units – $350,000 each)
See listing
Past Posts on Dickey's Franchise Practices

PLEASE SHARE YOUR THOUGHTS & UPDATES BELOW
Please share a comment (anonymous is fine) or Contact UnhappyFranchisee.com.
ARE YOU FAMILIAR WITH THE DICKEY'S BARBECUE PIT FRANCHISE?    PLEASE SHARE A COMMENT, TIP OR UPDATE BELOW.
Dickey's Barbecue Pit, Dickey's Barbecue Pit franchise, Dickey's franchise for sale, Dickey's Barbecue Pit franchise resale, Dickey's Barbecue Pit for sale, Dickey's Barbecue Pit closed, How much does a Dickey's franchise cost, franchise churning, Dickey's failure rate, Dickey's franchise failure rate, barbecue franchise, barbeque franchise, BBQ franchise, franchise failure rates,  worst franchises, unhappy franchisee