DICKEY'S Franchise Owners Share Frustrations & Fears
Dickey's franchise owners are invited to share their frustrations, fears, challenges, & complaints – by leaving a comment or sending an email – on a confidential basis.  Roland Dickey, Jr. and other members of the Dickey's Barbecue Restaurant Inc.  (DBRI) are invited to respond to their franchise owner's concerns and to our questions, and to share what is being done to address these issues.  All familiar with the Dickey's Barbecue Pit franchise are invited to join the discussion.
See other recent posts here: Dickey's Franchise
(UnhappyFranchisee.Com)  The Dickey's Barbecue Pit franchise chain reached its expressed goal of opening its 500th restaurant in March, 2016th.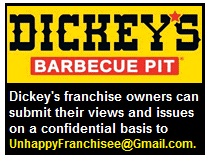 Some complain that the company's focus on unit growth and corporate revenue has come at a heavy cost – a cost borne by its struggling franchisees and its former franchisees.
We've been contacted by numerous franchisees who are struggling to keep their businesses afloat.
They complain that changes in vendors (from Sysco to US Foods and back to Sysco), changes in menu, and forced shipments of holiday food items that don't sell have driven food costs up, not down.
They complain that DBRI (through family-owned affiliates such as Wycliff  and Spark Intelligence, Inc.) is further driving up their costs by adding mark-ups, accepting rebates on purchases made by franchisees, and adding additional fees.
Dickey's franchisees claim that the DBRI-controlled marketing programs rely too heavily on discounting, BOGO offers and promotions involving giving away free food… promotions that may lead to greater revenue for the franchisor and its affiliates at the expense of franchisee profitability.
Many franchisees have said that they've noticed a sudden and appreciable drop in advertising coverage earlier this year.
According to the Dickey's Franchise Disclosure Document (FDD), "A statement of the operations of the Marketing Fund will be prepared annually by Dickey's and will be made available to [Dickey's franchisees] upon request, as well as an accounting of Marketing Fund expenditures." 

Franchisees report that their request for the advertising fund report have been ignored or denied.
Dickey's franchisees pay 4% of their gross sales into a franchisee advertising fund, which DBRI administers.
DBRI has failed to provide franchisees a detailed accounting of the expenses of the franchisee advertising fund, despite the fact that they are contractually obligated to do so.
While their specific situations vary,  franchisees who have contacted us all express a consistent view that their franchisor DBRI is indifferent to their struggles and not overly concerned about their plight.
In fact, some have expressed the suspicion that the corporate strategy is to allow Mom & Pop owners to finance the opening of new restaurants, then allow larger multi-unit franchisees to take them over for little or nothing as they fail…
The end result, some contend, will be a larger chain with fewer owners to oversee.
Are you a Dickey's franchise owner?  What do you think?  Is Dickey's doing all it can to help its franchisees be successful?  What improvements would you like to see them make?  Share a comment below or send an email in confidence to UnhappyFranchisee[at]gmail.com.
You can also view and provide input on these issue-specific pages:
Dickey's Menu Changes & Menu Management
Dickey's Threats, Bullying & Churning of Franchisees
Roland Dickey, Renee Roozen, DBRI Invited to Address Franchisee Concerns
UnhappyFranchisee.Com will continue to publish the most common complaints and sources of dissatisfaction among Dickey's franchise owners, and give DBRI execs every reasonable opportunity to provide corrections, clarifications, rebuttals, or explanations.
Our goal is to give voice to both sides of these issues with the hope that DBRI will listen to its struggling franchisees and attend to their concerns in a constructive manner.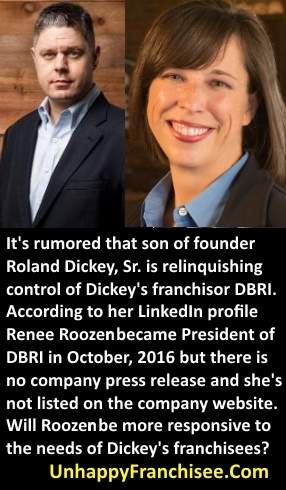 Why should Dickey's engage in public dialogue with a site called Unhappy Franchisee?
Unfortunately, DBRI has created an internal environment of distrust among its franchisees.
Some believe their concerns fall on the deaf ears of an indifferent franchisor.
Others are afraid of negative repercussions from speaking out.
A recent news story about two franchised store closings in Wisconsin provide examples of why franchisees do not feel that they can share their concerns with their franchisor.
Maureen Wallenfang, who writes for the USA Today news network, published a story in local news affiliate the Post-Crescent about the simultaneous closures of Dickey's franchises in Appleton and Green Bay, WI.
The story is titled The Buzz: Dickey's BBQ closes in Darboy, Green Bay.
In the story, Anthony Falbo, a Dickey's franchise owner who recently closed two locations, was quoted as saying "We can count 15 to 20 (other franchised Dickey's) closings around the country in the last month and a half, based on conversations we had with other franchisees."
Dickey's spokeswoman Michelle George, based in Dallas, said that Falbo's claims of recent closures was inaccurate.
Michelle George stated:  "'That number is how many close in a year."
While Ms. George's denial of a franchise closure problem might fool the public, Dickey's franchise owners know that the company tends to hide its store failures by selling failed locations at "pennies on the dollar" or even giving them away for free to a succession of owners.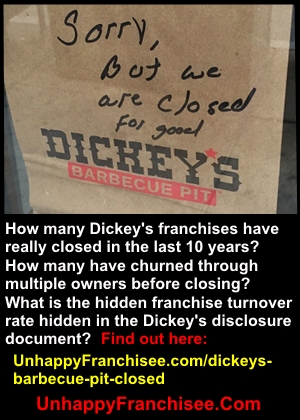 A Dickey's location could, hypothetically, have had 3-4 owners who each lost money on it without ever closing.
We estimate that 41% of the Dickey's franchise agreements in the past ten years ended in closure, termination, reacquisition by the franchisor, or "transition" to another owner.
See what we've found regarding closures and resales here:  DICKEY'S BARBECUE PIT Closed Location List
Sometimes, failed franchises are temporarily taken over by DBRI and put on the market at fire sales prices.
There are currently 41 Dickey's franchise locations listed for sale by franchise brokers (See DICKEY'S Franchises for Sale)
Half of these franchise locations have a sale price under $200,000, with some listed as low as $39,000 and $49,000.
Dickey's spokesperson Michelle George must surely be aware that a $39,000, $49,000 or even a $150,000 franchise resale represents a lost investment (or investments) even though the store may technically not have closed.
We estimate that 41% of the Dickey's franchise agreements in the past ten years ended in closure, termination, reacquisition by the franchisor, or "transition" to another owner.

See what we've found regarding closures and resales here:  DICKEY'S BARBECUE PIT Closed Location List
Threatening Struggling Franchisees is Not in Dickey's Best Interest. Helping Is.
In the same news story, the Wisconsin franchise owner said that high costs, made worse by a recent vendor change,  forced he and his wife to pull the plug on their two Dickey's franchises.
Dickey's President Renee Roozen's response was to deny that there's a problem with costs, and to state that DBRI was going to "pursue all available remedies"(legalspeak for "We gonna sue'm!).
Seriously, Ms. Roozen?  No expression of concern for the franchisees who bought into your system and lost their investments?
You are going to SUE your franchisee for losing their money with Dickey's?
(As for Ms. Roozen's contention that franchisees are enjoying lower prices and improved service with the vendor change, we will be happy to share complaints of franchisees about higher prices, worse credit terms, and forced-shipments seasonal items that traditionally don't sell.)
The lesson for Mr. Dickey, Ms. George and Ms. Roozen:  If you want franchisees to share their concerns with you, you must not deny that their problems exist, and you must not threaten to sue them if they share their opinions. Because if you aren't willing to listen to their concerns, they'll eventually share them with others… like the media, litigation attorneys, etc.
Hopefully, now that they've reached 500 stores, DBRI will reevaluate its priorities, and put Open and Honest Dialogue with Franchisees at the top of the list.
Dickey's Franchise Owners:  What Issues & Concerns Would You Like DBRI to Address?
Roland Dickey, Jr., President Roozen, DBRI:  What Would You Like to Communicate to Your Struggling Franchisees?
Also Read Past Posts on Dickey's Franchise:
PLEASE SHARE YOUR THOUGHTS & TIPS BELOW
Please share a comment (anonymous is fine) or Contact UnhappyFranchisee.com.
ARE YOU FAMILIAR WITH THE DICKEY'S BARBECUE PIT FRANCHISE?    PLEASE SHARE A COMMENT, TIP OR UPDATE BELOW.
Dickey's Barbecue Pit, Dickey's Barbecue Pit franchise, Dickey's franchise, Dickey's Barbecue Pit franchise complaints, Dickey's Barbecue Pit Renee Roozen, Renee Roozen, Roland Dickey Jr, Dickey's Barbecue Pit, Dickey's complaints, franchise churning, Dickey's failure rate, Dickey's franchise failure rate, barbecue franchise, barbeque franchise, BBQ franchise, franchise failure rates,  worst franchises, unhappy franchisee