Are LIBERTY TAX SERVICE Franchise Owners Happy?
Are you familiar with the Liberty Tax Service franchise opportunity? 
Are Liberty Tax Service franchise owners happy?  Why or why not?  
Please share your thoughts and opinions below.
*     *     *    *    *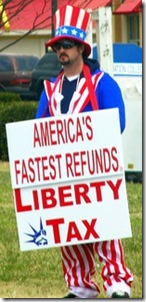 In 2009, Entrepreneur magazine listed Liberty Tax Service as the #3 franchise, surpassed only by Subway at #1 and McDonald's at #2. 
It was quite a leap, since Liberty Tax Service had never made the top 10 (Subway had been named #1 16 times, McDonald's 8 times). 
Previously, Liberty Tax Service franchise had ranked #23 (2008); #17 (2007); #10 (2006); and #15 (2005).  We don't see any explanation by Entrepreneur for the sudden ranking surge.
Could it be Liberty Tax Service's cutting edge branding & marketing programs that vaulted them to the top?  (See picture, left)
Entrepreneur's listing is fairly generic, "In 1997, after selling Jackson Hewitt Inc.–the tax-preparation service company he founded 15 years earlier–John Hewitt acquired a Canadian tax franchisor and established Liberty Tax Service. A year later, Hewitt expanded into the U.S. with five offices; at the close of 2008, the number of U.S.-based Liberty Tax Service franchises had grown to nearly 2,500."
Is Liberty Tax Service such a great investment opportunity that it deserves to be listed as #3 in the nation?  Does it provide superior training, guidance and support to its franchise owners?
WHAT DO YOU THINK?  DO YOU OR HAVE YOU OWNED A LIBERTY TAX SERVICE FRANCHISE?  ARE LIBERTY TAX SERVICE FRANCHISEES HAPPY?  WHY OR WHY NOT?
Photo credit:   January 25, 2009 by Brent and MariLynn Taken in Smyrna, TN  License:  Creative Commons