DICKEY'S Franchise Issues: Online Ordering
Dickey's franchise owners can anonymously share their views with franchisor DBRI on online ordering, and the switch from service provider OLO to the NCR Aloha Take Out/Spark system and other important issues through the Letters to Dickey's Program.
(UnhappyFranchisee.Com)  LETTERS TO DICKEY'S is a collaborative, interactive series that invites Dickey's Barbecue Pit franchise owners to candidly (and anonymously) tell their franchisor (DBRI) what they think and how they feel about the franchise issues and challenges facing them.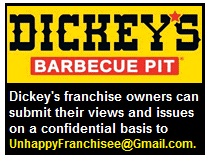 Dickey's franchisees are invited to share their opinions on the topics most important to them by sending a confidential email to UnhappyFranchisee[at]gmail.com, or posting a comment below. 
This post is dedicated to DBRI's online ordering service NCR Aloha Take Out (ATG)/Spark Intelligence, and the effect of the current service on Dickey's franchisees' businesses.
If you would like to read or add comments on other issues, please go to:
DICKEY'S Franchise Owners: Tell DBRI Your Biggest Concerns, Anonymously
You can also view and provide input on these issue-specific pages:
Dickey's Menu Changes & Menu Management
Dickey's Threats, Bullying & Churning of Franchisees
In January, 2017 Roland Dickey Jr. informed Dickey's franchisees that he had decided to end the relationship with the OLO company that provided the online ordering technology for Dickey's stores.
He cited that a change to their own
Existing contract expires mid-January
OLO wanted to increase the monthly service charge to Dickey's franchisees without increasing functionality
OLO wanted to lock Dickey's franchisees into a 5-year contract.
Dickey's tried to negotiate with OLO  "could not get [OLO] to budge so DBRI declined to renew as you deserve more functionality for your money.
In addition, requiring a multi-year, long term contract with OLO would not allow us to continue developing our long-term plan to provide an alternative, cloud based POS option by this time next year.
Therefore, we will soon part ways with OLO and instead go with an Aloha/Spark combined system that will work seamlessly with your current Aloha POS.
Same functionality, lower monthly fee
Lots of enhancements in the coming year
Immediate concerns by franchisees included that customers cannot prepay with the new system as they could with OLO, resulting in a longer wait time in-store for those picking up.
Also, the new system is only set-up for new G4 menu so not all items will be available.
Franchisees also expressed skepticism regarding the involvement of Spark Intelligence, Inc., an affiliate entity controlled by Roland Dickey, Jr.
Here's a running collection of opinions and experiences Dickey's franchisees are having with the online ordering system transition.
Dickey's franchise owner wrote:
OLO or ATO should not be forced on anyone. It has always been an optional system PER our FA's. This is just another stream of Revenue for DBRI to screw over owners.

OLO has never been a revenue stream for us. We paid $99 a month and barely made $1000 each month, factor in labor and food costs, CC fees and sales tax and we literally make no money on an order. It shouldnt be required or forced upon owners.  Make this an option to owners. Go back to OLO where a receipt is printed and customers have to pay in advance.
Dickey's o/o wrote:
New OLO -ATO.  This is nothing but another money grab by DBRI setting up yet another company to milk the Franchisee.  There are better cheaper options already on the market.  I found one that is $35 month and includes a phone app for ordering.  I did not sign to have ATO loaded onto MY computer (that is my property) I had numerous orders on Sat come in and the customer said they placed an online order I had no print out and no verification.  They claimed they had already paid what was I to do say tough shit show me a receipt?  I have no idea on how to get that money for something I did not sign up for or authorize to be put on my property.
1/23/17 Dickey's franchisee wrote:
So Monday 1/23/17 late at night they send out an email basically admitting that they pushed through the whole OLO/ATO swap without making sure that it was working, and of course it's not…

IT writes

Dear Owner/Operator,

During the installation of ATO, a remote deploy error occurred on a small group of POS systems with an almost identical environment to your back of house computer.  Due to this, we have delayed the final installation step of ATO on your POS. Your store is not online and not able to accept online orders at this time.

NCR is currently working through this problem; and we are pushing them to remedy this as quickly as possible… After our latest technical audit with NCR this evening, they believe they will have this error fixed within seven calendar days from today.

This means you should expect to be successfully set up on online ordering on or before next Monday, January 30…
Dickey's franchisee wrote:
Rumor has it that OLO dumped Dickeys and Dickeys is trying to spin in that they are saving owners money.  Owners are starting to realize the "Spark" affiliate is Dickey's (Owned by Roland Dickey).  A lot of franchisees want to fight it and not sign up for it.

OLO was $99 a month we did per store $800/900 a month in sales on it. Take the $99 out of that, and then royalties, marketing, COGS, labor and you literally make nothing on OLO. We always said we wanted to drop it and they told us we couldn't.
Dickey's franchisee wrote:
This is great, a search on ATO for a Dickey's location in my zip code returns a result 85 miles away! LOL
Another Dickey's franchise owner wrote:
Why exactly is Roland Dickey Jr's Spark Intelligence involved in this?  Franchisees bought and paid top dollar for our POS systems.  NCR Aloha provides the online ordering service.  What need is there for another family owned company except possibly as another way to extract money from Dickey's franchisees without having to disclose it through DBRI? Isn't this and the "smokestack" sales reporting what we pay a royalty for?
Dickey's franchise owners, let your voice be heard:
[Your views will be added here and read by DBRI management]
DICKEY'S FRANCHISE OWNERS:  ADD YOUR VOICE!  COMMENT BELOW OR SEND US AN EMAIL IN CONFIDENCE TO UNHAPPYFRANCHISEE[AT]GMAIL.COM.
Letters to Dickey's Project Posts:
DICKEY'S Franchise Owners: Tell DBRI Your Biggest Concerns, Anonymously
DICKEY'S Franchise Issues: Menu Management
DICKEY'S Franchise Issues: Switch from U.S. Foods to SYSCO
Also read:
Letter to DICKEY'S President Renee Roozen re: Withheld Marketing Report
DICKEY'S BARBECUE PIT Closed Location List
DICKEY'S Franchise Owners Share Frustrations & Fears
DICKEY'S BARBECUE PIT Franchise Complaints
DICKEY'S BARBECUE PIT Makes a Terrible Promotion Worse
Dickey's "The Middle" Family Reunion Sweepstakes Contest Details
Dickey's Barbecue Restaurants Inc. Threatening to Sue U.S. Army Veteran
ARE YOU A DICKEY'S FRANCHISE OWNER?    PLEASE SHARE A COMMENT, OPINION OR REQUEST WITH DBRI.  COMMENT BELOW OR EMAIL IN CONFIDENCE TO UNHAPPYFRANCHISEE[AT]GMAIL.COM
Dickey's Barbecue Pit, Dickey's franchise owners, Dickey's Franchisees, Dickey's Barbecue Pit Restaurants Inc., Dickey's online ordering, Dickey's Spark Intelligence, Dickey's Online ordering, OLO, NCR Aloha Take Out, Aloha Take Out & Delivery, Renee Roozen, Dickey's Renee Roozen, President Renee Roozen, Dickey's menu, Dickey's Barbecue Pit franchise, Dickey's franchise, Dickey's Barbecue Pit franchise complaints, Roland Dickey Jr, Dickey's Smokestack reporting, barbeque franchise, BBQ franchise