CUPPY'S COFFEE Franchise Graveyard
Here is the list of Cuppy's Coffee Locations dated 03/09/11
Please add any updates, new names and/or status of any locations you may know about in the comments below.  Thanks.

Here is the list of Cuppy's Coffee franchisees as listed in the latest UFOC:  Cuppy's Coffee Franchisee list from 12/08 UFOC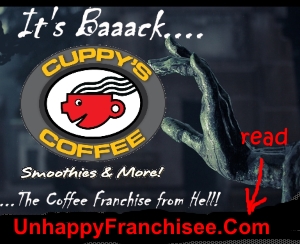 Also read:
Cuppy's Coffee Franchise Nightmare is Back
CUPPY'S COFFEE Franchise Press Release – Buyer Beware!
Here is the list of locations, as they appeared on the Cuppy's Coffee website as of 8/26/08.
Please share any additions, corrections, clarifications that you know about in the comment section below.
Please also list any failed or closed locations that appear or do not appear on this list.  [This list reflects VERY few of the many closed or paid never opened franchises]
If a location is not marked [OPEN] you can assume it is closed.
AL Huntsville          3324 Wall Triana Hwy [CLOSED]
AL Tuscaloosa         Drive Thru [CLOSED] Gordon
AL Tuscaloosa         Drive Thru ?
AK  None
AZ  Pearce          Mobile Cafe
AZ  Arizona         Kiosk [CLOSED] Sierra Vista – Paul Davis
AZ  Tucson Cafe  [CLOSED] Closed per Yelp. Last review January, 2010
AZ  Tucson         Mobile Cafe [CLOSED]
AZ Tucson 2040 W Orange Grove Rd Suite 104 Tucson, AZ 85704 [CLOSED]
AR  Sheridan             Mobile Cafe
AR  Stuttgart           Mobile Cafe
CA  Apple Valley Cafe [Paid Never Opened] miranda
CA  Chino             Cafe  [CLOSED] monica
CA  Fairfield           Cafe  2460 Hilborn Road Suite C, Fairfield, CA 94534-1807
CA  Lincoln            Cafe [CLOSED] 12/30/09 Owner: Paul Criswell
CA  Mammoth Lakes     Drive Thru
CA  Modesto           Mobile Cafe
CA  Moorpark           Cafe  [CLOSED]
CA  Oceanside           Cafe 4635 Frazee Rd Ste C Oceanside, CA 92057 [CLOSED 8/12]
CA  Rancho Cucamonga     Cafe 12365 FOOTHILL BL UNIT 101, Rancho Cucamonga, CA 91730  [CLOSED]
CA  Riverside Cafe        [OPEN]
CA  Santa Clarita     Cafe [CLOSED]
CA  Wheatland/Lincoln           Drive Thru [CLOSED] Paul C. Opened 2006
CA Temecula Cafe (JJ) [CLOSED]
CA  North Hollywood [Paid Never Opened] binford
CA  Long Beach [Paid Never Opened] alcafaras
CO  Fort Collins Cafe [Paid Never Opened] Noem
CO  Longmont           Drive Thru [CLOSED] Opened March 2008 Owner: Joe Mivshek
CO  Westminster     14644 Orchard Pkwy [CLOSED] (Owner: Jim Julian)
CO  Fort Collins    Cafe  [PAID NEVER OPENED] Noem
CT Manchester [CLOSED]
DE  Wilmington      Cafe          [CLOSED] – Robbins
FL  Beverly Hills      Mobile Cafe
FL  Beverly Hills     Mobile Cafe
FL  Brooksville     7365 Horse Lake Rd   [CLOSED] Owners: Carol and Joe Roberts opened 2008
FL  Casselberry     Cafe
FL  Holiday           Mobile Cafe
FL  Jacksonville Beach     Drive Thru [CLOSED]
FL  Kissimmee           Mobile Cafe
FL  Maitland           Cafe
FL  Miami           Mobile Cafe
FL  Miami-Quail Roost     Cafe
FL  Navarre           Drive Thru  [CLOSED]
FL  Niceville           Mobile Cafe
FL  Pace           Drive Thru
FL  Pace           Mobile Cafe
FL  Panama City Beach     Drive Thru
FL  Port Charlotte     Drive Thru [CLOSED]
FL  Port St. Lucie     Mobile Cafe
FL  Ruskin           Mobile Cafe
FL  San Antonio     Cart
FL  Shalimar           Drive Thru [CLOSED]
FL  Venice           Drive Thru
FL  Venice           Drive Thru [CLOSED]
FL  Wellington           Mobile Cafe
FL Orlando Cafe [CLOSED]
FL Oviedo JJ Cafe [CLOSED]
FL Niceville [PAID NEVER OPENED]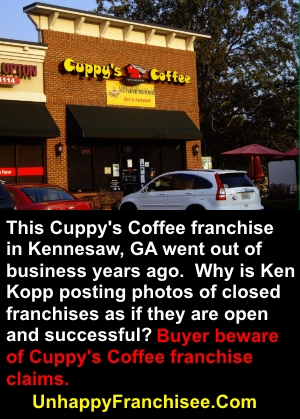 GA  Carrollton      Cafe          [DEBRANDED] [CLOSED] Benefield Coffee Co. Carrollton, Georgia
Opened 11/3/08  Closed 7/3/09  Filed Chapter 7 Bankruptcy
GA  Cumming          Cafe
GA  Kennesaw Cafe w/ DriveThru Debranded, closed [CLOSED]
GA  Savannah          Mobile Cafe
GA  Sugar Hill          Cafe
GA  Tyrone          Cafe w/ DriveThru [CLOSED] Closed September, 2010 Owner: Pinky Legaspi
ID  Eagle Cafe          [CLOSED] (Owners Larry and Marci Addleston opened December 8, 2008)
IL  Normal             Drive Thru
IL  Rockford           Drive Thru  [CLOSED]
IL  Woodstock   Drive Thru
IL Chgo/Midway   Drive Thru    [CLOSED]
IA  Ames                Mobile Cafe 4534 Hemingway Drive Owner: DEE & ERIC MCVEY
IA  Des Moines           Drive Thru [CLOSED] (Opened: April 2008 Closed: December 2008 Owners Brian and Kim Burgett)
IN  Shelbyville      Drive Thru
KY  Frankfort             Mobile Cafe
LA  Covington             Cafe w/ DriveThru
LA  Monroe           Drive Thru
LA  Houma          Drive Thru    [CLOSED]
LA  Houma         Drive Thru [PAID NEVER OPENED] Rivera
LA Houma       Cafe  [PAID NEVER OPENED] (Owner: Poonam Khapra)
LA Metairie [PAID NEVER OPENED]
MD  Bel Air             Cafe  [CLOSED]
MA  Chicopee             Drive Thru
MA  Hanover           Cafe [OPEN]
MA  Lawrence           Mobile Cafe
MA  Leominster     Cafe [CLOSED]
MI  Augusta             Mobile Cafe
MI  Battle Creek     Drive Thru
MI  Clawson Cafe w/ DriveThru    [CLOSED] (Owners:  Otts)
MI  Clinton Township     Cafe  [CLOSED]
MI  Jackson           Kiosk     [CLOSED]
MI  Taylor           Kiosk     [CLOSED]
MI  [Paid Never Opened] Reisner
MS  Gulfport            Drive Thru
MS  Ocean Springs     Drive Thru
MS  Petal          Drive Thru Evelyn Gandy Pkwy MS [CLOSED 12/2013]
MO  St. Louis             Cafe          Coming Soon
NV  Las Vegas          Mobile Cafe
NJ   Voorhees       [Paid Never Opened]
NM  Albuquerque Drive Thru [PAID NEVER OPENED] Menz
NY  Greece             Drive Thru [CLOSED] D. Check
NY  Yorktown Heights     Kiosk
NC  Charlotte             Cafe  11915 N Tryon St [CLOSED]
NC  Greensboro     Mobile Cafe [OPEN] (Owner: Hettion Booker)
NC  Hampstead     Mobile Cafe
NC  Hendersonville     Kiosk
NC  Raleigh           Cafe
NC  Spring Lake     Cafe w/ DriveThru (Cuppy's Coffee of Anderson Creek) [Closed Sept 2013 Owner: Karen Fulghum]
NC  Wilmington Cafe [CLOSED]
OH  Columbus            Cafe [CLOSED] Open 7/2008 Closed 9/16/2009 Steve Firouzian
OH  Elyria          Mobile Cafe [OPEN] (Owner: Beth Wright)
OH  MansfieldCafe w/ DriveThru [CLOSED] Closed 7/3/10 Franchisee: Bill Lewis

OK  Duncan             Drive Thru [CLOSED] Closed 5/15/09
OR  Salem            Cafe  [CLOSED] (Owner: Womack. Opened 5/11/08 Closed: 12/31/08)
OR  Woodburn          Drive Thru     Coming Soon
PA  Bridgeville      Drive Thru       [CLOSED] [9/8/07 – 8/21/08]
PA  Easton           Kiosk  Palmer Park Mall [CLOSED]
PA  Mechanicsburg     Cafe [CLOSED]

SC  Greenville      Drive Thru [CLOSED]
TN  Athens           Mobile Cafe
TN  Athens          Drive Thru
TN  Knoxville          Drive Thru
TN  Knoxville          Drive Thru [CLOSED] Building auctioned here

TX  Edinburg            Cafe
TX  Longview          Kiosk
TX  Temple          Cafe
TX Colleyville Opened 2009 as "Espressios" Owner: Christy Shaw
TX  Midland     Andrews Highway [CLOSED]
TX  Midland     Academy [CLOSED]
TX  Houston  130 FM 1960 Diane Mondello or Joe Ramirez[CLOSED]
TX Arlington  [CLOSED]
TX  Copperas Cove  [CLOSED]
TX [PAID NEVER OPENED] beasley
VA  Fredericksburg      Drive Thru
VA  Gainesville     Cafe 14630 Lee Highway
VA  Richmond           Mobile Cafe
VA Richmond 8461 Midlothian Turnpike Richmond, VA 23235 [CLOSED]
VA  Springfield     Kiosk [CLOSED]
VA  Midlothian        [CLOSED]
VA Christianburg  [CLOSED]
VA Woodbridge 1419 Old Bridge Rd Woodbridge, VA 22192 [CLOSED]
VA [PAID NEVER OPENED]
WA  Puyallup  3500 S Meridian South Hill Mall #974   [CLOSED]
WA  Richland [PAID NEVER OPENED] (Heber)

WV  Falling Waters    Mobile Cafe
WI  Madison            Cafe