Cuppy's Coffee Franchise Nightmare is Back
The Cuppy's Coffee Franchise Nightmare may be back, my friends… Cuppy's Coffee franchise victims have had a few years to try to recover from the personal and professional devastation that came from their dreams of owning a slickly marketed drive-thru coffee and café concept. But some may never recover from the home foreclosures, the bankruptcies, the broken family relationships and the deep depression suffered.  Cuppy's franchise survivors still in therapy may not want to read this disturbing post, because it looks like we've got a new predator stalking the American Dream with that evil little smiling coffee cup…
(UnhappyFranchisee.Com)  by Sean Kelly  Cuppy's Coffee could be the next great horror franchise.  Think Nightmare on Main Street – the story of a smiling, harmless-looking coffee cup from hell that's repeatedly conjured from the grave by greedy opportunists foolish enough to think they can control it.  Yet the cursed cup that feeds on the dreams  of entrepreneurs and their families consumes all – homes, savings accounts, college funds, credit scores, marriages… and eventually those who conjured it up in the first place.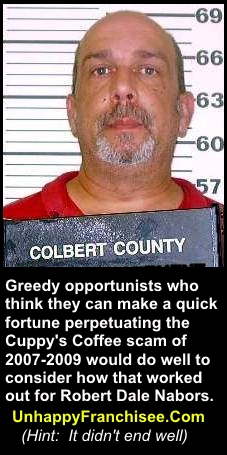 Consider the fate of the conjurers:
Roy Snowden:  Cuppy's' Doc Frankenstein founded this monster as Java Jo'z back around 2006.  He collected lots of up-front fees he told people were refundable if they didn't get financing or find a pad site for their pre-fab drive-thru coffee stands.  But, like the financial roach-motel that it was, their payments went in but didn't come out.
Just as the villagers started lighting the torches, Roy Snowden was saved by the IRS… they sent him to prison for tax fraud.
Robert "Morg" Morgan:  Robert "Morg" Morgan (now known as raw food evangelist Bobby Morgan) took the helm when Snowden got thrown in the brig  and changed the name to Cuppy's Coffee.  They continued to collect "refundable" fees that would never be returned.  Under Morgan, Cuppy's Coffee sold more than 400 franchises in 2 years.
As the pirate ship took on water, Morg and much of the management jumped ship.
Morgan's marriage fell apart and he's been hiding from the wrath of angry franchisees ever since.
Robert Dale Nabors:  Once cabin boy, then first mate… franchise con-sultant Dale Nabors seized the ship's wheel from Morgan and filled his pockets with booty.  The plan backfired and Dale Nabors ended up getting sued, harassed, and charged with writing bad checks.  His wife Natalie divorced him.   Nabors has been hiding from the law and angry victims (who want to see him walk the plank) ever since.
After Cuppy's, Dale Nabors tried his hand as a music promoter and unwisely swindled a country rock band fronted by two professional wrestlers. Now Dale Nabors is also hiding from big guys in tights who know how to swing a folding chair.
Kenneth B. Kopp:  The newest entrant in the annals of Cuppy's Coffee!  It appears Mr. Kenneth B. Kopp of Greenville, SC registered the abandoned Cuppy's Coffee trademarks and domains such as CuppysCoffee.com and CuppysCoffeeFranchise.com.  He has created websites, a Facebook page, a YouTube channel, a Twitter feed and launched a pubic relations campaign that (in my opinion) falsely communicate the illusion that Cuppy's Coffee is a currently a fully developed, thriving international franchise organization.
Cuppy's Coffee Franchise Nightmare Returns… Scarier Than Before!
Kenneth Kopp's launch of his FrankenCuppy's franchise is even scarier than the original.  At least the first company had more than pictures and videos scavenged from a long-defunct franchisor.
FrankenCuppy's appears to be little more than a patchwork of videos, photographs and testimonials salvaged from the archives left from the previous company – to which Kopp claims to have no connection.
FrankenCuppy's franchise propaganda features photos of long-closed stores, training and support facilities that no longer exist, excited franchisees long since disillusioned, and earnest employees who have long since scrubbed Cuppy's Coffee from their resumes.
Kenneth Kopp relies heavily on the Cuppy's Corporate video circa 2008/2009 narrated by Cuppy's former marketing director Rachel Clark.  It's posted on multiple websites and YouTube channels.  We've posted it to our YouTube page here:
The video provides a painful review of now-closed stores and the now-broken promises of the Cuppy's Coffee franchise program, including the promise that franchisees can expect their customers to return 4-5 times per week.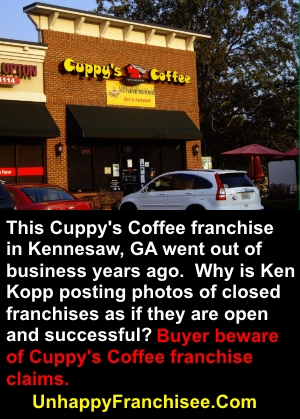 Cuppy's Coffee Announces a 1500 Store Expansion of its Fictional Franchise Chain
On June 27, 2016, Kenneth Kopp (or Ken Kopp's Cuppy's Coffee cronies)  flooded social media with a press release titled  Cuppy's Coffee Now Offering Exciting New Menu and Franchise Business Opportunities, which states:
Now under new ownership and management, Cuppy's Coffee proudly announces an exciting new expanded menu including healthy gourmet sandwiches that compliment its delicious, freshly brewed coffees…

Now headquartered in Greenville, South Carolina…
Ken Kopp's press release gives the impression that his Cuppy's Coffee is a continuation of an established company.
South Carolina Secretary of State records indicates that Kopp established Cuppy's Coffee LLC on April 7, 2016, just 2 months before the press release was sent.
Kenneth Kopp stated to me in an email that he has no connection to the former Cuppy's Coffee franchise organization or its owners.
He has not responded to questions as to whether he has a single prototype Cuppy's Coffee store in operation.
The release states:
Cuppy's Coffee is one of the fastest growing retail coffee and smoothie companies in the United States…

The company has expansion plans to open 1,500 new stores nationwide over the next five years due to the demand for their excellent products, services, and low cost franchise business opportunity.
The Press release quotes Kenneth Kopp, president of Cuppy's Coffee, as stating:
With the incredible staff that we have to support franchisees on our development team, we look forward to a record year as we expand in the U.S. and overseas.
In an email, Kopp has stated that he has  "real estate department" and a highly experienced team with "many years of experience in multiple well-known restaurant brands," but would not elaborate on who they are or where they work.
The press release identifies a Dia Matheos as "vice president of operations for Cuppy's Coffee," but no reference to a coffee industry professional named Dia Matheos or Diamanto Matheos can be found.
Cuppy's Coffee Websites Contain Questionable Representations
Ken Kopp has launched multiple websites including:
Cuppy's Coffee YouTube Channel
A few of the many, many of the questionable representations on Kenneth Kopp's websites include:
Cuppy's Coffee, Smoothies & More takes pride in being not only the best but the fastest growing retail coffee and smoothie company in the United States.
In 2007-2008, Cuppy's Coffee may have been one of the fastest growing.  After that, it was certainly the fastest-crashing.  We haven't been able to establish that Kopp has a single operational Cuppy's location.
The company's motto of "like Starbucks, only better" has proven itself true as Cuppy's adds an average of one new franchise every working day of the week!
We've seen no evidence that Mr. Kopp's new FrankenCuppy's has opened a single franchise location, much less one per week.
There [sic] flagship model has been the coffee dual drive thru and they've had great success all over the country.
We invite Mr. Kopp to furnish proof that he has had success with Cuppy's Coffee drive-thrus all over the country.
We will have no trouble showing that the Cuppy's Coffee drive thru has failed all over the country.
Kopp's Cuppy's Coffee websites make outrageous claims about the level of support they'll provide, stating:
…everything you need from A-Z is supplied – nothing is left to chance – no services are farmed out and every part of the 400+ step franchising process is managed and monitored by your Franchise Systems Manager on a daily basis.
The scope of services provided from its international headquarters at 220 N. Main St., #500 Greenville, South Carolina is impressive.
According to its website:
Cuppy's favorite saying is, "your success is our success." Our care and commitment to each individual franchisee and their success is reflected by our support and investment in the integration of all the services needed by our franchisees including:

Financial Counseling & Assistance (Commercial, SBA, 401K, home equity and leasing)
Real Estate Assistance & Territory Protection (Finding a location, LOI submission, and lease negotiations)
Construction Project Management (Our preferred builder provides a business in a box with everything you need from A to Z)
Marketing Assistance (National, regional, and local marketing support and campaigns)
Automated Web-based Purchasing (Automatic membership to the Specialty Coffee Cooperative, guaranteeing you the lowest prices possible)
Training (Coffee College in Florida as well as in-store training, Webinars, Web-based distance learning courses covering: sales, operations, and marketing training programs)
Ongoing Customer Service (Proactive mentoring by a qualified franchise systems manager)
Business Development (We offer a team of specialists in product preparation, marketing, sales, and operations that are dedicated to help you stay on track and to make sure you are reaching your goals)
We have asked Mr. Kopp to provide details as to the size and make-up of his support team, as well as the vendors and fabricators producing his Cuppy's Drive-thru units, mobile units and carts.
So far, he has declined to provide any details.
Cuppy's Coffee Franchise:  Red Flags Flying, Alarm Bells Ringing
We have reached out to Cuppy's President Kenneth Kopp and will continue to do so.
We don't want to rush to judgement and declare the new FrankenCuppy's a scam unless we're absolutely sure.
However, red flags are flying and alarm bells are ringing.
Red Flag:  Representations about the company's age, staffing and experience
Cuppy's Coffee is advertising its franchise on the International Franchise Association (IFA) website directory and on Entrepreneur.Com.
The Cuppy's Coffee franchise listings claim the company was founded in 2006 – 10 years ago.
Yet the South Carolina corporate registration for Cuppy's Coffee LLC states that the corporation was established April 7, 2016:
CUPPY'S COFFEE CAFE, LLC
DOMESTIC / FOREIGN:    Domestic
STATE OF INCORPORATION:    SOUTH CAROLINA
KENNETH KOPP
20 TANGLEWOOD DR
GREENVILLE, SC  29611
EFFECTIVE DATE:    04/07/2016
Trademark and website registrations indicate that this venture is brand new:
Cuppy's Coffee Cafe LLC formed:        4/7/16
Cuppy's Coffee Trademark Registration:  Filed 8/5/15, 2015, Registered 5/3/16
CoffeeCollege Trademark Registration:  Filed 2/18/14, Registered 9/16/14
CuppysCoffee.com domain registered:   8/10/13
CuppysCoffeeFranchise.Com domain registered:  9/29/15
Red Flag:  The Corporate Address is a Virtual Office
The franchise listings claim that the Cuppy's Coffee corporate address is 220 N. Main St., #500 Greenville, SC 29601
A Google search reveals that the corporate address is that of a Regus shared office suite that offers virtual offices starting at $3.44 per day.
Does the Cuppy's Coffee support staff – which is "adding a new Cuppy's location every day of the working week" and is "managing every part of the 400+ step franchising process" without farming out a single service – work out of a shared office suite that charges by the day?
Red Flag:  The President's Profile Picture is a Stock Photograph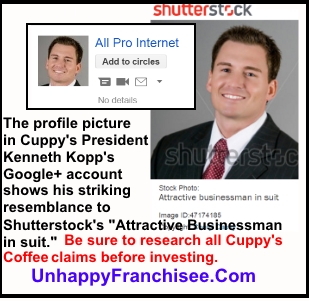 We contacted Kenneth Kopp through the email address used for his domain name registrations.
His return email (and Google+ page and YouTube accounts) show Mr. Kopp either has a striking resemblance to the stock photography model known as "Attractive Businessman in Suit," or he is using a stock photograph instead of his own picture.
LinkedIn has a page for a Ken Kopp in Greenville, SC, (Developer at Ability Hosting) but that has no photograph and only 3 connections.
Misrepresentations about the age, size and success of the chain, the use of a virtual office suite as a corporate HQ, and a President with no photograph to be found… the new Cuppy's Coffee seems to have all the makings of a highly suspicious investment opportunity.
Help Us Determine the Legitimacy of the New  Cuppy's Coffee Franchise Opportunity
Those who went through the turmoil and devastation of the first Cuppy's Coffee understand the importance of not sitting by and allowing history to repeat itself.
We need everyone's help to determine whether this new Cuppy's Coffee has the potential to be a legitimate franchise program that has gotten off to a very, very bad start, or whether it represents a predatorial scam devised and launched with the goal of tricking people into investing with a company that doesn't exist and believing in a dream with no basis in reality.
Let's look into this company and its claims together – You can post what you know or learn in the comments section below or email me in confidence at UnhappyFranchisee[at]Gmail.com.
ALSO READ:
FRANCHISE DISCUSSIONS by Company
ARE YOU A FORMER CUPPY'S COFFEE FRANCHISE OWNER OR EMPLOYEE?  ARE YOU FAMILIAR WITH KENNETH KOPP & HIS NEW CUPPY'S FRANCHISE OPPORTUNITY?  WHAT DO YOU THINK? SHARE A COMMENT BELOW.
TAGS: Cuppy's franchise, Cuppy's franchise opportunity, Cuppy's franchise complaints, Cuppy's Coffee franchise, Cuppy's Coffee franchise opportunity, Cuppy's Coffee franchise complaints, Ken Kopp, Kenneth Kopp, Dia Matheos, Diamanto Matheos, Cuppy's Coffee scam, franchise scams, unhappy franchisee
Monumental Cemetary, Milan Photo credit:  Marco   License:  Creative Commons