CUPPY'S COFFEE Franchise Press Release – Buyer Beware!
Cuppy's Coffee Franchise Press Release dated June 27, 2016 announces an exciting new franchise opportunity that seems literally too good to be true.  Here's why we're afraid the "new" Cuppy's Coffee franchise might be the same old scam we've seen before – only worse.
(UnhappyFranchisee.Com)  Has the Cuppy's Coffee Franchise Returned From the Dead to Claim More Victims?
It appears that someone feels that the Survivors of the Cuppy's Franchise Scam haven't suffered enough and it's time to get the old ball rolling again.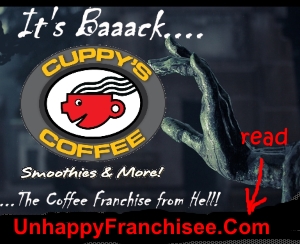 It APPEARS (all the facts aren't in yet… so it appears) that a someone named Kenneth B. Kopp  has decided to start selling Cuppy's Coffee franchises using the old abandoned Cuppy's Coffee name, logo, sales propaganda, trademarks, photos, videos and more.
Now we don't personally know Ken Kopp so we're going to withhold final judgement… but we suspect he doesn't even operate a single operational Cuppy's Coffee shop, trailer or kiosk.
We suspect that he is using photographs of  Cuppy's stores that have long-since closed and videos purporting that the defunct Cuppy's Coffee franchise company is alive and well and under his control.
We have asked repeatedly for clarification on his claims, but so far Kenneth Kopp has refused to provide any specifics about his organization, his staff, or company-owned or franchise locations in existence.
Also read:
Cuppy's Coffee Now Offering Exciting New Menu and Franchise Business Opportunities (Press Release)
Here's the initial Cuppy's Coffee franchise press release with the most questionable representations bolded and footnoted.
Cuppy's Coffee Now Offering Exciting New Menu and Franchise Business Opportunities

Posted on June 27, 2016

Cuppy's Coffee introduces new gourmet sandwiches along with franchise expansion plans.

Now under new ownership and management 1, Cuppy's Coffee proudly announces an exciting new expanded menu2 including healthy gourmet sandwiches that compliment its delicious, freshly brewed coffees.  Affordably priced and always made from the freshest ingredients, Cuppy's Coffee offers a wide variety of coffees, smoothies and edibles sure to please everyone.

Now headquartered in Greenville, South Carolina3, Cuppy's Coffee is a specialty coffee and smoothie café and drive-thru franchise that serve the world's finest coffees, lattes, espressos, smoothies, and Italian sodas along with a full menu of delicious breakfast and lunch items, plus snacks and other irresistible treats.  From warm muffins to tasty sandwiches and hot soup, Cuppy's Coffee has something for all appetites.

"Cuppy's Coffee created a new gourmet sandwich menu to give our customers a wide variety of great tasting options to help make the creation of their sandwich a personal experience," said Dia Matheos, vice president of operations for Cuppy's Coffee 4. "All of our coffee is freshly roasted using only the finest coffee beans and traditional Italian methods. Our coffee roasting company, based in Seattle has over 30 years' experience, including wood roasted and organic blends."

Customers are welcome to relax in the comfort of Cuppy's modern cafes, enjoying their favorite coffee, smoothies, sandwiches, soups, salads, or pastries.  They will enjoy the warm, welcoming atmosphere of the quaint cafe and appreciate the personalized and friendly service.  Stores with drive-thru windows also cater to customers who want to enjoy their delicious morning coffee on the go.

Cuppy's Coffee is one of the fastest growing retail coffee and smoothie companies in the United States 5.  Every Cuppy's Coffee is independently owned and operated.  The company has expansion plans to open 1,500 new stores nationwide 6 over the next five years due to the demand for their excellent products, services, and low cost franchise business opportunity.

"Cuppy's Coffee is a phenomenal opportunity in the QSR (quick service restaurant) industry. Coffee is the world's most popular beverage, with over 400 billion cups consumed every year. Our goal is to be a household name in each of our development areas," said Kenneth Kopp, president of Cuppy's Coffee. "With the incredible staff that we have to support franchisees 7 on our development team, we look forward to a record year 8 as we expand in the U.S. and overseas."

The coffee franchise stands out as Cuppy's Coffee takes pride in actively partnering with every franchisee to assure a rapid start up as well as long term success.  The company offers a variety of flexible franchise business models to support each franchisee's unique business goals and location.

For more information about Cuppy's Coffee, to find a location near you, or to inquire about franchise business opportunities, please visit the company's website at www.cuppyscoffee.com.

About Cuppy's Coffee

Cuppy's Coffee is a specialty coffee drive thru franchise business that offers the world's finest coffee, latte, espresso, smoothie drinks, and gourmet sandwiches available today. Cuppy's Coffee franchise system provides franchisees with an industry leading Marketing Team, Proven Systems, Site Selection Assistance, Training, Volume Buying Power, and Growth 9. For more information visit www.CuppysCoffee.com or call Toll Free at (844) 428-7797.

Distributed by HeadlinePlus Press Release Distribution

Media Contact

Company Name: Cuppy's Coffee

Contact Person: Media Manager

Email: editor@in2town.co.uk

Phone: (844) 428-7797

City: Greenville

State: South Carolina

Country: United States

Website: http://www.cuppyscoffee.com
1 The original Cuppy's Coffee franchise company collapsed in 2009.  Kenneth Kopp's Cuppy's Coffee Café LLC was incorporated 4/7/16.  It's not clear what is "under new management" since the entire company is brand new.
2  We have not been able to identify a single operational store, and Kenneth Kopp has so far refused to say if he has one.  What menu is being expanded, and where is it in use?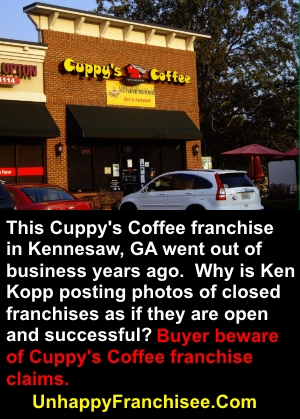 3   The original company was headquartered in Ft. Walton Beach, FL from 2007-2009.  Dale Nabors purchased the struggling company and tried to move it to Muscle Shoals, AL in 2009 just as the company was collapsing.  There has been no headquarters, and no Cuppy's chain, for 7 years.
The address given for the new Cuppy's Coffee "headquarters" is actually a Regus shared office suite that offers virtual offices starting at $3.44 per day.
4   We can find no reference to a coffee industry executive names Dia Matheos.  There is a Diamanto Matheos in Greenville, SC.  No reference anywhere to a VP of Cuppy's.
5  We can find no evidence of new stores opening
6  We can find no evidence of new stores opening
7  Questions regarding how many staff members Cuppy's Coffee has and who they are have gone unanswered by President Ken Kopp
8  Since the company was founded this past April, it will likely be a record year
9  Anyone considering a Cuppy's Coffee franchise should ask for proof of each of these and all other claims.  If any of these representations are not true, grab your checkbook and run.
ALSO READ:
FRANCHISE DISCUSSIONS by Company
ARE YOU A FORMER CUPPY'S COFFEE FRANCHISE OWNER OR EMPLOYEE?  ARE YOU FAMILIAR WITH KENNETH KOPP & HIS NEW CUPPY'S FRANCHISE OPPORTUNITY? 
WHAT DO YOU THINK? SHARE A COMMENT BELOW.
TAGS: Cuppy's franchise, Cuppy's franchise opportunity, Cuppy's franchise complaints, Cuppy's Coffee franchise, Cuppy's Coffee franchise opportunity, Cuppy's Coffee franchise complaints, Ken Kopp, Kenneth Kopp, Dia Matheos, Diamanto Matheos, Cuppy's Coffee scam, Cuppy's Coffee press release, franchise scams, unhappy franchisee