American Car Rental Association (ACRA) Board Member Bradley Kjar Wins Award
American Car Rental Association (ACRA) Board Member Bradley Kjar has been named a Pinocchio Award winner for 2016.  Bradley Kjar is the Director of Operations for U-Save Car & Truck Rental, a subsidiary of the publicly traded Franchise Services of North America (FSN:V).  An American Car Rental Association (ACRA) Board Member since April 2015, Bradley Kjar's rental car experience includes positions with Enterprise,  Dollar Thrifty, and Avis Budget.
(UnhappyFranchisee.Com)  2016 was the year of the hesitant award recipient, and Bradley Kjar is proving the most bashful of them all.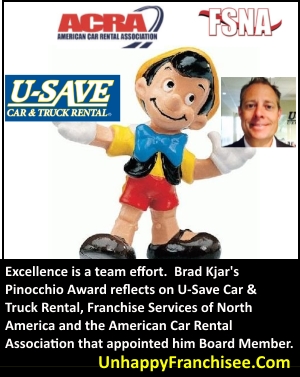 Even the press-evading Bob Dylan relented and finally accepted his Nobel Prize.
However, Dylan's fellow 2016 award winner Bradley Kjar remains elusive.
Not only has Mr. Kjar not returned messages from the awards committee regarding his 2016 Pinocchio award, the shy and self-effacing U-Save Director of Operations & ACRA board member seems to have blocked us his from his Bradley Kjar MBA LinkedIn profile page to escape the fanfare and well-wishers.
Defamatory Tale About UnhappyFranchisee.Com Earns

Bradley Kjar First-Ever Pinocchio Award
Kjar's professional recognition was announced in last week's blog post U-SAVE FRANCHISE, Brad Kjar Earn Double Pinocchio Award.
Brad Kjar achieved excellence in truth avoidance through an email sent to U-Save franchisees and his colleagues at Franchise Services of North America (FSNA).
After he was invited to share his opinion on franchisee issues and concerns expressed in the blog post U-SAVE Franchise Complaints, Mr. Kjar emailed the blog author on December 19, 2016:
Interesting post about Usave…I will have to see if legal will let me respond.

– Bradley Kjar, MBA
Two days later, Bradley Kjar responded (with legal's permission, one might assume) by sending U-Save franchisees and employees an email so dense with deceptive statements and falsehoods it may be considered best-in-class, if not a modern masterpiece.
Brad Kjar misdirected attention from the well-researched and substantiated blog post about the decline of U-Save's franchise locations and revenue with a fictional tale of blogging intrigue.
Brad Kjar claimed that the  U-SAVE Franchise Complaints post was a "hit piece" published the owner of a diabolical review generation company called BestFran.Com.
The UnhappyFranchisee.Com blog author and  publisher, Kjar stated, had been pitching his services to him and U-Save.
Shortly after Kjar had rejected his BestFran.Com proposal, Kjar contended, the author published the "hit piece."
Kjar wrote:
Upon further research, the owner of [UnhappyFranchisee.Com] also has another website: BestFran.com. This is a site that offers to assist companies with review generation, very similar to what we are implementing with Trustpilot, the marketing program we shared with you at our recent Regional Meetings.

… It is interesting that there is a hit piece about U-Save one week after I turned them down, from the same person I turned down.
Kjar displayed amazing chutzpah in the sending out this bold story since,
The owner of UnhappyFranchisee.Com does not own BestFran.Com or any other review company

The diabolical company BestFran.com does not appear to exist.
Misrepresentation of U-Save Franchisee Dispute Could Mean Hall-of-Shame Bid
The fictional blog story of BestFran may have earned Brad Kjar the Pinocchio award, but expert mischaracterization of a franchisee dispute could put U-Save in Hall-of-Shame contention.
In our December 21, 2016 blog post U-SAVE Franchise Lawsuits we published the U-Save lawsuits disclosed in the company's Franchise Disclosure Document (FDD).
In the FDD, U-Save acknowledged that it had been sued by franchisee Trek Auto for "violations of the New Jersey Franchise Act and breach of contract."
The franchisor acknowledged that a New Jersey judge had ordered U-Save to reinstate Trek Auto as a franchisee.
The U-Save FDD Item Three stated that "The Court referred all other matters, including whether the franchise agreements were properly terminated, to arbitration as provided under the franchise agreement."
However,  Bradley Kjar's email sent, perhaps at the direction of U-Save and FSNA management and legal department, made it sound like U-Save had initiated the legal dispute rather than being the Defendant.
Brad Kjar wrote:
We have disclosed through our FDD that Trek Auto Sales, Inc., one of our franchises, is currently in litigation with U-Save. Our dispute arises out of:

Non-compliance with the franchise agreement and reservation agreement
Non-payment of fees owed
Default on the promissory note for the initial franchise fee
Allowing mandatory liability insurance coverage to lapse for non-payment of premiums
Franchisee declared bankruptcy
In fact, our reading of the FDD verbiage indicates that U-Save is in arbitration, not litigation with the franchisee, and that the case was brought against, not by, U-Save.
While the documents related to the arbitration aren't public, the complaint brought against U-Save that led to the arbitration are not consistent with Kjar's description.
It indicates that the dispute arises out of the franchisee's contention that U-Save's failure to provide correct billing information which cost the Plaintiff $60,000,  and that the franchisor/defendant still demanded 20% of the money the franchisee never could collect.
According to the first verified complaint:
Defendant failed to provide the CW numbers to the Plaintiff for several months, resulting in the loss of revenue of over $60,000.00 to the Plaintiff.

The Defendant has advised that it no longer has access to such numbers, and cannot provide them to the Plaintiff. Despite the inability of the Plaintiff to collect fees due occasioned by the fault of the Defendant, the Defendant still charged the Plaintiff 20% of such rental amounts.
If we are reading the legal documents correctly, it means that Mr. Kjar completely misrepresented the company's dealings with a web publisher AND a franchisee in a single email.
And his announcement that U-Save is teaming up with TrustPilot, a company reknowned for fake positive consumer reviews, we can expect great new heights of Truth avoidance to come!
Congratulations to the American Car Rental Association (ACRA) on board member Bradley Kjar being named 2016 Pinocchio Award recipient!
Related reading:
U-SAVE FRANCHISE, Brad Kjar Earn Pinocchio Award
MACQUARIE CAPITAL vs. FRANCHISE SERVICES OF NORTH AMERICA
ARE YOU FAMILIAR WITH THE U-SAVE FRANCHISE OPPORTUNITY?  SHARE A COMMENT BELOW.
TAGS: Brad Kjar, Bradley Kjar, Pinocchio Award, American Car Rental Association, ACRA, UnhappyFranchisee.Com, U-Save franchise complaints, U-Save, U-Save franchise, U-Save complaints, U-Save Car and Truck Rental, U-Save Car and Truck Rental franchise, car rental franchise opportunity, Tom McDonnell, Thomas McDonnell III, U-Save Holdings Inc., Franchise Services of North America Inc., FSNA, unhappy franchisee