U-SAVE Franchise Complaints
U-Save Franchise Complaints include a high franchisee termination rate, allegedly ineffective marketing, unfair charges to franchisees for cancelled reservations, declining brand presence and dwindling locations, and inaccessibility of CEO Tom McDonnell to franchisees.  Are the U-Save franchise complaints valid?  We invite current and former U-Save franchise owners, employees, and company representatives to share their opinions by leaving a comment below or emailing us at UnhappyFranchisee[at]Gmail.com.
(UnhappyFranchisee.Com)  U-Save Car & Truck Rental franchise complaints and criticism of the U-Save franchisor have been growing on the Internet.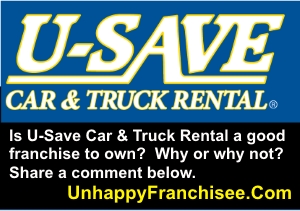 The franchisor of U-Save Car & Truck Rental franchise is Ridgeland, MS-based U-Save Holdings, Inc., a subsidiary of Franchise Services of North America Inc. (FSNA).
We've noticed several angry entries on Rip-off Report as well as the emergence of a newly established  anti U-Save franchise blog that's a bit sparse but promises more content to come.
The complaints prompted us to take a quick glance at the long-standing U-Save car & truck rental franchise chain, to identify complaints and potential issues, and to invite the company, its CEO, and its franchisees (and former franchisees) to share their rebuttals, clarifications and/or opinions.
The Number of U-Save Locations Has Declined by 74% Since 2003
An article in Connection Magazine about CEO Tom McDonald's Christian business practices states that, in 2003, U-Save had grown to "370 franchise locations in all 50 states."
It states that the company had $46 million in corporate revenue in 2002.
According to Entrepreneur.Com and U-Save franchise disclosure document (FDD), the number of domestic U-Save franchise locations dropped to 225 locations in 2006 and continued to dwindle to only 96 franchise locations in 2006.
The number of U-Save franchise locations has declined 57% since 2006, and 74% since 2003.
Revenue seems to have fallen even more dramatically.  According to the 2006 U-Save FDD, the company and its subsidiaries generated $9.6M in fiscal 2015.  That would be a decrease of nearly 80% from the $46M stated in the 2003 Connections article.
U-Save Car & Truck Rental Locations – 2006-2016
| | | | |
| --- | --- | --- | --- |
| Year | U-Save Locations | Year | U-Save Locations |
| 2006 | 225 | 2011 | 146 |
| 2007 | 206 | 2012 | 133 |
| 2008 | 193 | 2013 | 109 |
| 2009 | 172 | 2014 | 100 |
| 2010 | 165 | 2015 | 96 |
Source: Entrepreneur.com for all but the last 3 years, which are from the U-Save 2016 franchise disclosure document.
Question for the U-Save franchisor:
What accounts for the steady decline in U-Save domestic franchise locations?
Will the decline continue… or is management taking steps to increase retention & make its franchisees more competitive?
U-Save Terminated 32 (25%) of its Franchises in the Past 3 Years
In the past three years, there were 129 active U-Save Car & Truck Rental franchise agreements in place.
According to the U-Save franchise disclosure document for 2016, U-Save Holdings, Inc. terminated 32 –or 25% – of those franchise agreements.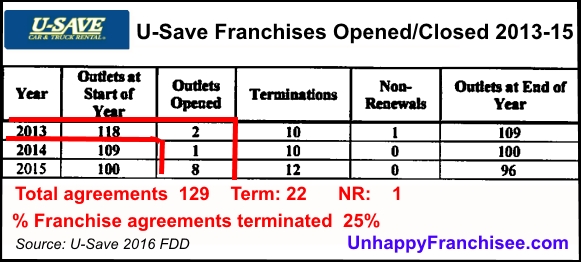 Question for the U-Save franchisor:
Why did the franchisor terminate 25% of your active franchise agreements in the past three years? 
Why does the company disclose these as "terminations" rather than closed locations?
Will the franchise terminations continue at the same rate?  Is management taking steps to increase franchise & franchisee retention?
FSNA Inc.  "Working Capital Deficit of $3,992,960" & Accumulated Deficit of Nearly $48M
A U-Save franchise complaint blog has been launched at UsaveFranchisee.blogspot.com.
The U-Save Franchisee blog calls into question the financial stability of the U-Save franchise company, stating:
Miserable USave Car & Truck Rental franchisee told the franchise system may go Bankrupt!

This blog is freedom of speech and discuss facts and opinions of an unhappy licensee.

U-Save Car & Truck Rental operations manager tells a franchisee that they may go bankrupt if one franchise has a dispute with payments.
Is the U-Save franchisor as financially unstable as the new blog states?
We found that the parent of the U-Save franchisor, Franchise Services of North America Inc. ("FSNA" or the "Company"), is a public company whose common shares are listed on the TSX Venture Exchange under the symbol 'FSN'.
We accessed the public report entitled Franchise Services of North America Inc. Management Discussion and Analysis of Financial Condition and Results of Operations August 29, 2016 which states:
As at June 30, 2016, the Company had a working capital deficit of $3,992,960 primarily due to obligations still existing related to the Simply Wheelz acquisition…

The Company's future operations are dependent upon its ability to maintain profitable operations and to obtain additional capital to meet its cash flow needs.

There can be no assurance that the Company will raise additional capital on favorable terms or at all. There is also no certainty that these and other strategies will be sufficient to permit the Company to continue as a going  concern…
The cover page of the U-Save franchise disclosure document (issued by the company) contains this obviously mandated, ominous warning:
SIMPLY WHEELZ LLC, A WHOLLY-OWNED SUBSIDIARY OF U-SAVE'S PARENT COMPANY, FILED A VOLUNTARY PETITION FOR RELIEF UNDER CHAPTER 11 OF THE UNITED STATES BANKRUPTCY CODE AND, AS SUCH, U-SAVE'S FUTURE OPERATIONS ARE DEPENDENT UPON THE PARENT'S ABILITY TO DISCHARGE ITS OBLIGATIONS ASSOCIATED THROUGH THE SUBSIDIARY THROUGH THE BANKRUPTCY PROCEEDINGS.
Question for U-Save Car & Truck franchise sellers:
What factors led to the bankruptcy of the U-Save Holdings, Inc. subsidiary?
Are the U-Save franchisor and parent company Franchise Services of North America Inc. (FSNA) financially stable enough to support its franchisees?
Can FSNA recover from a nearly $4M deficit in working capital and an accumulated deficit of nearly $48M?
U-Save Franchise Complaints:  Franchisees Charged for Cancelled Reservations
A complaint on Rip-off Report alleges that U-Save franchisees are charged for reservations that are cancelled even months ahead of the rental date.
This means that a franchisee – who has collected no money on the broken reservation – must pay a penalty to U-Save Holdings, Inc. for something that it had no control over.
The commenter wrote:
U-Save Car Rental franchisor charges their licensees for reservations that have been cancelled, even if they were cancelled months prior to the reservation date.

This, in my opinion, is like picking up a box of condoms off a shelf in a convenience store to look at the product and view the price and then decide it was too expensive.

You put it back on the shelf but the store still demands money from you, even if you left the product in the store.

That to me is outrageous, egregious and just plain ridiculous.
Question for Tom McDonnell & Franchise Services of North America Inc.:
Is the commenter correct that U-Save charges franchisees a penalty for reservations cancelled by customers? 
If so, what is the rationale for charging the franchisee for something he/she cannot control?
Are penalty fees a profit center for U-Save Holdings, Inc.?
U-Save Franchise Complaints:  Use/Misuse of Marketing Funds
The angry franchisee (or former franchisee) complained:
U-Save's management does not properly market their brand…

U-Save collects marketing dollars from their licensee's and in my opinion, based on information supplied by U-SAVE MANAGEMENT.

Very little of that marketing money seems to be spent properly advertising the brand and the booking, reservation site.
Question for Tom McDonnell & Franchise Services of North America Inc.: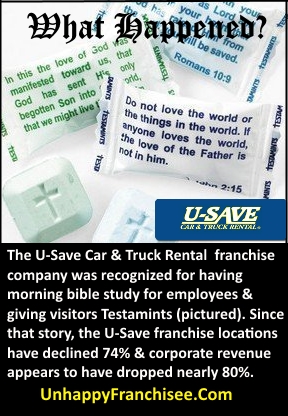 In the FDD, you state "Upon your written request to the Corporate Office, we will provide you with financial statements for the Marketing Fees."
Do you have the financial statements immediately available for franchisees who request it? Has it been shared recently?
The 2016 FDD states that in the past fiscal year, "35% of the marketing fees spent were used for production of materials, 27% were used for advertising and search engine optimization and 38% were spent on development of internet marketing technology."
Do franchisees know what "internet marketing technology" their ad dollars developed and why it's the largest category of expenditure?
U-Save Franchise Complaints:  CEO Tom McDonnell Accessibility
Some of the angriest complaints seem to be aimed directly at Thomas McDonnell III CEO, Chairman of Franchise Services of North America (FSNA).
One angry franchisee posted that:
The CEO, Tom McDonnell, refuses to speak with licensees, in my opinion, this man hides from some licensees.
Another commenter on the same site stated:
Tom McDonnell, the CEO of U-Save Car And Truck Rental, in my opinion, is horrible…

Tom McDonnell of U-Save doesn't do a thing to assist his franchisees in growing their companies.
It's not unusual for struggling or failed franchisees to lash out at the CEO or president of the franchisor, or to feel betrayed and abandoned by the leadership when things don't work out.
But the litigation section of the 2016 U-Save FDD provides hints that there has been discord in the U-Save and FSNA executive suite for some time.
Mr. O'Donnell's relationship with his former Co-Chair and Co-CEO Sanford Miller ended with both sides suing each other and the court declaring neither the winner.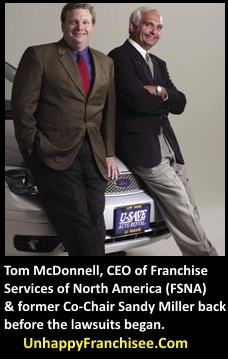 Sanford Miller brought claims against Tom McDonnell for fraud, and conspiracy to commit fraud, defamation, and intentional infliction of emotional distress.
More recently, an employment dispute with Chief Operating Officer Bob Barton ended with an arbitrator siding with Barton against U-Save and awarding the former COO $596,645.44.
While the 2003 Connections article describes a Christian company that conducts early morning Bible study for its employees and begins and ends company meetings with prayer, it seems that U-Save might need some divine intervention to reverse the long, slow fall of the past ten years.
Can U-Save be redeemed?
 Question for Tom McDonnell & Franchise Services of North America Inc.:
Where does the success of your current U-Save franchise owners rank in your everyday priorities?
Are you equally accessible for all U-Save franchise owners, or do you "hide" from some (as alleged)?
Is U-Save a dying brand whose time is passed, or is there reason for optimism among franchisees and prospective franchisees?
Also Read:
Tom McDonnell, U-Save Holdings, Inc.,  Franchise Services of North America Inc. (FSNA):  All individuals and companies discussed on this site are invited to provide clarifications, corrections, rebuttals or other statements for publication and linking from the original content.  Email us at UnhappyFranchisee[at]gmail.com.  You may also participate in the comment section of any page. 
ARE YOU A U-SAVE CAR & TRUCK RENTAL FRANCHISE OWNER OR EMPLOYEE? 
ARE YOU FAMILIAR WITH THE U-SAVE FRANCHISE OPPORTUNITY?  SHARE A COMMENT BELOW.
TAGS: U-Save franchise complaints, U-Save, U-Save franchise, U-Save complaints, U-Save Car and Truck Rental, U-Save Car and Truck Rental franchise, car rental franchise opportunity, Tom McDonnell, Thomas McDonnell III, U-Save Holdings Inc., Franchise Services of North America Inc.,  FSNA, unhappy franchisee