CLEAN FRY Franchise Warning: Another Chris Daskalakis Venture
The Clean Fry franchise opportunity is being heavily promoted on Craig's List and elsewhere as a "super lucrative" opportunity based on a "new revolutionary" machine.  But it looks to us like Chris Daskalakis has just renamed the controversial  Nika USA and Mr. Oil Saver franchise concepts to Clean Fry USA to avoid the bad press of the preceding ventures.  Buyer, be aware…
(UnhappyFranchisee.Com) Chris Daskalakis and his wife Pauline Daskalakis have a posse of detractors and alleged victims dedicated to warning others about the serial franchise and business opportunity sellers.
When the posse learned that the contentious duo, who have been cited for violating franchise laws from Virginia to California, were promoting their cooking oil filtration franchise under the name NIKA USA and NIKA Restaurant Services, warnings popped up on several complaint sites (including this one).
(For why he may want to obscure his identity, read: CHRIS DASKALAKIS Franchise Violations & Complaints)
It appears that the Nika Services franchise opportunity is also being marketed under the name "Clean Fry" and "Clean Fry USA."
Here's the Clean Fry franchise ad currently being promoted on Craig's List:
[Ad Headline] Rental type of franchise business – great residual income – $70000

[Ad Text]  MAKE $900,000 FROM EACH 300 RESTAURANT ACCOUNTS.
THIS IS A SUPER LUCRATIVE FRANCHISE OPPORTUNITY FOR THE RIGHT BUSINESS SAVY INDIVIDUAL. WE ARE THE INVENTORS OF A NEW REVOLUTIONARY MICRO OIL FILTER MACHINE THAT WE RENT OUT TO RESTAURANTS THAT THEY USE EVERY NIGHT TO FILTER THEIR COOKING OIL AND EXTENDS THE LIFE AND QUALITY OF THE FRIED FOOD. We guarantee to cut their cooking oil costs by half each month.

If you already have contacts in the restaurant industry, this is a great add on to your existing business. You need to show us that you have the financing behind you and the business expertise to grow this into a million dollar business.
GET INTO A SUPER LUCRATIVE BUSINESS IN RENTING OIL FILTER MACHINES TO RESTAURANTS!
YOU CHARGE $250/MONTH IN RENT AND THEY DO ALL THE WORK!!! Thus, you bring in about $3,000/year from each account. So each 100 accounts equates to $300,000 of income to you*. YOU JUST COLLECT THE RENT AUTOMATICALLY IN YOUR BANK ACCOUNT EVERY MONTH.
All restaurants that fry food are in great need of a micro-oil filter machines that helps all of them save money on cooking oil and making their fried food taste golden crispy and not greasy.

RESTAURANTS SAVE AN AVERAGE OF $500-$1,000/MONTH USING OUR OIL FILTER MACHINE.
Kindly visit OUR WEBSITE and fill out our qualification form and we will call more information.

post id: 5545454896

posted: 2016-04-18 3:20pm

updated: 2016-04-20 10:34pm
* Making Financial Performance Representations without documentation and disclosure in Item 19 of the company's Franchise Disclosure Document (FDD) is prohibited by the FTC Franchise Rule.
Clean Fry Domain is Registered to "

Hope Daskalakis"
The CleanFryUSA.com domain is registered to Hope Daskalakis, daughter of Chris Daskalakis and Pauline Daskalakis:
Domain Name: CLEANFRYUSA.COM

Update Date: 2016-04-09T13:59:31Z

Creation Date: 2015-04-08T17:58:50Z

Registrant Name: Hope Daskalakis

Registrant Street: 245 Debary Dr.

Registrant City: Debary

Registrant State/Province: Florida

Registrant Postal Code: 32713

Registrant Country: US

Registrant Phone: +1.4076906976
Is Clean Fry Franchise the Same as the NIKA Business Franchise?
Most of the Clean Fry USA franchise website is a word-for-word match with the NIKA franchise website.
Nika Restaurant Services franchise is run by Chris Daskalakis and Pauline Daskalakis.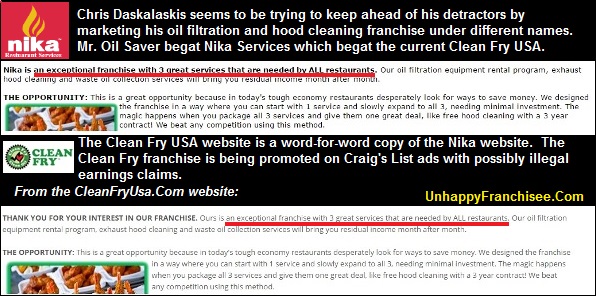 More on Chris Pauline Daskalakis & Pauline Daskalakis
CHRIS DASKALAKIS Franchise Violations & Complaints
MR. OIL SAVER Was Killed by Distributors: Daskalakis Lawsuit
CHRIS DASKALAKIS Franchise Press Release: Nikabusiness.com
CHRIS DASKALAKIS Denies the Failed Zooglalist was a Franchise
TAKEDOWN DEMAND: Chris Daskalakis, Nika Franchise, Mr. Fire Safety
CHRIS DASKALAKIS Franchise Complaints: ZooglaList.com
ARE YOU FAMILIAR WITH CHRIS DASALAKIS, PAULINE DASALAKIS & THE CLEAN FRY FRANCHISE?  SHARE A COMMENT BELOW.
TAGS: Chris Daskalakis, Pauline Daskalakis, Hope Daskalakis, Clean Fry, Clean Fry franchise, Clean Fry USA,  Nika franchise, Nika Restaurant Services, NikaBusiness, Nika Business, Mr. Oil Saver, Mr. Oil Saver franchise, Mr. Fire Safety, Mr. Fire Safety franchise, unhappy franchisee