Chris Daskalakis Name Change to Chris Matthews: Should it be Approved?
Google the name "Chris Daskalakis" or the phrase "Chris Daskalakis franchise" and you'll likely see a firestorm of angry comments, complaints and court actions on such sites as RipoffReport, Pissed Consumer & UnhappyFranchisee regarding his past franchise and business opportunity investments schemes.   Daskalakis is allegedly trying to hide his controversial past by legally changing his name to "Chris Matthews."  Will his detractors let that happen?
(UnhappyFranchisee.com)  Christos "Chris" Daskalakis wants a new name:  Chris Matthews.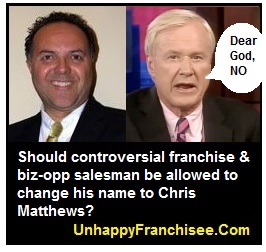 We've been told that Mr. Daskalakis has already started using the name Chris Matthews when he's pitching prospects on his latest franchise offerings, a franchise-your-business consulting offering called Franchise Tank and his recycled, renamed restaurant services franchise, Clean Fry USA aka Nika franchise.
When asked about the dual names by confused associates, Daskalakis allegedly claims that he's changing his names because people have trouble pronouncing his Greek surname.
We suspect it has more to do with his names' associations with many failed or abandoned franchise and business opportunities, including  Zooglalist, Mr. Oil Saver and Mr. Fire Safety.
We suspect it may be an attempt to hide the citations and enforcement orders from several states, including:
Chris Daskalakis Name Change Case Information – Volusia County Court, Deland, FL
Summary Information

In Re: The Petition of CHRISTOS MATTHEW DASKALAKIS

Case Type:

Family Law

Case Number:

2016 10219 FMDL

Case file web page:

Category:

Name Change

Case Status:

Open

Filing Date:

01/25/2016

Venue Information

Court Official:

Elizabeth A. Blackburn

Division:

04

Court Location:

DeLand

Disposition Information

Disposition Status:

Pending

Appealed:

No

Contested:

No

UCN:

642016DR010219XXXXDL

Jury Trial:

No
Contact Information for Opposing the Chris Daskalakis Name Change
If you would like to contact the Volusia County Family Court to voice your support or opposition to Chris Dasklakis' petition to legally change his name to Chris Matthews, you may inquire here:
Diane M. Matousek

Clerk of Circuit Court

P.O. Box 6043

DeLand, FL 32721-6043

Reference:

The Petition of CHRISTOS MATTHEW DASKALAKIS (Name Change)

Case Number:  2016 10219 FMDL

Phone  (386) 736-5915 Español (386) 257-6081

Fax (386) 822-5711

Email Address  clerk@clerk.org

Judge:

Elizabeth A. Blackburn
Chris Daskalakis Name Change Red Flags
Here is an excerpt from the Florida Civil Code for a name change
The 2015 Florida Statutes

Title VI CIVIL PRACTICE AND PROCEDURE

Chapter 68  MISCELLANEOUS PROCEEDINGS

68.07 Change of name.

Each petition shall be verified and show:

The petitioner's occupation and where the petitioner is employed and has been employed for 5 years next preceding the filing of the petition. If the petitioner owns and operates a business, the name and place of it shall be stated and the petitioner's connection therewith and how long the petitioner has been identified with that business.

Whether the petitioner has ever been adjudicated a bankrupt and if so, where and when.

Whether any money judgment has ever been entered against the petitioner and if so, the name of the judgment creditor, the amount and date thereof, the court by which entered, and whether the judgment has been satisfied.

That the petition is filed for no ulterior or illegal purpose and granting it will not in any manner invade the property rights of others, whether partnership, patent, good will, privacy, trademark, or otherwise.

Petitioner's occupation?  If Chris Daskalaskis submits truthful information about all the businesses he's owned in the last 5 years, that should raise red flags.
Bankruptcy?  Chris Daskalakis filed for bankruptcy 10/11/2002 and 06/30/2015.
Judgements?  Seems likely.
Ulterior or Illegal Purpose?  A point could be made that the main purpose of the Daskalakis' name change is to circumvent the FTC Franchise Rule, which states that a franchisor's prior work history and history of litigation, violations and enforcement orders should be disclosed to prospective franchisees.
The Name "Chris Matthews" Would Likely Bury Future Complaints
If his detractors are right and Chris Daskalakis is seeking to hide from past and future misdeeds, "Chris Matthews" would be a brilliant choice.
Any use of his new name would likely be overwhelmed in Google searches by references to the famous American political commentator, author and host of a nightly MSNBC talk show, Hardball with Chris Matthews.
[Image, Left:  We don't mean to question whether Mr. Daskalakis really attended "Rutckers," or that he graduated in 1983… but wouldn't he have seen the correct spelling of the school name on a sign, on buildings, sweatshirts… or something?]
ALSO READ:
CHRIS DASKALAKIS Franchise Violations & Complaints
CLEAN FRY Franchise Warning: Another Chris Daskalakis Venture
TAKEDOWN DEMAND: Chris Daskalakis, Nika Franchise, Mr. Fire Safety
CHRIS DASKALAKIS Denies the Failed Zooglalist was a Franchise
MR. OIL SAVER Was Killed by Distributors: Daskalakis Lawsuit
CHRIS DASKALAKIS Franchise Press Release: Nikabusiness.com
CHRIS DASKALAKIS Franchise Complaints: ZooglaList.com
ARE YOU FAMILIAR WITH CHRIS DASKALAKIS?  SHOULD HE BE ALLOWED TO CHANGE HIS NAME TO CHRIS MATTHEWS?  SHARE A COMMENT BELOW.
TAGS: Chris Daskalakis, Christos Daskalakis, Chris Daskalakis name change, Chris Daskalakis new name, Chris Matthews Franchise Tank, Franchise Tank, Clean Fry franchise, Nika franchise, Nika Restaurant Services, Nika Business, Mr. Oil Saver, Mr. Fire Safety, Mr. Fire Safety franchise, unhappy franchisee