CHRIS DASKALAKIS Denies the Failed Zooglalist was a Franchise
Chris Daskalakis, whose active offerings include the Nika franchise and the Mr. Fire Safety franchise, claims his short-lived ZooglaList and the controversial Mr. Oil Saver were not franchises.  He has demanded that UnhappyFranchisee.Com remove all references to him or his companies.  We look into Mr. Daskalakis' claims.
(UnhappyFranchisee.Com) Chris and Pauline Daskalakis appear to have launched and promoted a number of franchise and business opportunities which failed, collapsed or were otherwise abandoned.
Angry distributors have complained that they were deceived by Chris Daskalakis and lost their investments.
The venture of Chris & Pauline Daskalakis, who are currently seeking bankruptcy protection, have run into legal troubles with former distributors and state franchise agencies.
We believe that those who are considering an investment with one of Chris Daskalakis' companies deserve to be aware of his controversial track record so they can make a more informed decision.
Chris Daskalakis Claims Zooglalist wasn't a franchise; threatens legal action
Chris Daskalakis responded to our posting of a complaint by someone claiming they had lost over $70,000 after buying a Zooglalist franchise from him:
You are claiming that my former Mr. Oil Saver Company and the Zoogla List company are franchises, and they are NOT.

WE HAVE NEVER SOLD FRANCHISES OF THOSE COMPANIES, NOR WERE THEY FRANCHISES.
His claim that these companies were not franchises came with a threat of legal action.
…DELETE OUR POST, CHRIS DAKALAKIS NAME AND OUR NON-FRANCHISE COMPANY NAMES SO WE DO NOT APPEAR ON ANY INTERNET SEARCH ENGINES. IF THIS IS NOT DONE WITHIN THE NEXT 7 DAYS, WE WILL BE TAKING AGGRESSIVE LEGAL ACTION AGAINST YOUR COMPANY.
Chris Daskalakis' Zooglalist website says it's a franchise
Despite Mr. Daskalakis' all-cap statement to the contrary, the original Zooglalist website promoted a franchise.
It had a webpage entitled "Franchise Opportunity."
It had sections subtitled "What you get as an exclusive Zooglalist Licensee/Franchisee," and "Investment amount for Zooglalist Licensee/Franchisee territories."
All of this was right next to Mr. Daskalakis' name and contact information.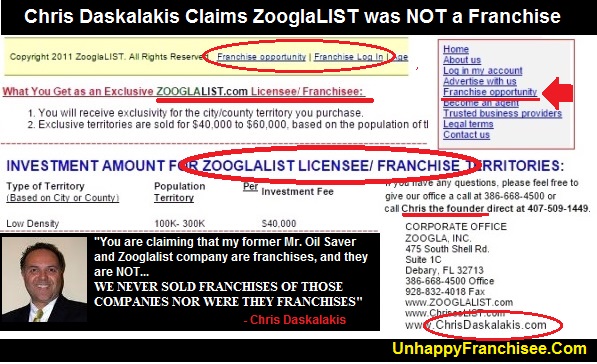 Chris Daskalakis: "

WE HAVE NEVER SOLD FRANCHISES OF THOSE COMPANIES, NOR WERE THEY FRANCHISES."
Chris Daskalakis contention that Zooglalist wasn't marketed as a franchise appears to be challenged by the large number of listings for Zooglalist franchises still visible on franchise advertising portals today.
A typical listing includes lots of franchise references.  This one is from FranchiseAdvantage.Com:
ZooglaLIST.com… We are a real company with great customer service and dedicated franchisees that promote the advertisers to their community!

…This franchise is the first of its kind and we are experiencing tremendous growth in our first year. We are looking for franchise entrepreneurs that share our vision and will work as hard as we will to turn this into one of the most talked about sites in the country.
ZooglaLIST.com is the brainchild of entrepreneur Chris Daskalakis…

This is a unique franchise opportunity never offered before to the public. Come in now on the ground floor and take advantage of our inaugural pricing with low franchise fees starting at $40,000…

Your franchise also includes one day of training at our Orlando training facility as well as a starter marketing package for your new business.
We have contacted Mr. Daskalakis and his attorney and requested an explanation for this seeming contradiction.
ALSO READ:
CHRIS DASKALAKIS Franchise Violations & Complaints
CHRIS DASKALAKIS Denies the Failed Zooglalist was a Franchise
MR. OIL SAVER Was Killed by Distributors: Daskalakis Lawsuit
CHRIS DASKALAKIS Franchise Press Release: Nikabusiness.com
CHRIS DASKALAKIS Franchise Complaints: ZooglaList.com
FRANCHISE DISCUSSIONS by Company
ARE YOU FAMILIAR WITH CHRIS DASKALAKIS, PAULINE DASKALAKIS & THE NIKA BUSINESS FRANCHISE?  SHARE A COMMENT BELOW.
TAGS: Chris Daskalakis, Pauline Daskalakis, Zooglalist, Zooglalist franchise, Nika franchise, Nika Restaurant Services, NikaBusiness, Nika Business, Mr. Oil Saver, Mr. Oil Saver franchise, Mr. Fire Safety, Mr. Fire Safety franchise, unhappy franchisee