CHRIS DASKALAKIS Franchise Press Release: Nikabusiness.com
Chris Daskalakis and Pauline Daskalakis are currently promoting the Nika franchise, also known as Nika Restaurant Services franchise and NikaBusiness.  Chris and Pauline Daskalakis are the controversial franchisors of the ZooglaList.com and Mr. Oil Saver franchises, and the Mr. Fire Safety franchise.  This recent press release promotes the launch of their NikaBusiness.com website.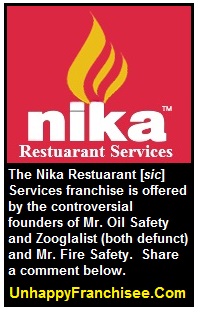 (UnhappyFranchisee.Com)  Chris Daskalakis and his wife Pauline Daskalakis are perhaps the most maligned couple in franchising, with angry comments left on numerous complaint sites including Pissed Consumer, Complaints Board and Ripoff Report.
Commenters claim that Chris Daskalakis has defrauded numerous individuals out of millions of dollars through investments in such concepts as ZooglaList.Com, Mr. Oil Saver, Mr. Fire Safety and many more.
They link to franchise enforcement actions and fines against Daskalakis for selling unregistered franchises in several states, including California, Virginia and Washington.
Chris Daskalakis has fired back with comments of his own, and with a lawsuit against former Mr. Oil Saver distributor Brett Engle alleging Tortious Interference with Business Relationships and Breach of Contract.
Despite all the controversy, Chris Daskalakis and Pauline Daskalakis seem to be aggressively promoting the Nika Oil filtration franchise.
According to the new franchise page,  Nika franchise owners are able to offer superior cooking oil filtration, exhaust hood cleaning, and waste oil collection for restaurants and foodservice operations.
Nika Master Franchise Area Developers, it claims,  can earn "a residual income FOR LIFE."
Chris Daskalakis Announces the Launch of Nika Franchise Website
Chris Daskalakis has released and distributed this press release promoting the new Nika Business website:
Chris Daskalakis Announces the Launch of New Website, Nikabusiness.com

Nikabusiness.com Sells and Rents High End Oil Filtration Machines that Restaurants Use to Filter their Oil

.

LOS ANGELES, CA / ACCESSWIRE / November 17, 2015 / Chris Daskalakis, the founder and CEO of both the Mr. Fire Safety franchise and United Franchisors Co-Op, is pleased to announce the launch of a new website, Nikabusiness.com.

.

As Chris M. Daskalakis explained, NikaBusiness is a company that is a one-stop destination for cooking oil filtration, exhaust hood cleaning and waste oil collection.

.

Along with his wife Pauline Daskalakis, Chris Daskalakis' new NikaBusiness website gives people information about three services that are needed by all restaurants.

.

For example, Chris Daskalakis noted, the NikaBusiness oil filtration machine filters oil down to 1 micron, which is more than many any other similar machines can accomplish.

.

"Restaurants need to filter their oil to increase consistency and quality and freshness of their fried food," Chris Daskalakis noted, adding that NikaBusiness has been used by many restaurants for over 3 years.

.

"We are the only company that sells and rents these high end machines. Renting offers unbeatable customer service, no matter what goes wrong with the machine."

.

In addition to cooking oil filtration, Chris Daskalakis said the company's other services are in high demand. For example, NikaBusiness offers kitchen exhaust hood cleaning that restaurant owners can depend on for being done properly.

.

"We inspect and service the fan once a year and change the belt and balance the air of the fan, we change your roof grease filter with every cleaning so the grease doesn't collect on the roof, and we clean the entire exhaust hood system from the filters to the duct work and the fan as well as the filters on the roof which are part of the make-up air unit in order to provide good circulation in your kitchen," Chris Daskalakis said, adding that they use a 4,000 PSI hot water pressure washer as well as a spin jet, which he said is the only way to properly clean vertical ducts.

.

Restaurants that need to dispose of their oil cooking oil can also rely on nikabusiness.com for help, Chris Daskalakis said. Referring to the old oil as "black gold," Chris Daskalakis also said their service involves collecting the waste cooking oil and then turning it around and selling it as bio-diesel fuel.

.

Nikabusiness.com offers its three main services either on their own, or bundled together for greater savings, Chris Daskalakis noted.

.

About Nika Business:

.

NikaBusiness offers restaurants a wide range of services that saves them money: everything from kitchen exhaust hood cleaning to waste oil collection to cooking oil filtration machine rental and much more. When people join Nika Business, they are part of a unique restaurant group whose main goal is to save money on any service that benefits their restaurant.
ALSO READ:
CHRIS DASKALAKIS Franchise Violations & Complaints
CHRIS DASKALAKIS Denies the Failed Zooglalist was a Franchise
MR. OIL SAVER Was Killed by Distributors: Daskalakis Lawsuit
CHRIS DASKALAKIS Franchise Press Release: Nikabusiness.com
CHRIS DASKALAKIS Franchise Complaints: ZooglaList.com
FRANCHISE DISCUSSIONS by Company
ARE YOU FAMILIAR WITH CHRIS DASKALAKIS, PAULINE DASKALAKIS & THE NIKA BUSINESS FRANCHISE?  SHARE A COMMENT BELOW.
TAGS: Chris Daskalakis, Pauline Daskalakis, Nika franchise, Nika Restaurant Services, NikaBusiness, Nika Business, Mr. Oil Saver, Mr. Oil Saver franchise, Mr. Fire Safety, Mr. Fire Safety franchise, unhappy franchisee