CHRIS DASKALAKIS Franchise Complaints: ZooglaList.com
Chris Daskalakis and his wife Pauline Daskalakis are Florida-based "serial entrepreneurs" who are currently promoting the Nika franchise, also known as Nika Restaurant Services franchise and NikaBusiness.  Chris and Pauline Daskalakis's past franchise ventures, including the ZooglaList.com franchise, Mr. Oil Saver, Mr. Fire Safety, have made them highly controversial.  This post is intended to explore the history of the defunct ZooglaList.com franchise and give all parties a chance to comment.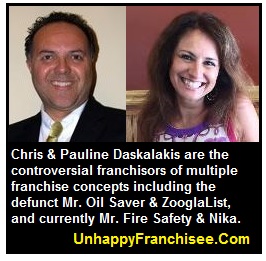 (UnhappyFranchisee.Com)  Chris and Pauline Daskalakis' ZooglaList.Com franchise opportunity was promoted as a chance to get in on the groundfloor of the next Craigslist or Groupon, only better.
The lingering ad page on FranchiseClique claims that the investment is $9500, that 3rd party financing is available and that there are (were) 287 ZooglaList franchise units.
The FranchiseClique  ad page reads:
Everyone's heard of the popularity of Craigslist.com, eBay and the crazy growth of Groupon.com, which brought in $750 M in coupon sales its 2nd year.  We have taken the best of all these sites and rolled them up into ZOOGLALIST.com.

.

ZOOGLALIST.com has all the categories one needs to buy and sell anything, find a job, rent an apartment, buy or sell a home, a car, find coupons or discounted gift certificates or anything you can imagine – all free local ads that generate revenue when the advertisers want to place multiple ads across the country, or use our auto repost to automatically repost their ad, or post a video, or sell a coupon or gift certificate. We are a real company with great customer service and dedicated franchisees that promote the advertisers to their community!

.

Now you can own your own exclusive city or county territory for ZOOGLALIST.com and make money from everyone advertising in your territory! This franchise is the first of its kind and we are experiencing tremendous growth in our first year. We are looking for franchise entrepreneurs that share our vision and will work as hard as we will to turn this into one of the most talked about sites in the country.

.

ZOOGLALIST.com is the brainchild of entrepreneur Chris Daskalakis, who is also the founder of a successful national franchise, Mr. Fire Safety, now operating in 20 states across America. We understand franchising and will train you in how to grow and manage your business part time or full time and bring in a great full time income.

.

You do not need an office and can work from home. All you need is a phone and high speed Internet service. This is a unique franchise opportunity never offered before to the public. Financing is available for those with great credit.

.

Your franchise also includes 2 days of training at our Orlando training facility as well as a starter TV marketing package for your new business. We welcome you to be part of our family! Please submit the form below so that we may contact you with more information.
CHRIS DASKALAKIS Franchise Complaint:  Unlawful Earnings Claims
The Federal Trade Commission Franchise Rule prohibits franchisors from providing revenue projections or financial performance representations unless they are disclosed in Item 19 of their Franchise Disclosure Document (FDD).  A franchisee (below) claims he was told he could make $5,000 – $10,000 per month by Chris Daskalakis.  In 2011, the ZooglaList website provided this and other earnings representations.  It's not clear whether any Item 19 representation or a valid FDD were provided to prospective franchisees.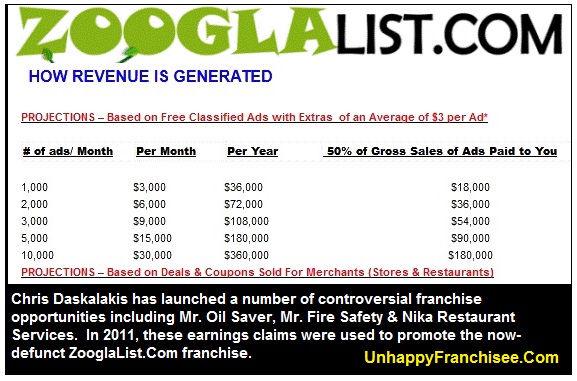 The 2011 ZooglaList.com website named the Business Finance Store as its exclusive lending provider, and named Director of Sales Trey Sublette and Senior Funding Specialist Kelly Rye as contacts.
CHRIS DASKALAKIS Franchisee Claims he was  Sold a Franchise, then Abandoned
A complaint was filed with the Better Business Bureau of Central Florida by someone who claimed to be a franchisee who was taken advantage of by Chris Daskalakis and the Business Finance Store for over $70,000.  Here is the BBB complaint in its entirety:
Complaint

In the Spring of 2011 I was looking to buy a franchise after being out of work for over a year and unable to secure a new job in my field because of my age and the economy. After searching several franchise listing sites I decided to check out Zooglalist.com. I clicked the more information button and was contacted the very next day by ***** ********** the own and CEO of the franchise. Mr. ********** informed me that this was the opportunity of a lifetime. He said I would be getting in on the ground floor but needed to act quickly because territories were going fast and there were other also interested in the same area as me which was Philadelphia, PA. I was told that this territory was listed at $90,000.00 but if I purchased it immediately he would sell it to me for $60,000.00.

.

This website site, I was told, would be an all-inclusive classified site offer everything one could do with Craigs List, Angies List, Groupon, Living Social, ebay, white pages, advertising site and more. When I said I would need to find financing he said he had a company that would get it for me. That company, The Business Finance Store, said they had worked with Mr. ********** before which gave me confidence in him. Of course that company, which wasn't clearly explained, took 10% of the line of credit on credit cards they got for me along with other fees. FYI: My credit is now shot and I am going through bankruptcy. The credit cards covered half the cost of the franchise and I had to make a personal loan for the rest. This loan is also in default and I am being sued.

.

When I told Mr. ********** I still had questions before I would sign the contract, I was invited to a meeting along with other interested parties at the company's headquarters in Debary. This was at my own expense. At this meeting, all of which I recorded, we were all told that within six months we should expect to be making five to ten thousand a month. Mr. ********** showed us a study he said he had conducted proving Zooglaist outdoing all the other websites I mentioned above within six months. He told us he was negotiating with Donald Trump for a large investment to be used advertising the site along with a major (secret) celebrity for promotion. Also we were told, as in the contract, there was going to be six month of professional Time Warner TV commercials and promotion by *** ******* who runs the worlds largest Christian TV network.

.

The president of Zooglalist, ******* ********** said there was a program for Churches to receive 10% of paid ads by anyone associated with their church for which she had many already signed up.(to this day there is NOT ONE church signed up). All of us at the meeting are Christians and a big deal was made that Mr. **********, his wife and everyone involved with running the company were Christians. Mrs. ********** went so far as to speak how they were going to use profits to aid children in third world countries.

.

ALL of which was a lie and fraud. At this meeting, again which I have a recording of, we were told that we should not contact any major chains because corporate was already working on securing them and in fact already had a contract with Kohls department store corporation and working on ones with McDonald's, Burger King, Macy's and others. There were supposed to be ads on Google and AOL along with paying to be at the top of the google seach engine.On top of all this Mr. ********** said that 100% of his time and attention would be devoted to the growth and development of the Zooglalist website. NONE OF THESE THINGS HAPPENED.

.

There has not even been one new territory sold since us initial investors bought into the company. It's not even advertised any longer. He had also promised to give us each the company's Financial Disclosure and Earnings Statements as required shortly after us paying him but never has after many requests. I spent almost a year of my life and thousands of more dollars trying to get something going in my territory only to find out that in less than six months of me buying into this scam that Mr. ********** had used our money to start TWO new franchises; Mr. Oil Saver and Mr. Food Co-Op. 

.

Then to add insult to injury I come to find out that while I paid $60,000.00 for Philadelphia, others had paid much less for comparable territories making me the greatest fool of all!  Dallas, Texas – $40,000.00, Raleigh AND Durham, NC – $15,000.00 and the list goes on.

.

When the other investors and I confronted Mr. ********** about how we knew he had defrauded us he basically admitted it and tried to get us to sign off our agreements by giving us ownership in another franchise he has going on which are also scams and I believe are being investigated. I could go on and on but if this isn't enough to have action taken again this cheat and liar than none of what I could add would make a difference.

.

I would like to end this complaint with a quote from Mr. ********** in an email to one of the other investors: "I do want to thank you for allowing me to be able to pay you back because I do not want to go to jail and leave my kids and wife alone. That does scare me a lot"   These are Mr. **********' own words!!!  Please contact me with how to proceed.  Thank You!  Sincerely,****** O. ****** PS

.

I believe you have received other complaints on this same matter and company.

.

Desired Settlement

Refund of my initial $70,000.00 plus 20% for expenses and loss of use of the money.
What Happened to the ZooglaList.Com Franchise?
According to the Florida Department of State, ZOOGLA, INC. was incorporated 7/1/2011 and filed for Administrative Dissolution just over a year later on 9/28/2012.
Document Number:  P11000060898

Date Filed:  07/01/2011

State:  FL

Status:  INACTIVE

Last Event:  ADMIN DISSOLUTION FOR ANNUAL REPORT

Event Date Filed:  09/28/2012

Officer/Director Detail

CFO  DASKALAKIS, PAULINE

881 CHARLES RICHARD BEALL BLVD SUITE 103

DEBARY, FL 32713

CEO  DASKALAKIS, CHRIS

881 CHARLES RICHARD BEALL BLVD SUITE 103

DEBARY, FL 32713
It appears that the ZooglaList.com website went offline completely sometime in 2014.
Does anyone know what caused the demise of ZooglaList.Com?
ALSO READ:
CHRIS DASKALAKIS Franchise Violations & Complaints
CHRIS DASKALAKIS Denies the Failed Zooglalist was a Franchise
MR. OIL SAVER Was Killed by Distributors: Daskalakis Lawsuit
CHRIS DASKALAKIS Franchise Press Release: Nikabusiness.com
CHRIS DASKALAKIS Franchise Complaints: ZooglaList.com
FRANCHISE DISCUSSIONS by Company
ARE YOU FAMILIAR WITH CHRIS DASKALAKIS, PAULINE DASKALAKIS & THE ZOOGLALIST.COM FRANCHISE?  SHARE A COMMENT BELOW.
TAGS: Chris Daskalakis, Pauline Daskalakis, ZooglaList,  Nika franchise, Nika Restaurant Services, NikaBusiness, Mr. Oil Saver, Mr. Oil Saver franchise, Mr. Fire Safety, Mr. Fire Safety franchise, Business Finance Store, Trey Sublette, Kelly Rye, unhappy franchisee