Tutoring Franchise Failure Rates of the Top Education Brands
Tutoring franchise systems are suffering from high franchisee turnover rates, with many franchise owners reportedly closing their doors or selling their tutoring businesses at fire sale prices.  We are asking franchisors and franchise owners:  What are the major challenges facing tutoring franchisees?  What are franchise companies doing to help them?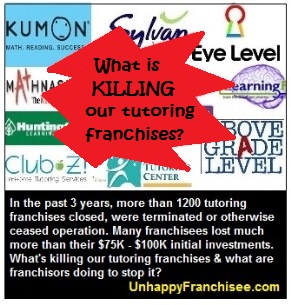 (UnhappyFranchisee.Com)  Franchises that offer tutoring and test preparation have been hard-hit in recent years, with many well-publicized closings that left parents irate, children tutor-less, and franchise owners in or near bankruptcy.
UnhappyFranchisee.Com analyzed the 11 top tutoring and test preparation franchises, and found an average of 25% franchisee turnover within the last three years.
That means that 1 in 4 tutoring franchise agreements ended prematurely with the franchises being terminated, closing their doors, or transferring to the franchisor or other owners.
For many franchise owners, this means losing their initial investment  of $74,754 – $137,009 plus a lot more.
Above Grade Level was the franchise with the highest franchisee turnover rate, just over 54%.  Above Grade Level  opened its first franchise in 2010, and has suffered 60% turnover since then.
Sylvan Learning (31.17%), Tutor Doctor (31.8%), and Club Z (30.71%) home tutoring were the next three worst, with nearly 1 in 3 franchisees exiting prematurely.
Tutoring franchises with greater than 20% franchisee turnover include Huntington (28.9%), brain training franchise LearningRx (26.95%), The Tutoring Center (25.33%), Eye Level Learning Centers (22.6%), JEI Learning Centers (20.23%) and Kumon with $20.52%.
Mathnasium had the lowest franchise turnover rate with 17%  –  which is no cause for celebration and would be considered relatively high in other segments of the franchise industry.
Tutoring Franchise Turnover Rates 2012 – 2014
Franchise
Invest.
# units¹ 2012
# units¹ 2013
# units¹ 2014
Total Agrments²
 Closed/ Transfer³

Turnover Rate

KUMON

$64,073 to $134,100
1481
1466
1452
1827
375
20.52%
Kumon franchise info & discussion

Sylvan

$89,368 –

$191,874

599
585
552
802
250
31.17%
Sylvan franchise info & discussion

Club Z Home

Tutoring

$32,600 to $56,550
375
379
379
547
168
30.71%
Club Z franchise info & discussion

Mathnasium

$90,750 – $137,610
337
409
511
616
105
17%
Mathnasium franchise info & discussion

Huntington

$99,195 – $204,320
231
225
218
307
89
28.9%
Huntington franchise info & discussion

Eye Level

$75,588 –

$139,050

176
216
226
292
66
22.6%
Eye Level franchise info & discussion

Tutor Doctor

$66,000 – $133,900
229
227
238
349
111
31.8%
Tutor Doctor franchise info & discussion

LearningRx

$102,300 to $200,750
79
88
84
115
31
26.95%
LearningRx franchise info & discussion

JEI Learning Centers

$60,750 to $99,750
52
53
67
84
17
20.23%
JEI Learning franchise info & discussion

The Tutoring Center

$90,000 to $132,200
53
58
56
75
19
25.33%
The Tutoring Center franchise info & discussion

Above Grade Level

$51,665 to $76,995
18
20
17
38
23
54.04%
Above Grade Level franchise info & discussion
ALL Tutoring Center Franchises
 $74,754 – $137,009 (avg)
3,630
3,726
3,800
5,052
1,254
24.82%
¹ U.S. franchise locations reported open at end of year

² Includes both new franchise agreements and franchise resales (transfers)

³ Includes all franchises reported as terminated, non-renewed, reacquired by franchisor, ceased operations – other reasons, and transferred to new owners. While a transfer could reflect a franchise sold for a profit, it often means sold at a loss.

Turnover rate is calculated by total franchise agreements including transfers divided by franchise agreements ended x 100.
Data sources:  2015 Franchise Disclosure Documents (FDDs) of each respective company.  Please report any errors to UnhappyFranchisee[at]gmail.com.
Why Are Tutoring Franchises Failing?  What Are Franchisors Doing to Help?
According to a report released by IBISWorld, annual revenue for tutoring and test preparation franchises declined as the economic downturn reduced the discretionary income parents had to spend on private tutors for their children.
At the same time, profits were squeezed due to an increase in wages for the highly qualified employees franchisees need to compete with online services.
Tutoring franchises are also having to compete with a surge in Internet-based live tutoring and online supplementary education materials and programs.
What do you think?
Are tutoring franchises becoming obsolete?
What are the challenges facing tutoring franchisees and causing the high turnover rates listed above?
What are franchisors doing to help their franchisees over come these challenges?
Should franchisors with 30%+ turnover suspend franchise sales until they can provide more stable opportunities?
Share your thoughts with a comment below.  Official franchisor responses invited and encouraged.
ALSO READ:
FRANCHISE DISCUSSIONS by Company
ARE YOU A TUTORING FRANCHISE OWNER, TUTOR, EMPLOYEE, EXECUTIVE, PARENT OR STUDENT?  SHARE YOUR OPINION BELOW.
TAGS: Tutoring franchise, Tutoring franchises, education franchises, education franchise opportunity, Kumon franchise, Sylvan franchise, Mathnasium franchise, Tutor Doctor franchise, Club Z franchise, Huntington franchise, LearningRx franchise, The Tutoring Center franchise, Eye Level franchise, JEI franchise, Above Grade Level franchise