HUNTINGTON Franchise: Is it a Great Business to Own?
Huntington franchise owners provide tutoring to school-aged children at Huntington Learning Center® facilities.   Is the Huntington franchise a great business to own?  What should those considering this investment know about Huntington and its franchise opportunity?  See what others are saying and share your opinions below.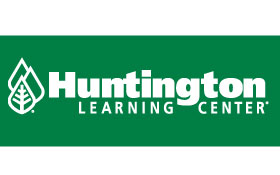 (UnhappyFranchisee.Com)  Huntington franchise owners provide educational tutoring services consist of tutoring in reading, phonics, study skills, mathematics, and related areas and 1-1 instruction in junior high school, high school, and college math and science subjects.
After the first year, they also offer 1-1 instruction for state and standardized entrance examinations, principally the SAT and ACT.
According to the 2015 Huntington Franchise Disclosure Document (FDD), "The total investment necessary to begin operation of a single Huntington Learning Center® franchise is between $99,195 and $204,320. This includes between $30,320 and $34,660 that must be paid to Huntington or its affiliate."
The Huntington corporate website states:
Huntington Learning Center was founded in 1977 and began franchising in 1985. Today we operate nearly 300 centers in 38 states from coast to coast. We are recognized as a pioneer and leader in the franchise tutoring industry, providing quality instruction to tens of thousands of students through our national network of franchised and company-owned tutoring centers.
Is a Huntington  franchise a great business to own?  Are Huntington franchisees successful… and happy?  What are the potential pros and cons of owning a Huntington  franchise?
We invite those familiar with the Huntington franchise program (franchisees, instructors, franchise or corporate employees, parents, educators) to share their opinions – positive and negative – with a comment below.
Anonymous comments are welcome; however, please use a valid email address (won't be publicly visible).
Huntington Franchise Advantages – Opinions Invited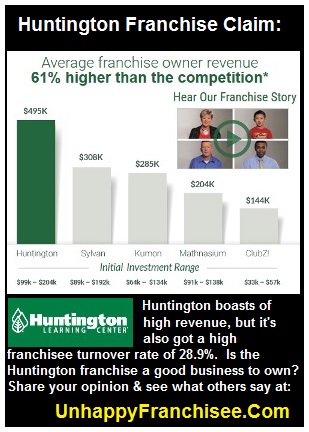 What benefits can those investing in a Huntington franchise expect?  Here's what the company claims.
Highest Grossing Tutoring Franchise.  Huntington claims its revenue is 61% higher than its nearest competitor:
The gross revenue at the average franchised Huntington Learning Center is greater than the average gross revenue of all other tutoring franchises that provide financial information in their Franchise Disclosure Document.
Franchise Support.  According to the Huntington website:
As a Huntington franchisee you will never feel like you are alone. We provide you with extensive ongoing support from your initial journey to become a Huntington franchisee, through the life of your business. You are buying into a franchise with a proven system of support. At Huntington, we are proud to have a team of extremely seasoned franchising veterans at the helm.
Marketing Support  Huntington states:
A full-time Marketing team provides you with proven marketing strategies and guidance.
Advanced tools and systems help you easily manage your local marketing efforts.
Marketing analysis and planning are provided on national, regional, and local levels.
Field and Operational Support.  Huntington promises:
National Call Center: a frontline of professionals well-trained to take the initial inquiries for your center, and drive clients into your center.
Coaching Services: a team of seasoned Huntington veterans ready to prepare you to close sales and get students to enroll.
Franchise Business Consultants: a team of experienced Huntington personnel who are dedicated to providing you with ongoing operational guidance and support for your center.
Do you know of other benefits of owning a Huntington franchise? Share a comment below.
Huntington Franchise Potential Disadvantages – And Red Flags
Do you know of potential disadvantages of the Huntington franchise program?  Please share below.
Item 20 of the 2015 Huntington Franchise Disclosure Document (FDD) reveals a potential red flag regarding the Huntington franchise opportunity in terms of franchisee turnover.
In the years 2012, 2013 and 2014, there were a total of 307 franchise agreements.  More than 1/4 (28.9%) of those  Huntington franchise agreements were either terminated, or ended in closure or transfer to a new franchise owner.
Huntington

Franchise Turnover

Locations

2012

Locations

2013

Locations

2014

Total

Agreements

Closed or

Transferred

Turnover

Rate

231
225
218
307
89
28.9%
Centers Terminated
4
Non-renewals
7
Ceased Operations – other reasons
1
Transferred to new owners*
27
* In some cases, a transfer could mean a franchise was sold at a profit, but it often means that an owner exited the system at a loss.
What are the disadvantages of the Huntington franchise?
Why does it appear that a high percentage of Huntington franchisees exit the system before completing the term of their franchise agreements?
Tutoring Franchises Average a High 25.52% Turnover Rate
Unfortunately, it appears that the entire tutoring services and supplemental education segment of the franchise industry is suffering from high franchisee turnover.
The ten largest franchises in this segment average 25.52% turnover, with several (Tutor Doctor, Sylvan, & Club Z) exceeding 30%.
Tutoring Franchise Turnover Rates*
Turnover Rate2012-2015
Closed or
Transferred2012-2014
Turnover
Rate2012-2015
Kumon
20.52%
Eye Level

Learning

22.6%
Sylvan

LearningCenters

31.17%
Tutor Doctor
31.8%
Club Z Home

Tutoring

30.71%
LearningRx
26.95%
Mathnasium
17%
JEI Learning Centers
20.23%
Huntington
28.9%
The Tutoring Center
25.33%
Are tutoring franchises – in general – not thriving in today's marketplace?
Is the tutoring market overbuilt and saturated with tutoring franchises?
Should prospective franchisees stay away from education franchises in general?
Share your opinion below.  Company responses, clarifications and corrections are invited and encouraged.
Data Sources for Huntington and other tutoring franchises are the 2015 Franchise Disclosure Documents, or FDDS, of the respective companies.
ALSO READ:
TUTORING FRANCHISE Posts (Coming soon)
TUTORING FRANCHISE GUIDE (Coming soon)
Is the KUMON Franchise a Great Business to Own?
Is the EYE LEVEL LEARNING Franchise a Great Business to Own?
FRANCHISE DISCUSSIONS by Company
ARE YOU FAMILIAR WITH HUNTINGTON AND THE HUNTINGTON FRANCHISE OPPORTUNITY?  SHARE A COMMENT BELOW.
TAGS: Huntington, Huntington Learning Center, Huntington Learning franchise, Huntington Learning franchise opportunity, Huntington Learning franchise complaints, Huntington franchise, Huntington franchise opportunity, Huntington franchise complaints, Tutoring franchise, Tutoring franchise opportunity, Tutoring franchise complaints, Education franchise, Education franchise opportunity, Education franchise complaints, unhappy franchisee