Is the EYE LEVEL LEARNING Franchise a Great Business to Own?
Eye Level Learning Center franchise owners offer proprietary educational services, methods, and programs for mathematics, reading and writing of the English and Korean languages and other curricula. Is the Eye Level Learning franchise a great business to own?  What should those considering this investment know about Eye Level Learning and its franchise opportunity?  See what others are saying and share your opinions below.
(UnhappyFranchisee.Com)  Eye Level Learning Center franchise owners offer proprietary educational services, methods, and programs for mathematics, reading and writing using teaching methods originally developed and perfected by the parent company in Korea, DaekyoCo. Ltd.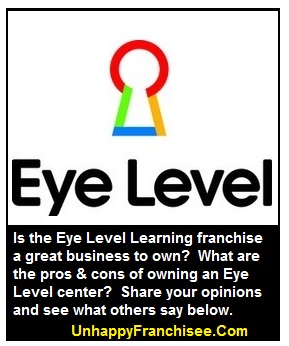 The teaching methods emphasize learning geared toward the particular needs and abilities of each student, and involve the use of booklets, diagnostic tests, achievement tests, and level tests and to assist the educational advancement of primary and secondary students through self-learning and disciplined practice.
According to the 2015 Eye Level Franchise Disclosure Document (FDD), "The estimated total investment necessary to begin operation of an Eye Level Learning Center ranges from $75,588 to $139,050.
"This includes the initial franchise fee of $20,000 and other fees of $5,000 which must be remitted" to the franchisor or its affiliates."
The Eye Level corporate website states:
Daekyo, the parent company of Eye Level, is one of the world's leading education brands with over 2.5 million subjects enrolled worldwide.

Daekyo was founded in South Korea in 1976 by Young Joong Kang, PhD. Over the next 20 years, Dr. Kang's fresh approach to supplemental education would transform the industry…Daekyo began franchising in the United States in 1991, and introduced the name Eye Level in 2003 for global branding…With the support, services and materials provided by Daekyo, Eye Level franchisees across the country have made their business ownership dreams a reality.
Is a Eye Level  franchise a great business to own?  Are Eye Level  franchisees successful… and happy?  What are the potential pros and cons of owning a Eye Level  franchise?
We invite those familiar with the Eye Level  franchise program (franchisees, instructors, franchise or corporate employees, parents, educators) to share their opinions – positive and negative – with a comment below.
Anonymous comments are welcome; however, please use a valid email address (won't be publicly visible).
Eye Level Learning Franchise Advantages – Opinions Invited
What benefits can those investing in a Eye Level franchise expect?
Experience is one advantage, according to the company's promotional material:
Eye Level is one of the foremost global leaders in supplemental education. More than two million children in 17 countries have benefited from the Eye Level program.
Multi-unit Availability.  The company touts multi-unit availability as an advantage over other tutoring franchises:
Unlike many other franchise concepts in the supplemental education sector, Eye Level is proud to be able to welcome new franchisees interested in both single-unit and multi-unit opportunities. While similar concepts limit franchisees to a single unit, Eye Level franchisees are able to grow by starting with multiple units and/or by adding more units as their business expands. Multi-unit franchise opportunities with Eye Level are available in almost all markets.
A Booming Market Eye Level claims is another.  The company states:
The Global private tutoring market is expected to surpass US$102.8 Billion in 2018. In an increasingly competitive world, academic achievement is at the forefront of parents' priorities for their children.
Do you know of other benefits of owning a Eye Level franchise? Share a comment below.
Eye Level Franchise Potential Disadvantages – And Red Flags?
Do you know of potential disadvantages of the Eye Level franchise program?  Please share below.
In its Top 200 Franchise Chains by Worldwide Sales ranking published in October 2015, Franchise Times reported that Eye Level had experienced a decline of –11.7% in sales and a 10% decline in total units.
That was the 2nd worst decline in the ranking, with only Quiznos posting larger declines.
Item 20 of the 2015 Eye Level Franchise Disclosure Document (FDD) reveals a potential red flag regarding the Eye Level franchise opportunity in terms of franchisee turnover.
In the years 2012, 2013 and 2014, there were a total of 292 franchise agreements.  More than 1 in 5 (22.6%) of those  Eye Level franchise agreements were either terminated, or ended in closure or transfer to a new franchise owner.
Eye Level Franchise Turnover
Locations

2012

Locations

2013

Locations

2014

Total

Agreements

Closed or

Transferred

Turnover

Rate

176
216
226
292
66
22.6%
Centers Terminated
50
Non-renewals
4
Ceased Operations – other reasons
0
Transferred to new owners*
12
* In some cases, a transfer could mean a franchise was sold at a profit, but it often means that an owner exited the system at a loss.
What are the disadvantages of the Eye Level franchise?
Why does it appear that a high percentage of Eye Level franchisees exit the system before completing the term of their franchise agreement?
Tutoring Franchises Average a High 25.52% Turnover Rate
Unfortunately, it appears that the entire tutoring services and supplemental education segment of the franchise industry is suffering from high franchisee turnover.
The ten largest franchises in this segment average 25.52% turnover, with several (Tutor Doctor, Sylvan, & Club Z) exceeding 30%.
Tutoring Franchise Turnover Rates*
Turnover Rate

2012-2015

Closed or Transferred

2012-2014

Turnover Rate

2012-2015

Kumon
20.52%
Eye Level
22.6%
Sylvan
31.17%
Tutor Doctor
31.8%
Club Z
30.71%
LearningRx
26.95%
Mathnasium
17%
JEI Learning Centers
20.23%
Huntington
28.9%
The Tutoring Center
25.33%
Are tutoring franchises – in general – not thriving in today's marketplace?
Is the tutoring market overbuilt & saturated?
Should prospective franchisees stay away from education franchises in general?
Share your opinion below.  Company responses, clarifications and corrections are invited and encouraged.
Data Sources for Eye Level and other tutoring franchises are the 2015 Franchise Disclosure Documents, or FDDS, of the respective companies.
ALSO READ:
TUTORING FRANCHISE Posts

TUTORING FRANCHISE GUIDE (Coming soon)
Is the KUMON Franchise a Great Business to Own?
FRANCHISE DISCUSSIONS by Company
ARE YOU FAMILIAR WITH EYE LEVEL LEARNING AND THE EYE LEVEL LEARNING FRANCHISE OPPORTUNITY?  SHARE A COMMENT BELOW.

TAGS: Eye Level, Eye Level Learning, Eye Level Learning franchise, Eye Level Learning franchise opportunity, Eye Level Learning franchise complaints, Eye Level franchise, Eye Level franchise opportunity, Eye Level franchise complaints,Tutoring franchise, Tutoring franchise opportunity, Tutoring franchise complaints, Education franchise, Education franchise opportunity, Education franchise complaints, unhappy franchisee