KNOCKOUT VENDING Business Opportunity Complaints
Knockout Vending business opportunity complaints:  Have you had any dealings with the Knockout Vending opportunity?  Please share a comment about your experience – good or bad – below, as well as advice for those considering investing in a Knockout Vending business opportunity.
(Unhappy Franchisee)  The Knockout Vending distributorship ads currently running in franchise and business opportunity magazines and websites claims earning cash with their vending opportunity is as easy as 1… 2… 3! 
All you have to do is:
1)  Buy one or more of their Knockout Vending boxer machines,
2)  Place  your Knockout Vending boxer machines in high traffic locations, such as sports bars or amusement parks, and
3)  Collect your cash!
Can it really be that easy?  What do you think?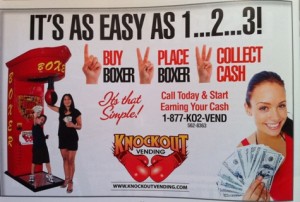 Knockout Vending claims to be "the fastest and easiest business opportunity."
According to the Knockout Vending website,
"No matter how much or how little vending experience you have, we'll assist in getting started and help you on your way to making fast cash. With their attractive lighting and MP3 sound, our punching machines… are often main attractions, earning effortlessly….
"Whether you start with two machines or twenty, we can help you get going and expand your business one machine at a time. Part-time or full-time, Knockout Vending can accommodate any schedule. Your only limits are up to you. You start earning moneys the second you place one of our boxing machines. With such amazing earning potential, do not hesitate, call us now!"
They tout the benefits of the Knockout Vending opportunity to be:
Huge CASH Income Potential
Immediate and Repeat income
No Inventory
No Employees
No Prior Experience Required
No Franchise Fees
Not Seasonal
Comprehensive Company Support
Knockout Vending packages start at "$3,995 limited time – While supplies last!"
Knockout Vending prices its "VIP Packages" as follows:
2 machines:  $7,795
4 machines:  $14,995
6 machines:  $21,995
8 machines:  $28,495
10 machines:  $34,995
Is Knockout Vending too good to be true?
In general, vending business opportunities generate huge numbers of complaints, including difficulty getting machines placed, machine malfunctions and maintenance issues, misleading earnings projections and outrageous promises by the vending companies.  Is Knockout Vending an exception to the unsavory vending tradition?  Hopefully, those with Knockout Vending experience will share their insights below.
ARE YOU FAMILIAR WITH THE KNOCKOUT VENDING DISTRIBUTOR BUSINESS OPPORTUNITY?  PLEASE SHARE A COMMENT BELOW.
Sources:  Knockout Vending website, national franchise publication (ad)