GREG LLOYD SMITH SpudsToGo Brand on Ebay at Apeeling Price
Greg Lloyd Smith is regarded by some as a con-man and international fraudster, but to us he's the creator of the brilliant SpudsToGo brand and (currently dormant) franchise opportunity.  Now you can own this Greg Lloyd Smith branding masterpiece at a price that seems tuber good to be true!
(UnhappyFranchisee.Com)  Greg Lloyd Smith's philosophy after launching the SpudsToGo franchise opportunity must have been: If at first you don't succeed, fry, fry again!
Greg Lloyd Smith introduced his SpudsToGo franchise in 2007 with an amazing offer:  a 10 cent franchise fee!
Remarkably, it appears no one bit.
Smith made the mistake of publishing his introductory press release on the scandalous franchise site BlueMauMau.org, ("Want To Own Your Own Business? Gotta Dime?") where it was met with instant derision by an unruly mob of know-it-all franchise attorneys, writers and consultants who completely missed the potential of the concept.
The resulting SpudsToGo comments section contained a barrage of attacks on the SpudsToGo mascot and Greg Lloyd Smith got so vicious and unruly that one of Smith's aliases, Brian Richards, had to call the police!
Some of these cretins even had the nerve to suggest that the lively, loveable potato character (Which some affectionately dubbed Spuddie Pie) more resembles a large piece of excrement than a delicious and nutrient-chocked potato.
Own a Piece of the Greg Lloyd Smith Legacy!
The SpudsToGo eBay listing is titled:  "SpudsToGo Brand, Website, Trademarks, Domain Names, Goodwill" and includes free shipping and a 14 day refund policy (buyer pays return postage).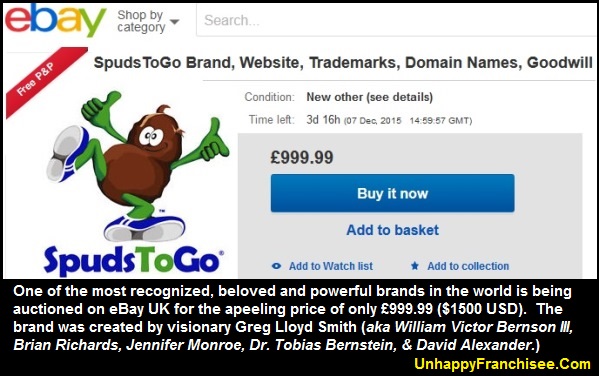 The description reads:
Originally founded in the United States in January 2005, SpudsToGo was acquired by IHT in August 2013 after it had been reincorporated in the UK in July 2013.

.

SpudsToGo is a well-known global brand. Using a licensing model and usually packaged together with Fruit 'n' Smoothie ™, to entrepreneurs who understand the power of branding and who want to capitalise on this exciting opportunity, SpudsToGo offers several different licensing opportunities including Master Developers, Stores Operator and Mobile Units.

.

Incorporating all SpudsToGo associated intellectual properties, a number of domain names, software and all marketing templates, including a Facebook page, Twitter account, Google Plus page, website and all associated Goodwill. Interested parties should contact IHT using the information shown below. In the UK ring 07827164447. IHT can provide a debt free turnkey operation together with the UK company SpudsToGo Limited or transfer all associated assets to the purchaser's investment vehicle.

.

We have recently transferred the EU trademark to the name of SpudsToGo Limited (UK company) with a view to transferring to the UK company to the new owner, but we can transfer these assets separate from the company on request.

.

For more information about SpudsToGo visit http://www.spudstogo.com.
Ebay Seller whitestuffonline (Wiljam White?  Bill White?)  Looks Reputable

The SpudsToGo brand is listed on eBay by seller whitestuffonline, who has over 600 reviews and a 99% positive seller rating.
Some of whitestuffonline's other listings include Always Dailies Individually Wrapped Normal Freshness Pantyliner Singles 20 count, Playboy Condoms Ultra Thin (3 Condoms), and a Medisure Pregnancy Test.
Judging from the "white" in the name, the seller may be the same person sending out emails as "Wiljam White" and "Bill White, Director"
…This email is a quite notification to you that the owner of SpudsToGo Limited is offering the entire brand for sale, including all related domain names, the current website, the EU registered trademark (owned by SpudsToGo Limited), the dormant UK company SpudsToGo Limited and the goodwill in the business and all intellectual properties associated with the brand for the sum of £999.99 via the following eBay listing:

.

http://www.ebay.co.uk/itm/321914430575

.

To acquire this lucrative brand you need only purchase the rights via eBay and remember that your purchase is protected via eBay and PayPal.

.

Once you have paid the asking price you will be contacted and the company will be transferred to you via a very simple share transfer form and you may appoint a company secretary and director or any number of directors. We will remove our two directors and company secretary and you will have complete control over the assets.

.

We will transfer the website hosting account to your name (note that there is a less than £10 per month ongoing cost associated with that, but that you may transfer the website and or domain names away from our provider any time you wish without cost).

.

Thank you,

Bill White

Director
Greg Lloyd Smith Legacy:
Haters Gonna Hate, Taters Gonna Tate
They say po-ta-to, we say po-tah-to.
They say dangerous psychopath, we say creative visionary ahead of his time.
They say cartoon turd, we say loveable character, possibly with special needs.
What it comes down to is this:  You can own a piece potato franchise history, or you can listen to these naysayers and forever wonder what might have been:
Greg Lloyd Smith – The Full Wiki
Greg Lloyd Smith, William Victor Bernson III, AKA . . . Legion  by Elizabeth Boleman-Herring
Installment Two: The Continuing Saga Of William Victor Bernson III, AKA Greg (Lloyd) Smith, Jennifer Monroe, Dr. Tobias Bernstein, David Alexander & Brian Richards, Con-Man
by Elizabeth Boleman-Herring
The choice is yours!
ALSO READ:
FRANCHISE DISCUSSIONS by Company
ARE YOU FAMILIAR WITH GREG LLOYD SMITH OR SPUDSTOGO?  SHARE A COMMENT BELOW.
TAGS: Greg Lloyd Smith, SpudsToGo, SpudsToGo franchise, Wiljam White, William Victor Bernson III,  Jennifer Monroe, Dr. Tobias Bernstein, David Alexander, Brian Richards, fraud, con-man, con artist