MR. OIL SAVER Was Killed by Distributors: Daskalakis Lawsuit
Mr. Oil Saver was a thriving national network providing restaurants with cooking oil cleaning services until the day Mr. S. was ambushed by conniving distributors and its main equipment supplier…  At least that's the tale being told in the lawsuit Mr. Oil Saver Inc. vs. Brett Engle.  Is that what really killed Mr. Oil Saver?
(UnhappyFranchisee.Com)  Mr. Oil Saver is dead.  Founders Chris Daskalakis and his wife Pauline Daskalakis have filed for bankruptcy.
The Florida Attorney General has forbidden the Daskalakis from selling franchises or business opportunities in the future without the AG's prior approval.
Who Killed Mr. Oil Saver?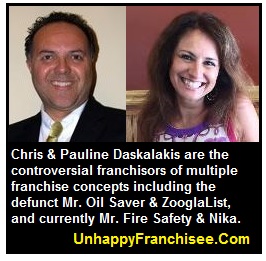 Mr. Oil Saver LLC operated a network of dealers who provided cooking oil filtration services and equipment rental to restaurants and foodservice facilities from 2012 until the LLC was dissolved in 2015.
Chris Daskalakis was CEO of Mr. Oil Saver LLC and his wife Pauline Daskalakis served as CFO (for a time).
The couple has also launched a number of franchise ventures, including the ZooglaList (now-defunct), Mr. Fire Safety, and Nika Restaurant Services.
Chris Daskalakis is a self-described "serial entrepreneur" who is listed as Registered Agent on numerous Florida LLCs, including KARAOKE ACTING, LLC, DEBARY TOWN PARK, LLC, MR. FOOD CO-OP, LLC, BIDSTREETUSA.COM, FRAN INCUBATOR, LLC ELITE'S RED BOOK PUBLICATIONS, LLC, 5 STAR CONSTRUCTION, LLC, I GOT SKILLS.BIZ, LLC and others.
The Chris Daskalakis has taken heat online by unhappy distributors and franchisees, and have been slapped and fined by state franchise regulators for selling unregistered franchises in recent years.
Daskalaskis is firing back, though, in a lawsuit filed in the US District Court for the Middle District of Florida, MR. OIL SAVER, LLC v. BRETT ENGLE.
DOCUMENT:  MR. OIL SAVER, LLC v. BRETT ENGLE First Amended Complaint
The suit claims Mr. Oil Saver distributor Brett Engle led the distributor mutiny that resulted in the demise of the thriving national chain, and seeks damages exceeding $1.5 million.
Mr. Oil Saver: Did Distributors Do Him Dirty?
The first Amended Complaint of Mr. Oil Saver Inc. vs. Brett Engle alleges that Mr. Engle paid Chris Daskalakis $200,000 upfront and agreed to pay another $100,000 to be the exclusive distributor rights for a number of counties in New Jersey.
This agreement was to give Engle the right to provide oil filtration and related services to restaurants in his territories, and also to generate income through the rental of oil filtration machines made available through Mr. Oil Saver's exclusive relationship with machine supplier Zachary Company.
After being summoned to an "urgent" meeting at Zachary Company headquarters in Arizona, the suit claims CEO Daskalakis got blindsided by the machine supplier and his two leading distributors.
According to the suit, at the April 2013 meeting "Daskalakis was told by Conrad Canter of Zachary that Zachary would no longer do business with MOS [Mr. Oil Saver] unless it agreed to a total restructuring, in which MOS would forfeit ownership of its business to Engle, among others."
After Chris Daskalakis refused to comply with their demands, the suit alleges that Brett Engle:
breached his distributor agreement by buying from Zachary directly
"conspired with or influenced other MOS distributors to breach their distributor agreements with MOS, with the result that MOS' thriving business was reduced to a few complying distributors."
"began and continues soliciting MOS' accounts and influencing them to cease doing business with MOS, as well as competing with MOS in its Florida territory."
Distributor Richard Cronk (who was also at the alleged meeting) and his Montana Oil LLC were originally named as defendants in the suit, but were dropped from it when the parties reached a settlement.
Even though Chris Daskalakis and Pauline Daskalakis have closed their LLCs and declared Chapter 13 personal bankruptcy, the Mr. Oil Saver lawsuit against Brett Engle is proceeding.
What do others think?  Was Brett Engle, Richard Cronk and the other distributors, Zachary Company and Conrad Canter to blame for the demise of the "thriving" Mr. Oil Saver?
ALSO READ:
CHRIS DASKALAKIS Franchise Violations & Complaints
CHRIS DASKALAKIS Denies the Failed Zooglalist was a Franchise
CHRIS DASKALAKIS Franchise Press Release: Nikabusiness.com
CHRIS DASKALAKIS Franchise Complaints: ZooglaList.com
FRANCHISE DISCUSSIONS by Company
ARE YOU FAMILIAR WITH CHRIS DASKALAKIS, PAULINE DASKALAKIS, & THE MR. OIL SAVER FRANCHISE?  SHARE A COMMENT BELOW.
TAGS: Chris Daskalakis, Pauline Daskalakis, Mr. Oil Saver, Daskalakis lawsuit, Mr. Oil Saver lawsuit, Brett Engle, Richard Cronk, Zachary Company, Conrad Canter, Nika franchise, Nika Restaurant Services, NikaBusiness, Mr. Oil Saver franchise, Mr. Fire Safety, Mr. Fire Safety franchise, unhappy franchisee