SUBWAY Franchise Ownership a Nightmare Says Franchisee
A Subway franchisee claims owning a Subway was a 25-year nightmare that ended when Subway took her store for 1/2 of what it was worth, then resold it at a profit.
(UnhappyFranchisee.Com)  In response to our discussion page SUBWAY Franchise Complaints, anonymous commenter Debra left a detailed complaint about her experience as a Subway franchise owner of 25 years.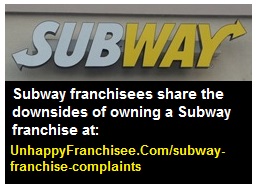 We can't vouch for the accuracy of her complaints or even her identity as a Subway franchisee, but her detailed complaints raise a number of issues worthy of discussion and investigation – especially by those considering a Subway franchise in South Carolina.
Her complaints include allegations of cannibalization of territories, unhealthy food, unreasonable restrictions on franchise owners and a corporate strategy of seizing and reselling franchisee stores for its own profit.
If you have an opinion as to the validity of these opinions, please share your comments below.
25-year Subway franchisee claims it was a nightmare
In response to the other complaints on SUBWAY Franchise Complaints, Debra writes:
What these people are saying is very correct. In the end after living the nightmare of being a franchisee of several stores (25 years) of my life wasted then they dis-enfranchise.
Subway franchise complaint:  Placing stores too close together
In the beginning it was hell, but we had the highest sales ever. there were rules where you could not open a store closer then 3 miles to the next store. we were promised we would be the only franchisee in the small county we were in. I ts been about 2 years now that this happened, but all the rules changed.  the DA (development agent of SC) Screwed us over, he started opening stores with new franchisees in our area. He out and out lied.
Subway franchise complaint:  Ridiculous write-ups

…Mean time he makes over 37 million a year off all of the franchisees in market 37 of South Carolina and the Subway world headquarters does nothing but lie. They cheat you. They send surprise inspections while you are serving lunch to a whole bunch of customers and would write us up for things like finger prints on the entrance door or the table had food on it ( the customers hadn't even left yet and we were slammed with customers. that is the reason for the finger prints on glass doors or a table none of us could get to fast enough, I mean our stores were the cleanest store's ever.

.

I'd say to the inspector, could you come back here and help us? the line of customers is out the door and these customers only have anywhere from 30 to 60 minutes for lunch. I was a good business woman. I'd give cookies hot out of the oven for free. You know why? because they would always come back and they'd bring their friends. I'd cut the bread they way they wanted. That was another way for Subway to write me up. We had to cut the bread then in the U shaped gouge. Then they wanted it straight across.

.

The inspector was their and wrote me up for doing what the customer wanted. I mean. that is what business is about. providing a service to a customer, giving them what they want and making their 30 minutes from work a good and happy experience with the best service and food. Then they wanted the sandwiches done in under a minute.  well the customer may take a little longer. I mean we moved along, but when its slow I'd always do my best with customer service. after all they were paying my paycheck. right? no customer, no income. but subway world headquarters and the local market 37 DA made our lives hell.
Subway franchise complaint:  "Nothing healthy about Subway"
I wish I never ever got involved with that horrible franchise and yes people love the sandwiches but the truth is, there is nothing healthy about Subway. I had to fight for years to bring milk in or juices and coffee. I'd get written up for that. Because it was then not allowed. But not everyone likes soda or drinking another bottle of water. Just petty stuff…

The food they buy and us sell got worse and worse. I use to buy fresh produce from the farms where we lived and Subway didn't allow it, because they couldn't count the tomato inventory. i was like, hey, I'm paying you your 14 cents on every dollar i make. they knew exactly how many breads you have to order from them through US food. I wanted to support local farmers with really fresh veggies, but then they made it where we have to buy this pre-sliced in a plastic bag lettuce that smells of a chemical to preserve it. It actually would make me so sick. The cold cuts are just Louis Rich with Subway slapped on the boxes. I mean, come on! its all nitrates in that meat.
Subway franchise complaint:  Company stores are filthy
Yet, the Subway stores that are owned by the company are the filthiest stores I've ever seen. I would not let my dog eat the food. People not washing there hands, they have dirty rags on the sandwich bin. It's gross. Yet, they don't close down the stores. The ceilings falling in, broken glass between you and the food. I took pictures of how horrible the company owned stores are. I don't understand how Subway has gotten away with this.
Subway franchise complaint: Subway steals franchises and resells for its own profit
Now imagine you take the crap for 25 years and they say, bye bye, your dis-enfranchised. No pension, no IRA's no health care, nothing to even buy from them for us and all the employees. nothing. I really would like all the franchisee's to get involved with a class action suit. Maybe I should start one of those petitions on line then post it so people will it. I truly believed I'm owed money for the waste of the best years of my life. A slave to Subway with no way out until they say get out and take your business and sell it for 1/2 of what it's worth, then they resold it for a handsome profit.

.

Eff you Subway. If there is a hell you won't be going for the good company.
ALSO READ:
FRANCHISE DISCUSSIONS by Company
SUBWAY Franchise Horror Stories: How Not to Become One.
Failure Rates of the 10 Most Popular Franchises
SUBWAY: What Do Franchisees Make on $5 Footlongs?
Are SUBWAY Franchise Owners Happy?
ARE YOU AN SUBWAY FRANCHISE OWNER?  ARE YOU FAMILIAR WITH THE SUBWAY FRANCHISE OPPORTUNITY?  SHARE A COMMENT BELOW.
TAGS: Subway, Subway franchise, Subway franchise opportunity, Subway franchise complaints, sub shop franchise, sub shop franchise opportunity, sub shop franchise complaints, Fred Deluca, Doctor's Associates, unhappy franchisee