Has OXYMAGIC CEO David Iseley Gone Off the Deep End?
David Iseley founded the Oxymagic carpet cleaning franchise in 1999.
In 2005, he hired a kid fresh out of college as his V.P. of Franchise Development.  Less than a year later, according to Iseley, the kid went off and started his own competing carpet cleaning franchise company.  Iseley sued him and they settled out of court.
Despite having agreed on a settlement, David Iseley could not let the incident go.  His anger and resentment toward the young upstart seemed to grow to the point of obsession.
David Iseley created entire blogs about how he had been wronged by the young entrepreneur.
He posted vicious, disparaging comments about his young competitor across the Internet, calling him a cheat, a liar and a thief.
Recently, David Iseley began creating and posting angry YouTube videos of himself ranting and raving about the wrongs he suffered, and the unfairness of the U.S. criminal justice system.
On his YouTube videos, Oxymagic CEO David Iseley plays media interviews of his young competitor while he makes derisive and derogatory comments.
David Iseley holds up snapshots of his daughters [See screenshot] who have supposedly suffered because of his 10-month employee's misdeeds 5 years ago.
During the past 5 years, the college kid focused on growing his franchise company and supporting his franchisees. His chain has grown to nearly 300 franchises.
In the same timeframe, David Iseley has focused on playing the victim.  Despite a 7-year head-start and almost two decades more experience, David Iseley's Oxymagic still remains at about 80 franchises… about 1/3 the size of his alleged "copycat franchise" competitor.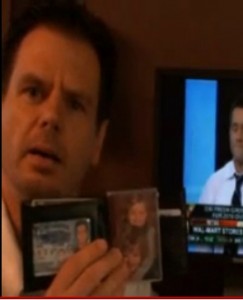 Warning:  The Reputation You Smear May Be Your Own.
David Iseley's attempted smear campaign is doing more damage to his brand than any competitor could ever do.
David Iseley accuses the college kid of using infomercials, while his own website links to a paid-for "Designing Spaces" segment that is not labeled as an advertisement.
David Iseley claims the college kid stole his secrets, but doesn't explain how the kid achieved 300% more growth with the same supposed concept.
David Iseley rails against the court system and the FBI for letting him "get screwed" because he's "not Coca Cola."
David Iseley obviously spends an inordinate amount of time on the Internet attacking a long-ago employee instead of finding a publisher for his book manuscript (he displays its supposed cover art) or updating his website (its most current training schedule is from 2008).
David Iseley claims the college kid is a phony, but is shown on video absolutely livid one moment then laughing the next (when he thought the camera was off).
David Iseley claims the college kid is deceptive, while it seems obvious that Iseley himself posts comments under multiple pseudonyms and personas.  On the attack blogs, David Iseley even writes in the first person, as himself, then includes a disclaimer stating "This blog is not affiliated with David Iseley, Oxymagic, or Oxymagic Franchise Development Corp."
Say what?  His own blogs, which contain personal notes to his competitor, are not affiliated with him?
Should Oxymagic Franchisees Hold an Intervention?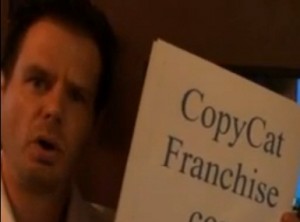 In the worst recession in recent history, a franchise company CEO should be obsessed with one thing above all else:  the success of his franchise owners.
At the very least, he should ask his franchisees whether THEY think he should continue using valuable time and resources on his unprofessional, personal online vendetta.
Odds are, if they are candid with him, they'll say: Stop embarrassing us, David.  Stop embarrassing yourself. Get refocused on helping us win and keep carpet cleaning customers.
Sometimes franchisors have to save franchisees from their own bad habits.
Sometimes the franchisees need to save the franchisor from himself.
For all their sakes.
ARE YOU FAMILIAR WITH THE OXYMAGIC FRANCHISE & DAVID ISELEY?  WHAT DO YOU THINK?  SHARE A COMMENT BELOW.
[Note:  Neither Oxymagic nor the unnamed competitor sponsored or had input or influence on the content of this blog post.   The opinions expressed are that of the post author alone and are just that – personal opinions.]  Contact the editor at unhappyfranchisee[at]gmail.com