Dickey's Barbecue Restaurants Inc. Threatening to Sue U.S. Army Veteran
Dickey's Barbecue Restaurants, Inc. is allegedly threatening to sue a U.S. Army Veteran for not being able to afford to keep his Starkville, MS Dickey's franchise open.
(UnhappyFranchisee.Com)  We have received an anonymous tip that Dickey's Barbecue Restaurants, Inc. (DBRI) is threatening to sue the Dickey's franchise owner in Starkville, Mississippi for being unable to afford to keep his franchise operating.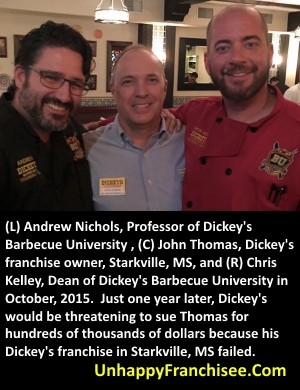 The threat was allegedly issued just after Christmas when the owner reportedly could not afford to keep his Dickey's franchise open.
According to the anonymous tip, an attorney from Dickey's Barbecue Restaurants Inc. fired off a threatening letter to the Dickey's franchise owner warning that if he could not keep his franchise open, Dickey's would sue him for hundreds of thousands of dollars.
Dickey's Allegedly Threatening to Sue Army Veteran
We have never spoken to nor corresponded with the Starkville MS Dickey's franchise owner.
The tip we received did not identify the name of the Starkville, MS franchise owner, and stated the Starkville MS Dickey's had closed over Christmas weekend and that the franchisee was being allegedly threatened with legal action by Dickey's.
We consulted the 2016 Dickey's Franchise Disclosure Document and learned that the franchise owners of the Starkville, MS location are listed as John Thomas and Denita Thomas, 100 Rissell Street, #13 , Starkville , Mississippi  39346.
Judging from the photos and comments of the Starkville MS Dickey's Facebook page, John Thomas was a popular and enthusiastic graduate of the October 2015 class of Dickey's Barbecue University.
As recently as August, 2016 Dickey's was using John Thomas in press releases to promote the Dickey's franchise program.
The press releases praised Thomas' friendly customer service, community involvement and catering promotion.
Dickey's public relations writer always touted John Thomas' military service and attributed a quote to him on the wonderful, caring support he's received from DBRI.
On November 17, 2015, Dickey's issued a press release  entitled Army Veteran Opens Dickey's Barbecue Pit in Starkville that reads:
Published: 17 Nov 2015

From The Daily Meal

Owner/Operator John Thomas

Starkville, MS  (RestaurantNews.com)  The 12th Dickey's Barbecue Pit in Mississippi is slated to open this Thursday in Starkville…

"The Dickey family welcomes Owner/Operator John Thomas into our ranks of franchisees," says Roland Dickey, Jr., CEO of Dickey's Barbecue Restaurants, Inc. "Dickey's is proud to offer many benefits to our veterans, including discounted franchise fees and ongoing support."

…Before going into the barbecue business, Owner/Operator John Thomas was in the United States Army for 12 years, followed by a long stint in the Army National Guard. Thomas was attracted by Dickey's Barbecue Restaurants, Inc.'s franchising benefits for veterans.

"Dickey's is very supportive of veterans, which I have experienced throughout this process," Thomas says. "I am excited to open my first Dickey's Barbecue Pit so close to Veterans Day."
The press release states that "the new Dickey's Barbecue Pit in Starkville is located at 100 Russell St. in the College Park Shopping Center, Starkville, MS 39759. The phone number is (662) 617-8272."
The media contact is listed as Michelle George 972-248-9899  mgeorge@dickeys.com.
We will try to contact Ms. George and Roland Dickey, Jr. to see if they can confirm or deny that John Thomas has closed the Starkville, MS Dickey's just a year and a month after opening.
We will ask them to confirm or deny that DBRI is threatening to sue the U.S. Army veteran, who seems to have followed the Dickey's system faithfully and energetically.
Dickey's Used the Army Vet to Promote Its Franchise Opportunity
The Dickey's franchise PR team loves to promote the military background of its franchisees and generate franchisee praise of Dickey's support..
Dickey's was using John Thomas as a success story just months before he allegedly closed.
A Dickey's blog post published August 3, 2016 ("Real Talk with Real Owners – John Thomas in Starkville, MS") states:
When guests visit the Starkville Dickey's, they are always greeted warmly as if they are members of a big, happy family.

… [Customers] always receive top-notch service with a smile.

Starkville Owner/Operator John Thomas is a 30-year military veteran who also owned a construction company for 15 years.

When he was looking for a franchise he immediately loved that Dickey's is a family-owned brand with stores that are friendly, casual and always fun.

"I like all the people I come in contact with every day," John says. "My loyal guests have become friends, and I also appreciate all the support I get from corporate.

My area director always answers his phone and is willing to help with any issue, large or small."
John Thomas' Area Director evidently wasn't able to keep Dickey's legal department from threatening to sue a franchisee who appears to have done everything right and by-the-book… yet still failed.
We invite the Area Director for Mississippi to share his thoughts on what went wrong in Starkville, and whether Dickey's should be threatening this army veteran.
Dickey's May be Within Its Legal Rights to Threaten & Sue the Army Veteran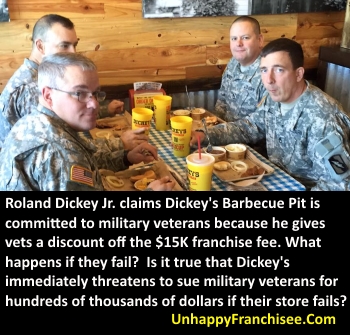 UnhappyFranchisee.Com is not arguing that Dickey's Barbecue Restaurants, Inc. and Roland Dickey, Jr. are or are not within their legal rights to threaten and sue Army veteran John Thomas or other franchisees who are unable to keep their franchises open to the end of their 20-year term.
However, Dickey's has distributed literally hundreds of Grand Opening press releases throughout the Internet and maintains them online even after the franchises have closed and/or the owners have exited the system.
We believe prospective franchisees, especially military veterans, should be able to see "the rest of the story" and learn the outcome of those new stores.
We believe that if Dickey's has the right to quote an Army veteran who has yet to open as saying that Dickey's is very supportive of veterans, that prospective franchisees should know whether he feels the same way a year after opening.
We would like to know whether Roland Dickey, Jr. believes that he and DBRI have done all they could to support Army veteran John Thomas and the Starkville MS franchise to succeed, and whether threatening to sue a military veteran is consistent with Dickey's commitment to our servicemen and women.
A Personal Message for Dickey's Franchisees John & Denita Thomas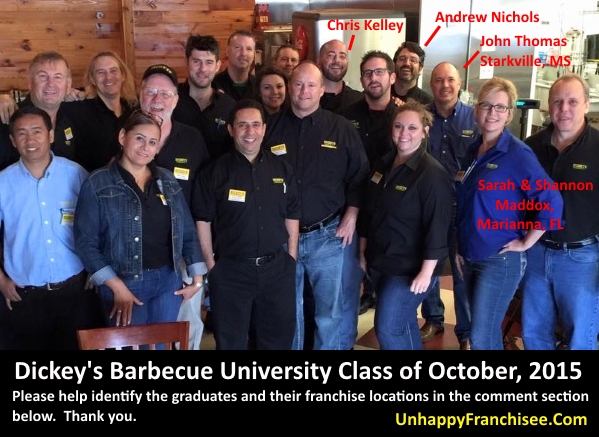 If our anonymous tip proves accurate, we would like to express our condolences for the closure of your Starkville, MS Dickey's franchise to you and to your employees.
We know how difficult closing a business can be, especially at holiday time.
John, we also thank you for your many years of military service.
We invite your trainers and fellow classmates from Barbecue U, your Area Director and Dickey's support staff, your fellow franchisees, Roland Dickey, Sr., Roland Dickey, Jr. and all who know you to join us in wishing you a Happy New Year despite these circumstances, and the best of luck with all future endeavors.
All are welcome to leave a comment for John & Denita Thomas below.
Help Us Substantiate This Dickey's Anonymous Tip
DBRI representatives, management, attorneys and other informed parties are invited to substantiate or refute the anonymous tip that the franchisor is threatening to sue Army veteran John Thomas for closing the Starkville, MS Dickey's Barbecue Pit location.
The company is invited to provide clarification, explanation, rebuttal or any other statement regarding this or other allegation to appear on this website.
It's our policy to publish both sides of contentious issues with equal prominence, when at all possible.
We also will be happy to correct and factual errors made.
Share Your Anonymous Tip about Dickey's or Other Franchise Companies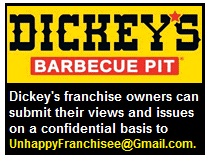 Franchise owners and their employees, area directors, corporate employees, vendors, customers, friends and concerned citizens can provide anonymous tips about franchisor bullying, threats, legal actions and other unseemly and/or unethical acts against franchise owners by emailing us at UnhappyFranchisee[at]Gmail.com.
If you would like to maintain complete anonymity (even from us), we suggest you send in your detailed tip using one of the free anonymous and/or disposable email accounts such as Guerilla Mail.   Keep in mind that some of these programs do not give us the ability to reply with questions, so please be as complete as possible and provide us with ways to verify your allegations, if possible.
There are numerous anonymous email service providers that don't require registration.  We like this one:
Guerilla Mail provides disposable, temporary email that requires no sign-up.  Users can send a quick, anonymous email instantly and even attach a file up to 150MB in size.  You can technically receive emails at the long, scrambled email address they give you, but any messages received at the address, accessible at guerrillamail.com, only last one hour.
PLEASE SHARE YOUR THOUGHTS & TIPS BELOW
Please share a comment (anonymous is fine) or Contact UnhappyFranchisee.com.
ARE YOU FAMILIAR WITH THE DICKEY'S BARBECUE PIT FRANCHISE?    PLEASE SHARE A COMMENT, TIP OR UPDATE BELOW.
Dickey's Barbecue Starkville MS, John Thomas, Dickey's closed, Dickey's Barbecue Closed, Dickey's Treatment of Military Veterans, Dickey's Barbecue Pit, Dickey's Barbecue Pit franchise, Dickey's franchise, Dickey's Barbecue Pit franchise complaints, Roland Dickey Jr, Dickey's Barbecue Pit, Dickey's complaints, franchise churning, Dickey's failure rate, Dickey's franchise failure rate, barbecue franchise, barbeque franchise, BBQ franchise,
Follow our continuing analysis of the Dickey's Franchise program: