RICKY'S: Summit, NJ Store Equipment Auction

Another sad milestone for the dying Ricky's Candy, Cones & Chaos franchise dream.  
Equipment for the defunct Ricky's Candy, Cones & Chaos franchise in Summit, NJ will be auctioned by A.J. Willner's Auctions on Monday, December 14, 2009 at 11:00 AM. 
Here is the information from A.J. Willner's auction page:
ABSOLUTE AUCTION
Like New Gelato, Ice Cream & Candy Equipment 
re: Ricky's Candy, Cones & Chaos of Summit
By Retention of Landlord. Everything Must Be Sold Regardless of Price!
Auction Date(s):     Monday, December 14, 2009  Time: 11:00 AM
Address:
333 Springfield Ave.    
Rt. 24 to Exit 9A    
Summit, NJ  07901
Inspection Date(s):
Monday, December 14, 2009
Time: 9:30 AM to 11:00 AM

Pickup Date(s): 
Monday, December 14, 2009  Time: 1:00 PM to 4:00 PM
Tuesday, December 15, 2009  Time: 9:00 AM to 1:00 PM
LIKE NEW ICE CREAM, GELATO, CANDY & RESTAURANT EQUIPMENT:
# "New" Prima 18 PLUSA 5 Ft. Glass Front Gelato Showcase (s/n L40002; Recently purchased for $25,000!)
# Master-Bilt Glass Ice Cream Showcase
# Scotsman Undercounter Ice Machine
# True Undercounter Rolling Refrigerator
# 47 Compartment Candy Dispening Unit
# 3 well S.S. Sink w/ Sprayer
# Single Head SaniServe Ice Cream Dispenser & (3) 5 Ft. S.S. Tables

# Bunn CWTF35 Coffeemaker & 6 Head Coke Soda Dispenser
# Beautiful Free Standing & Custom Built Store Fixtures Including Wonka Mobile, Cabinets, Menu Board w/ TV, Outside Lighted Sign, Wall Signage, Decorations, etc.
# 8 Sections of Metro Racks, Small Sentry Safe & Samsung SF 560 Fax
# Large Qty. of Paper Goods, Supplies, Accessories, Tables, Chairs, Hot Fudge Disp., Hand Sinks, etc.
Featured Items:
Prima 18 Self Contained Gelato Showcase
Master Bilt Self Contained Display Freezer Case
Scotsman Under Counter Ice Machine
SaniServ Frozen Beverage Machine
True Under Counter Single Door Refrigerator
Stainless Steel Prep Tables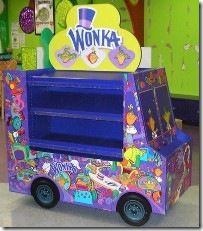 Stainless Steel Triple Well Sink
Hot Topping Dispensers
6 Flavor Soda Fountain
Dial Face Safe & Fax Machine
Interior Signage
Exterior Signage
Bulk Candy Merchandising Unit
"Wonka" Store Fixture
Animated Store Fixtures
Tables & Chairs
For Complete Catalog please click on "download catalog" at the A.J. Willner's auction page.
WHAT DO YOU THINK?  SHARE A COMMENT BELOW.
photos:  A.J. Willner