Dickey's "The Middle" Family Reunion Sweepstakes Contest Details
Dickey's "The Middle" Family Reunion Sweepstakes Contest Details:  Are you a Dickey's Barbecue Pit customer, franchise owner, employee or Franchise Director trying to figure out the baffling sweepstakes being advertised in Dickey's stores?  As a public service, UnhappyFranchisee.Com has prepared this unofficial and unauthorized Q&A to provide what we know, and to give Dickey's Barbecue Restaurants, Inc. and Warner Bros. a functional web page where it can share information and updates.
(UnhappyFranchisee.Com)  If you have to answer customer, franchisee or employee questions about what may be the most baffling franchise promotion since Burger King's Where's Herb? campaign, we've got your back.
We wasted hours trying to decipher the Dickey's "The Middle" Family Reunion Sweepstakes Contest, and we'll be happy to share what we found.
We have listed unanswered questions, and left space in hopes that the masterminds of this exciting promo at Dickey's or Warner Bros. will provide additional information and clarification.
Check back for updates and don't worry – we don't require you to give us your cell number or agree to being barraged with texted advertisements.
NOTE to Dickey's and Warner Bros. execs & Marketing Team:  We will be happy to make any corrections, updates or add additional information/clarification.  Just email us at UnhappyFranchisee[at]gmail.com.
Dickey's Barbecue Pit stores are displaying counter cards and table tents for "The Middle" Family Reunion Sweepstakes
Here's the copy for the Dickey's Family Reunion promo card:
the middle.
FAMILY REUNION
SWEEPSTAKES
Win a Trip to Hollywood!
Host a FAMILY REUNION for up to 10 PEOPLE on
THE SET of THE MIDDLE, and DINE ON DICKEY'S BARBECUE PIT.
WATCH & ENTER for A CHANCE TO WIN
For more details go to
TheMiddleWeekdays.com
WEEKNIGHTS 2:00 AM
The very bottom of the card contains verbiage printed in a sub-atomic point size that requires an electron microscope to decipher.
This is usually where the legally required sweepstakes disclaimers go, but, in Dickey's case, it is the only explanation of the promotion currently available.
Since the author has an electron microscope app (beta) on his iPhone, we were able to access this verbiage and the scraps of info it contained.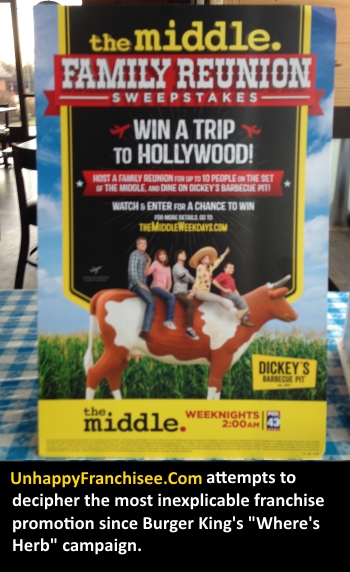 Q.  I read the in-store promo. I tried to access the informational website. I still don't get it.  Am I the only one confused?
A.  Absolutely not.  Yesterday, a confused Dickey's customer asked if anyone could explain the promotion and the crew members just shrugged their shoulders.
A corporate Franchise Director, who oversees a multistate territory for Dallas-based Dickey's, gave an explanation that was contrary to what the promo card said.  He then tried (unsuccessfully) to access the promo web address given on the card, and searched the corporate website for any mention of the promotion.  Finally, the embarrassed Franchise Director said "I don't know what to say" and sent the Dickey's marketing department an email that likely contained the subject line WTF?
Q.  The promo card says For More Details go to TheMiddleWeekdays.com but I can't find any details.
A.  As of this writing, if you type the url TheMiddleWeekdays.com into your web browser, you will be automatically redirected to TheMiddleWeeknights.com.
Like the Franchise Director, we searched every page on TheMiddleWeeknights.com for the promised details of The Middle Family Reunion Sweepstakes, but could not find a single reference to the promotion.
The Dickey's website contains no explanation or press release about the promotion.  Google searches contain no mention of the contest whatsoever.
Q.  There's a typo on the card.  It says to watch the show Weeknights 2:00 AM.
A.  No, that's no typo.  This promotion is tied in with The Middle sitcom reruns, which are so popular they've earned the coveted 2 a.m. time slot in some markets, and the 4 a.m. time slot in others.
These are prized time slots for advertisers targeting the "unemployed stoner" and "worry-stricken former franchisee" demographic group.
In some Dickey's markets, The Middle reruns air in the afternoon which may be why they can't decide whether to use weekdays or weeknights website.
Q.  I'm in the Dickey's Marketing Department and should probably know the basics in case it comes up in a job interview.  How's it work?
A.  Here's some of the fine print from the bottom of the card:
Each broadcast syndicated episode of "The Middle" (check your local listing for time of broadcast) will feature a "Word of the Day" on weekdays between January 17, 2017 and February 3, 2017.

To enter, watch the show and note the "Word of the Day" and submit the word by going to:  www.TheMiddleWeekdays.com or via SMS text messaging (available on most U.S. mobile carriers) at 34490…

You will receive up to 4 marketing messages per request to the mobile number provided at entry…

Entries must be made the same day the word appears by 11:59:59 PM Pacific Time that night.

Subject to Official Rules at www.TheMiddleWeekdays.com.  Sponsor:   Warner Bros. Domestic Television Distribution.
Q.  So to enter the Sweepstakes I have to provide my cell phone number and contact information which can be shared with 3rd party marketers?  Stay up all night to watch a sitcom rerun to get The Word of the Day?   Text the Word of the Day to some number that can then record more info about me?   Then be barraged with marketing messages on my phone?
A.  Yes, you have to give up your cell number and other personal data,  agree to receive marketing messages on your phone and have your info shared with other marketers.  Blood samples and DNA swabs are no longer necessary (as of this writing).
However, you have to agree to the Warner Bros. privacy policy which states:
…by participating in contests, sweepstakes or promotions, we may ask you to provide personally identifiable information (e.g., name, address, e-mail, phone number, location data, credit card information, and information about your interests in our products and services) to access certain content, features, and functionality.

…We may collect additional information from you if you access our Sites through a mobile device (e.g. unique device identifier, device's operating system, mobile carrier)…

We may share personally identifiable information… with third-party service providers and other companies that work on our behalf or with our affiliates.

…We may also use this information to offer you products, programs and services we believe may be of interest to you and otherwise tailor your experience.

…We may also share such information with business partners and third parties (e.g., other marketers, magazine publishers, retailers, participatory databases and non-profit organizations) that want to market products or services to you.
Q.    That's asking a lot!  It must be a great prize package!  Can you tell me what the prize includes?  Airfare for 10? Luxury accommodations in Hollywood (and for how long?)?  When will the winner or winners be announced?  When would the Family Reunion on set of The Middle occur?  Is there some flexibility with dates or is there a single date?
A.   Currently, there seems to be no information available regarding how many winners will be drawn, how and when the winners will be determined, what the odds of winning might be and other information that is generally provided with sweepstakes promotion.
There seems to be no information available regarding what the prize package includes, whether transportation is provided, whether lodging is provided and for how long, etc.
It's not clear whether there's a single date or multiple dates for the winner to have his family reunion on-set, whether he'll have a choice of dates, and when those dates might be.
Online sources indicate that "The Middle" Season 8 is scheduled to premiere October 11, 2017 on ABC.  As sitcoms generally are produced 2-3 months prior to airing, shooting might be scheduled for summer of 2017 – which is not a lot of time for 10 people to try to plan a trip to California.
But we really don't know because the Official Rules do not appear on the website as indicated and the brick-and-mortar Dickey's locations do not have printed copies of the Official Rules, which may be legally required.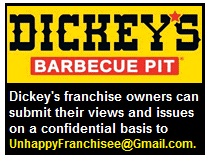 Q.  Aren't companies advertising a sweepstakes or contest legally required to provide this information?  Could Dickey's and its franchisees be violating Federal law by not providing basic information to consumers?
A.  Sweepstakes and contests are governed by a stringent system of rules and regulations, ranging from the criminal gambling laws to FTC advertising laws to state-specific statutes to the informal rules imposed by social media platforms and broadcast networks.
Privacy laws also come into play when contest sponsors are capturing personal and mobile phone data.  Those with brick-and-mortar locations, like Dickey's franchisees, may be required to have printed Sweepstakes Rules available to customers.
We would hope that the Dickey's legal department would have completely reviewed and scrutinized the promotional elements prior to asking Dickey's franchise owners to promote this sweepstakes promotion in their stores.
We are not attorneys and do not have a legal opinion, but as laymen we would have serious concerns that basic information and Official Contest Rules have not been shared to this point, despite the fact that Dickey's is actively promoting the sweepstakes in Dickey's stores nationwide.
[Dickey's legal department clarification to go here]
Q.  I'm a Dickey's franchise owner.  How does this promotion benefit me?  Is it designed to attract new customers?  Increase frequency of visits?  Raise my average check?  What metrics are being tracked to determine what the effect of this promotion on Dickey's store sales and profitability?  Will detailed results be shared with franchisees, including how many signed up in their area?
A.  These are excellent questions.  Franchise owners report that they received very little information about the promotion, its strategy, cost or intended effect.
We invite Dickey's Marketing Department to answer these questions.
[Dickey's marketing department clarification to go here]
Q.  As a Dickey's franchise owner, I would like to know how much time and how much money was spent by Dickey's on this promotion and how much of it (including staff time) came out of our marketing fund.  Speaking of our marketing fund, why is DBRI refusing to furnish us with the accounting of the marketing fund promised in our franchise agreements?
A.  These are excellent questions.
We hope Dickey's Marketing Department will answer these questions for us, and explain why DBRI is not being forthcoming with the detailed marketing fund accounting for franchisees.
[Dickey's marketing department clarification to go here]
Q.  Rumors are circulating that DBRI is actually getting paid by Warner Bros. to display these materials in Dickey's locations.  Rumors have cited numbers from $20,000 to as high as $500,000.  Can you confirm whether Dickey's is getting paid to display this promotion and gather consumer and mobile phone data from its customers?  If Dickey's is receiving payment, will this revenue be shared with Dickey's franchisees in the form of a rebate or ad fund contribution?
A.  We have no idea, but invite Dickey's leadership and marketing department to provide clarification.  I'm sure if the $500K rumor were true, struggling stores would surely appreciate getting a check from Dickey's for their cut of $750 – $1,000.
But it's just a rumor at this point.
[Dickey's management/marketing department clarification to go here]
Q.  Are Dickey's franchisees contractually required to participate in  "The Middle" Family Reunion sweepstakes promotion?   If a franchise owner does not see clear benefit to this promotion and feels it creates undue confusion, distraction or clutter in their store, or if a franchisee is not comfortable with the lack of information on the intent and data collection of the promotion, can the franchisee toss the collateral in the trash?
A.  This is a great question for the Dickey's legal department and/or marketing department.
Has anyone been told that they are required to display this collateral or may do so on an optional basis?
Are Franchise Directors "writing up" franchisees for not displaying the promotional materials – even though the Franchise Directors do not appear to know how the promotion works, what its strategic purpose is or how the effectiveness of the promotion will be tracked and assessed?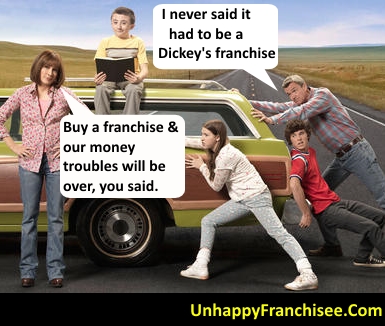 Q.  In the future, will  Dickey's franchisees receive comprehensive information well in advance that will explain in-store promotions and their intended effects, as well as the costs involved?
A.  Many Dickey's franchisees are struggling to keep their heads above water and stay in business.  We've been hearing about a slew of store closings and rumors of more to come.
For DBRI to announce its excitement about International expansion in 2017 when its focus, according to some, should be providing the support its domestic franchisees need to survive is disheartening to some, and maddening to others.
Is Dickey's senior leadership proud of the strategy, planning, execution, and communication demonstrated by the Dickey's "The Middle" Family Reunion Sweepstakes Contest?
Does it reflect the degree of technical sophistication and commitment to franchisee success that Dickey's promotes in its marketing and press materials?
When promotions reach domestic stores and not even the Franchise Directors understand what's going on, and the marketing department hasn't even checked to see if the website with the Official Rules contains the details the collaterol says it does,  shouldn't Roland Dickey Jr.  put the focus on getting things right here in the U.S. with the franchise owners who are already invested before embarking on International expansion?
Q.  Will anyone even enter this contest?  How many people are willing to watch a 2 am sit-com AND have 10 family members with the free time and nothing better to do than take off a week to have lunch in Burbank, CA on the set of a mildly amusing show about Indiana? Not that Neil Flynn and Patricia Heaton don't pack some serious star power…
A.  Hopefully, Dickey's will provide detailed data about how many contestants entered.
While WE don't know anyone with 10 relatives willing to take off a week of work to eat barbecue with Brick , Axel, Sue and the rest of the Heck family, Dickey's marketing department and Warner Bros. must know what they're doing.
Perhaps the decision to target the 2 a.m.-TV-watching unemployed stoner demographic may provide lots of people with the leisure time, unencumbered family members and appreciation for a free lunch this promotion requires.
ARE YOU FAMILIAR WITH THE DICKEY'S BARBECUE PIT FRANCHISE?    PLEASE SHARE A COMMENT, TIP OR UPDATE BELOW.
Dickey's Barbecue Pit, Dickey's "The Middle" Family Reunion Sweepstakes Contest, Dickey's The Middle Contest, Dickey's sweepstakes, Dickey's win a family reunion, Dickey's Barbecue Pit franchise, Dickey's franchise, Dickey's Barbecue Pit franchise complaints, Roland Dickey Jr, Dickey's Barbecue Pit offer, barbecue franchise, barbeque franchise, BBQ franchise
Follow our continuing analysis of the Dickey's Franchise program: