DICKEY'S Liquidated Damages Clause Ruled Impermissable
Dickey's franchise owners complain of being threatened by their franchisor with lawsuits of devastating proportions if they close their locations.  Franchisees claim they are coerced to sign away their rights and keep from making negative comments about their experience.  But a Texas judge recently ruled that the basis for those huge monetary threats – the Dickey's liquidated damages clause – is an "impermissable penalty" in the case against former Dickey's franchisee James Neighbors.
According to an article in the Baylor Law Review by Trey Qualls entitled "Take a Second-Look at Liquidated Damages in Texas*":
The purpose of a liquidated damages clause in a contract is to allow the parties to agree in advance to the amount of compensation due one party in the event of the other party's breach. Texas courts have long recognized the general enforceability of liquidated damage clauses…  The fundamental goal of the law when it comes to contract damages is to redress breach by compensating the injured party, not to preemptively deter breach by compelling performance.  Therefore, courts will not enforce a liquidated damages provision deemed to function as a "penalty" intended only to secure the performance of the contract.
Dickey's Barbecue Pit franchisees have told us that a penalty a large, scary penalty – is exactly how Dickey's wields its super-sized liquidation clause.
They claim that franchisor DBRI uses the threat of suing a struggling franchisee for hundreds of thousands of dollars in damages to intimidate and coerce them into such concessions as signing over their failed or failing stores to them or to new owners without compensation.
They claim that Dickey's also uses the liquidation fear factor to ensure that they will not share their negative experiences or make disparaging remarks about the Dickey's franchise or its franchisor.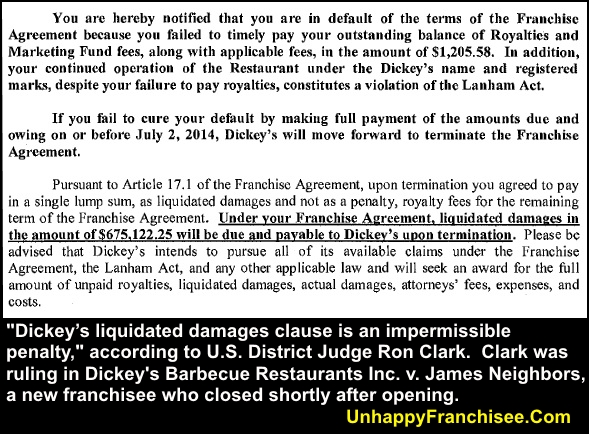 In the recent lawsuit Dickey's Barbecue Restaurants, Inc. v. James L. Neighbors, the judge agreed, stating:
In the present case, Dickey's liquidated damages clause is an impermissible penalty.

When Dickey's terminated the Franchise Agreement, it stated that Mr. Neighbors owed $5,463.00 in past royalty fees. (Dkt. # 27-2, at 310 of 334).

But Dickey's liquidated damages clause demands $676,122.55 in damages.

In Magill and Phillips, courts held that liquidated damages clauses calling for three times and ten times the amount of actual damages, respectively, were unenforceable penalties.

Here, by comparison, the ratio of liquidated damages to actual damages is 123.58.

As Dickey's liquidated damages amount is clearly a penalty, the court will only enforce actual damages in the amount of $5,463.00.
We've posted Dickey's disclosed lawsuits, and their outcomes, here for your and your attorney's persusal:  Dickey's Franchise Lawsuits
(Click to enlarge)

Dickey's threatened franchisee Mathieu with a liquidated damages penalty of more than $966,000.

In the end, Mathieu paid just $25,000.

(Click to enlarge)

When former franchisee Erik Mulkey did not appear and did not defend himself, the  court awarded Dickey's a default judgement of $320,930.52.  Mulkey declared Bankruptcy the following year.  It's likely Dickey's received $0.
Should Dickey's Franchise Owners Take DBRI's Threats Seriously?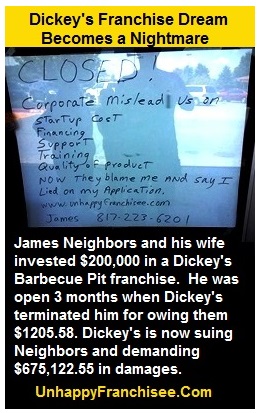 Of course, ALL threats of litigation should be taken seriously… especially in a contractual relationship where the other party has more power than you do.
However, don't be intimidated into signing away your rights until you know whether their particular threats have validity.
And you won't know that until you speak to an experienced franchise attorney – preferably one who represents franchisees in litigation matters – who can help you sort out the empty threats from valid concerns.
Just because you signed a franchise agreement with a large, scary liquidated damages clause, or non-compete provision, or non-disparagement clause doesn't mean that those specific provisions are enforceable.
Keep your cool… speak with an expert… make your decisions based on facts…
Legal Disclaimer:  We're not attorneys and do not give legal advice.  It's not a good idea to get important legal advice from a blog post.  It's also not a good idea to get your legal options from your adversary or potential adversary in a legal proceeding without advice from specialized counsel.
* Dickey's Barbecue Restaurants Inc. requires legal disputes to be resolved in its home state of Texas.
Also Read Past Posts on Dickey's Franchise:
PLEASE SHARE YOUR THOUGHTS BELOW
Please share a comment (anonymous is fine) or Contact UnhappyFranchisee.com.
ARE YOU FAMILIAR WITH THE DICKEY'S BARBECUE PIT FRANCHISE?    PLEASE SHARE A COMMENT, TIP OR UPDATE BELOW.
Dickey's Barbecue Pit, Dickey's franchise, Dickey's Franchise Lawsuits, Dickey's class action lawsuit, Dickey's Franchise Litigation, Dickey's Barbecue Restaurants Inc lawsuits, Dickey's Barbecue Pit lawsuits, Dickey's Barbecue Pit litigation, Dickey's Lawsuits, Dickey's litigation, or Roland Dickey lawsuits, Roland Dickey litigation, Franchise liquidated damages, liquidated damages in franchising, texas liquidated damages, franchise agreement damage clauses