Was Subway Founder Fred DeLuca a Financial Predator?
Was Subway Founder Fred DeLuca as Financial Predator?  Was Fred DeLuca an inspirational entrepreneur who enabled thousands of individuals and families too own successful Subway franchises?  Or was he a financial predator who continued to prey on entrepreneurs' hopes and dreams long after he was a billionaire?  Share your opinion below or by emailing us in confidence at unhappyfranchisee[at]gmail.com.
(UnhappyFranchiseee.Com)  Fred DeLuca, the billionaire founder of the Subway franchise empire, died from leukemia in 2015.
Now that the mourning, the eulogies and the widespread reinforcement of DeLuca's mythologized success story (Kid borrows $1000 from family friend to start a sub shop and raise money for college, skips college and builds largest restaurant chain in the world instead) have slowed, the search for DeLuca's lasting legacy has begun.
Will Fred DeLuca be remembered as the inspirational entrepreneurial success story, the Italian-American kid who made good and, in-turn, helped other entrepreneurs achieve their American dreams of business ownership?
Or will he be remembered as a predatory S.O.B. who made billions dollars by exploiting the hopes and dreams of others, who advanced a predatory form of franchising that ruined countless lives and the financial stability of many who trusted him…a formula followed by many franchisors today?
What do you think?  Share your opinion below or by emailing us in confidence at unhappyfranchisee[at]gmail.com.
ALSO READ:  SUBWAY Founder Fred DeLuca: Behind the Hype
Fred DeLuca's Former Banker & Mistress:  Fred "Sucked Them Dry… Sucked the Marrow Out of Their Bones"
The website Subverting Destiny , represents the Plaintiff's point-of-view in the lawsuit AVP Destiny LLC and Anthony V. Pugliese III v. Frederick A. DeLuca, FD Destiny LLC, FD Destiny Credit LLC, and Doctor's Associates Inc. f/k/a Subway, and provides a wealth of information on the business and personal dealings of Subway founder Fred DeLuca.
The first documents we dug into were the DEPOSITION OF FRANCES B. SAAVEDRA VOLUME 1 & VOLUME 2 dated Tuesday, October 21, 2014.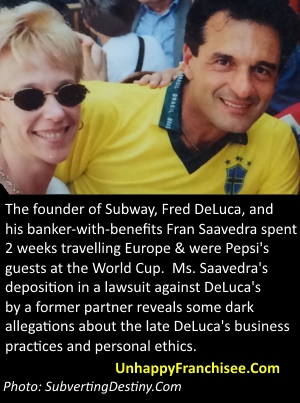 Fran Saavedra rose through the ranks working at various banks where she served as an auditor, residential lender, and Vice President of Commercial Real Estate Lending.  Ms. Saavedra testified that she managed Mr. DeLuca's accounts for years. According to SubvertingDestiny website, "The two met at a New Years' Eve Party in 1997 and became romantically involved. She testified that DeLuca would open accounts whenever she moved from one bank to another."
In her sworn deposition, Fran Saavedra recounted that Fred DeLuca had asked her to bring him any investment opportunities that she came across, including startups that were unable to get conventional financing.
She remembers being approached by Dale McNulty, whom she described as "a very wealthy man, who actually had a seat on the New York Stock Exchange."
His son was involved with a successful startup called XtremeMac. There were three young guys with tech backgrounds "working out of their garage."
They made cases and accessories for iPods and other Apple products.
Saavedra recounted "Dale said they have Christmas orders coming up — this was like September, October — and they're making them all, and they're like — they had all burned out their credit; they had all gotten
divorces. So they couldn't go to a regular bank. They couldn't get regular credit. So I knew Fred [DeLuca] was always interested in tech and big things like that. So I said, well, I might know someone…"
When Saavedra introduced Fred DeLuca to XtremeMac, the young entrepreneurs were desperate.
Knowing this, Saavedra said, Fred DeLuca "took 35 percent of the company… He gave them like 300,000 so they could get their Christmas order out. But I have to tell you, [the XtremeMac principles]  begged me to give them a million-dollar line of credit and get rid of Fred. They were like crying. They wanted to get rid of Fred, because Fred had, they said, sucked them dry… Sucked the marrow out of their bones. They were like crying at my offices."
"XtremeMac," said Fran Saavedra.   "I've already seen people beg me, please, please, get Fred away from me.  And you know what? If anyone doubts that,  they can look up Kevin and ask him…. [Kevin] Doyle. If he's not dead."
Bagel Boys Franchise:  Fred DeLuca "Got Involved… And It Went Away"
In her deposition, Fran Saavedra mentioned other entrepreneurs who had misplaced their trust with Fred DeLuca.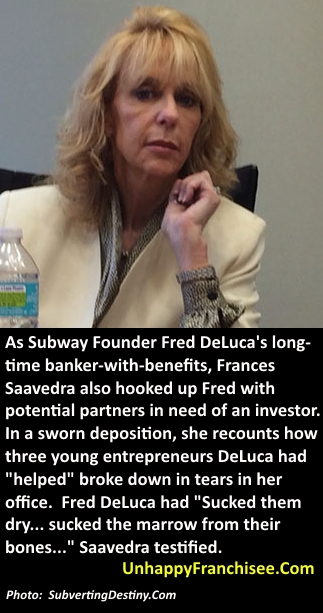 She mentioned former Mr. Universe Mike Ashley, who owned a gym.
And Dave Sullivan, who made clothing.
Fran Saavedra stated:  "Well, Fred had always been looking for other opportunities. He had done XtremeMac, and I knew he had done the Bagel Boys up in Connecticut.   And… I don't know that one personally.   I only know that one from [Maryann Platchko?], because she was personally involved in it.  And she said it was two guys that ran a bagel shop that was very successful, had a couple of shops. And he got involved it, and then it went away."
Ms. Saavedra introduced Fred DeLuca to  And then Frances Saavedra introduced Fred DeLuca to another of her powerhouse banking clients, Anthony Pugliese.
Anthony Pugliese was seeking investors to finance his The City of Destiny project,  Pugliese's dream of building America's first "Eco-Sustainable" and environmentally friendly city.
The construction phase of the city was to be the largest single development site in Florida, eclipsing Walt Disney World.  It would have employed tens of thousands of people and contributed hundreds of millions of dollars in economic benefit to state and local governments and businesses.
According to Fran Saavedra, "I felt that Fred had cannibalized a few companies … [but] that Anthony was smart enough and had enough money.  The other companies had been smaller and maybe didn't have the brightest people and had bad credit. So Anthony was  a very smart person, and he had money. Not nearly — nobody has nearly as much money as Fred. "
Fran Saavedra believed that Anthony Pugliese was experienced and rich enough to hold his own with the predatory DeLuca.
She would later apologize to Pugliese for being wrong.
"I think what Fred has done has been criminal."  – Fran Saavedra, Fred DeLuca's Former Lover & Banker
Frances Saavedra introduced Fred DeLuca to Anthony Pugliese
The website Subverting Destiny , which represents the Plaintiff's point-of-view in the lawsuit AVP Destiny LLC and Anthony V. Pugliese III v. Frederick A. DeLuca, FD Destiny LLC, FD Destiny Credit LLC, and Doctor's Associates Inc. f/k/a Subway, provide's Pugliese's version of what happened next:
Though DeLuca signed on as a partner, he never acted as one. DeLuca insisted on becoming the financial arm of the project. He borrowed money from Wachovia Bank at a low interest rate that he concealed from Pugliese, and then loaned the money to the project at a much higher rate. From the very start he sought profit for himself at the expense of Pugliese and the Destiny project; his behavior ultimately led to the project's demise. DeLuca's behavior, it turns out, was part of a pattern. The reclusive, billionaire sandwich king had a history that is worth examining, as he was involved in many deals, and left many embittered associates in his wake.
Fran Saavedra, once DeLuca's mistress who travelled to Europe to attend the World Cup with the married DeLuca, testified for plaintiff Pugliese.
She stated that even though Fred DeLuca had stated that he had more money than he could ever spend, the Subway icon had told her that he not only wanted to make as much money in the Destiny deal as possible, he was willing to destroy her friend Anthony Pugliese in the process:
[I asked Fred DeLuca] Well, are you going to sell?

And he said, Why would he sell when he could hold onto it and basically hang Anthony out to dry, and it would be worth billions…
WHAT DO YOU THINK?  SHARE YOUR VIEWS AND STORIES ABOUT SUBWAY FOUNDER FRED DELUCA – POSITIVE OR NEGATIVE – WITH A COMMENT BELOW.
TAGS: Fred DeLuca, Subway Founder Fred DeLuca, Fred Deluca lawsuit, Fred Deluca destiny Florida, Anthony Pugliese, Anthony Pugliese lawsuit, Fran Saavedra, Frances Saavedra, Destiny Florida Development, Bagel Boys, XtremeMac, Doctor's Associates, Subway franchise, Subway franchise opportunity, Subway franchise complaints, unhappy franchisee
Also read:
SUBWAY Founder Fred DeLuca: Behind the Hype
Are SUBWAY Franchise Owners Happy?
SUBWAY Franchise Ownership a Nightmare Says Franchisee
SUBWAY Franchise Horror Stories: How Not to Become One.