Troubled Jan-Pro Franchise Gets A Clean Start
Jan-Pro of Northern New Jersey is cleaning up its act and off to a fresh new era under the inspired leadership of Jan-Pro Master Franchisee Dave Carson.  In the first of our Franchise Best Practices series, we explore the transformation of a dysfunctional and underperforming commercial cleaning master franchise territory into a growing, vibrant business that has employees, unit franchisees and clients buzzing.  What does it take to make unhappy franchisees happy?  Here's Dave Carson's answer.
(UnhappyFranchisee.Com)  by Sean Kelly  The current Master Franchisee of Jan-Pro of Northern New Jersey has an interesting career history.
Dave Carson was a turnaround specialist who travelled the world, transforming newly deregulated and dysfunctional energy companies into profitable private companies.
When he tired of the travel, he and his partners purchased the master franchise rights to Sotheby's Real Estate for all of Canada.
Once they sold their successful master franchise, which they had grown to 33 franchised offices, Realogy Corporation (also franchisor of Century 21 & Coldwell Banker)  of recruited him to be COO of the Sotheby's real estate brand.
By the time he and his wife began to look for a franchise-related opportunity, Dave Carson had been a franchisee, a franchisor and a fixer of dysfunctional businesses.
He'd need all those skills to reinvent Jan-Pro of Northern New Jersey
Jan-Pro of Northern New Jersey Gets a New Owner… And a Fresh Start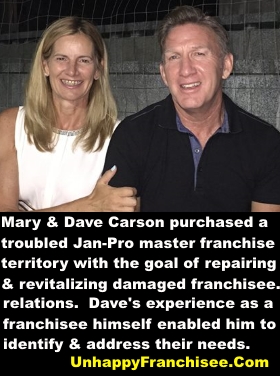 David and Mary Carson took over the mature and troubled Jan-Pro master franchise for the prime business market of northern New Jersey in late 2015.
Carson had no prior commercial cleaning experience, but had a firm philosophy that for franchising to work, it had to work for all parties involved.
And he understood the Master Franchisee model.  As the master franchisee, he would operate as sort of a mini-franchisor – selling unit franchises to individuals within his territory, generating cleaning accounts for them to run, and providing the training and support and quality control to get the job done right and keep the clients happy.
He knew that the few dozen franchisees were extremely varied – from otherwise-employed individuals or couples who just wanted some offices to clean at night for some extra spending money to groups who had wanted to hire cleaners, operate multiple crews, and build substantial businesses.
What they had in common, Dave and Mary would soon learn, was a deep unhappiness with the lack of training and support they had received, and the feeling that the former franchisee of 18 years had little concern for them or their success.
While Dave Carson had already identified that Jan-Pro of Northern New Jersey was a tired and underperforming business whose sales had been flat for years, he was still shocked by what he found.
The previous management had a strong us-vs-them attitude toward their franchisees.
When Dave mentioned the idea of inviting the franchisees for a get-together to introduce themselves as the new owners, he was told "Bad idea.  The last thing you ever want to do is get all the franchisees together and talking among themselves.  That would be a disaster."
Whenever he said something positive about unit-level franchisees, he was given a look like he was the naive new guy who was about to find out just how lazy, apathetic and irredeemably irresponsible cleaning franchisees are.
When he searched for his business name on Google, he was dismayed by the franchisee complaints that came up on UnhappyFranchisee.Com.
Jan-Pro franchise complaints were consistent with franchisee complaints common to commercial cleaning:  We never received the number of accounts we paid for.  We were provided accounts that were underbid and too far for us to travel to.  We were lied to… We had accounts unfairly taken from us and given to a new franchisee just to get a new fee…
Dave admits now that there was a difference between his previous franchisees at Sotheby's, who were licensed real estate brokers who sold high end, luxury properties to the 1%, and his Jan-Pro unit franchisees, who were willing to map floors and clean toilets.  But in the end, he says, both groups were willing to invest their time and their money to build their businesses, and build better lives for their families.
And Dave was firm in his belief that for franchising to work,  it has to work for all involved.
Despite his lack of industry experience, he was happy when the previous owners  and their negative attitudes were gone, and he could get to work.
Turning Unhappy Franchisees into Happy Franchisees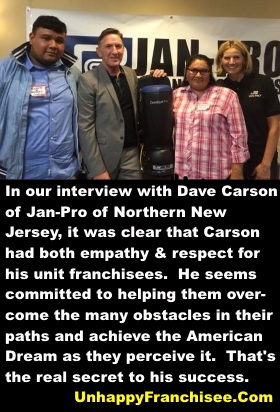 Dave Carson cleaned house.  Eventually he replaced every one of the previous master's employees.
He did not fire them just because they were part of the old regime, he says.  He fired them after giving each a chance to learn to do things according to his philosophy, using his approach.
When a company has been doing business a certain way and within a certain culture for 18 years, he says, it becomes so ingrained it's not easy to change.
So he brought in a new staff that he could hire and train within his philosophy that the unit franchisees were not the dreaded enemy and a necessary evil, but were the business' greatest and most valuable asset.
He indoctrinated new employees with the idea that the unit franchisees were their customers, and the master's team was there to serve them, not the other way around.
Dave and Mary spent the first few months observing  the way things had been done in the past, making notes on the most obvious and glaring problems before they set out to fix them.
They noted that a large number of their cleaning franchisees and their workers spoke little-to-no English.  How could the unit franchisees possibly know what was required of them when they were literally given instructions in a language they did not understand.
The Carson's hired operations people who were fluent in Spanish as well as English.
The previous management did all they could to have as little contact with the unit franchisees as possible.
They mailed out their cleaning checks to them.  If there were errors on the checks, the franchisees would likely get frustrated trying to get the error corrected and give up… likely venting their frustration on the Internet.
The Carsons sent out statements two weeks before "check day" and invited franchisees to ask questions and communicate any errors to them ahead of time.
They invited franchisees to come in to the office on "Check Day" to pick up their checks in person.  They welcomed them as valued associates.  If their checks had errors, they would be corrected by the time they came in.
By inviting franchisees in to the office, they could get their feedback and hear their suggestions for improvement.
They could introduce them to the support staff and to other franchisees who happened to be in the office that day.
They could build a sense of team and introduce them to new ideas – like the uniforms they were going to be requiring them to wear.
When the Carsons had taken over, very few of the franchisees or their employees were wearing clothing that would identify them as Jan-Pro cleaning staff.
Dave Carson could sell them on the idea that everyone needed to be wearing uniforms to promote their professionalism and the brand image, especially if they were to be able to get and maintain higher end accounts.
But there was a safety issue also.  If police were called to a building or suspected there was a break-in, it would be imperative that the cleaning staff be easily recognizeable as belonging there, even after business hours.
While the unit franchisees were initially resistant to the mandatory uniform policy, they were won over by the fact that such changes were being implemented to for their own benefit.
Eventually, the unit franchisees became enthusiastic about the Jan-Pro clothing, and began requesting more variety and looked forward to seeing some of the new options and picking up their orders on check day.
Franchisee Appreciation Day October 2016
In October, 2016, Dave and Mary Carson did what the former franchisee had warned them to never do:
They invited all the Jan-Pro franchisees to come together for their Franchisee Appreciation Day.
They had presentations and workshops.
They quizzed them on cleaning topics and rewarded correct answers with prizes.
They recognized those who were doing an extraordinary job and praised them in front of their peers.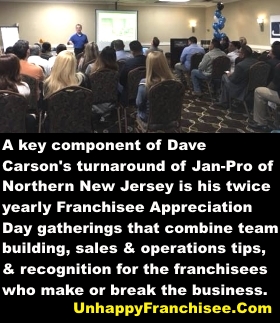 Carson's staff provided concrete tips on how they could increase client satisfaction and retention, offer and sell additional services, put more money in their pockets, and expand their business to meet their personal goals.
They gave them a chance to vent, share frustrations and suggest ways that Dave's staff could improve and better serve them.
According to Dave Carson, the franchisees who turned out in remarkably high numbers, were transformed.
They were being listened to.
They were being addressed respectfully as adults… as business owners.
And they were being taught concrete, practical tips and practices that they could use to achieve their personal and professional goals.
And when Dave and Mary didn't rush out the door and when, in fact, they invited them to the bar afterwards for drinks (and even picked up the first round," the Jan-Pro franchisees were once again excited about their business and their decision to join Jan-Pro.
When franchising works for all, everyone wins.
The Pre-Dave Carson online franchise complaints against Jan-Pro of Northern New Jersey indicated that the former master franchisee had a very different approach to franchising and its relationship with its unit franchisees.
Like many of the worst commercial cleaning master franchises, the company appears to have basically given up on retaining either franchisees OR clients long-term and resigning itself to some or all of the Revolving Door approach.
The Revolving Door strategy of commercial cleaning franchises is to sign up as many unit franchisees as possible, collect up-front fees for a promised amount of business, and then pretend that you've earned that fee by providing underbid accounts, job locations that franchisees cannot practically service, and get paid again and again for the same account by telling unit franchisees that clients were unhappy and asked for a new crew.
For many years, Dave Carson believes, his predecessor did little more each year than replace lost accounts and lost franchisees – a trap that makes growth all but impossible.
Dave Carson's approach is the exact opposite:  He stresses that the mutual success of his support team and franchisees is in building a strong and growing list of satisfied and stable accounts.
Client retention enables his franchisees grow not just by maintaining the same revenue level, but by increasing add-on services to satisfied accounts.
"Clients would much rather have additional services like floor care or window cleaning performed by a company they already know and trust,"  says Dave Carson.  "They will gladly give us additional services and revenues over outside, unfamiliar companies who are constantly calling on them.  But first, our franchisees need to earn their trust.  And we need to teach and motivate franchisees to do just that.
And the results that Dave Carson is seeing are dramatic.
In 2016, Jan-Pro of Northern New Jersey was recognized by the franchisor as one of the top five franchisees in the country for account retention.
Carson reports that Jan-Pro of Northern New Jersey posted a year vs. year increase of 18% for 2015 to 2016 and achieved a 22% increase from the 1st 8 months of operation vs. the 2nd 8 months.
Franchisees are looking forward to future twice-yearly Franchisee Conferences currently scheduled for March and October, 2017.
And Unhappy Franchisee is happy to report that no more complaints have been received against Jan-Pro of Northern New Jersey since Dave and Mary Carson took over as master franchisee.
In fact, we are about to publish a companion post based on our interview with Dave Carson:
"From Unhappy to Happy:  5 Keys to Regaining Franchisee Trust"
Check back soon.
ALSO READ:
FRANCHISE DISCUSSIONS by Company
Janitorial / Commercial Cleaning Franchise Issues
ARE YOU FAMILIAR WITH JAN-PRO OR OTHER COMMERCIAL CLEANING FRANCHISES?  WHAT DO YOU THINK OF DAVE CARSON'S APPROACH?  SHARE A COMMENT BELOW.
TAGS: Jan-Pro of Northern New Jersey, Jan-Pro master franchise, Jan-pro franchise, Jan-pro cleaning franchise, Jan-Pro New Jersey, Jan-pro Dave Carson, Commercial cleaning franchise, janitorial franchise, franchise support, Jan-Pro complaints, Jan-pro franchise complaints, franchise complaints, unhappy franchisee