Jan-Pro Franchising International offer two distinct franchise opportunities:  the Jan-Pro master franchise and the Jan-Pro unit franchise.
The Jan-Pro master franchise opportunity is marketed to sales/marketing and management executives.
The Jan-Pro unit franchise opportunity is marketing to individuals willing to perform cleaning and janitorial duties.
Are you familiar with the Jan-Pro franchise opportunity? Please share a comment below.
The Jan-Pro Master Franchise Opportunity
According to the Jan-Pro website, "each Jan-Pro Master Franchise owner acts as the Regional Franchisor in their exclusive market. Our Master Franchise owners operate in a professional business environment during regular business hours, while their Unit franchisees service the commercial cleaning needs of our clients."
In short, Jan-Pro Master franchisees market and sell commercial cleaning services to businesses within their territories, and sell unit franchises to the individuals who will perform the janitorial services for those accounts.
According to Franchise.org, the Jan-Pro master franchise has a Start-up Cost of $100,000 to $500,000, and requires a total investment ranging from $125,000 to $1,500,000.
The Jan-Pro Unit Franchise Opportunity
Jan-Pro unit franchisees are promised a guaranteed volume of commercial cleaning work, provided by the master franchisee they are under.  The amount of revenue they are promised is determined by the amount they invest upfront, as they are, in essence, paying for a certain volume of commercial cleaning contracts it will be their obligation to fulfill.  However, it is important to note that it's our understanding that neither Jan-Pro not its master franchisees guarantee that those accounts provided will be profitable.  Furthermore, we believe that if unit franchisees turn down accounts, the dollar amount of those refused accounts will be deducted from what Jan-Pro is obligated to provide.
According to Franchise.org, the Jan-Pro unit franchise requires a start-up cost of $950 to $36,500, and a total investment ranging between $2,800 to $44,000.
Is the Jan-Pro Master Franchise a Good Opportunity?  What About the Jan-Pro Unit Franchise?
Many Jan-Pro unit franchisees have complained that they were deceived and defrauded by Jan-Pro International and/or a JanPro master franchisee.   Most of the unit franchise allegations involve franchisees who claim they never received the promised accounts, or that the accounts they received were bid so low they could not profitably perform the work.  Many Jan-Pro franchisees allege that they had janitorial accounts wrongfully taken away from them by master franchisees who then assigned them to new franchisees, thereby fulfilling the obligations of multiple franchisees with a single account.
Read or comment about these and other Jan-Pro complaints here:
JAN-PRO: Is JAN-PRO Franchise a Scam?
JAN-PRO: Janitorial Franchise Warning
Most of the complaints have been made by Jan-Pro unit franchisees.  Recently, however, we received an unverified report that Jan-Pro some master franchisees are in revolt.  On the post STRATUS Franchise: Are Stratus Master Franchisees Jumping Ship?, Reasoned Source wrote:
Jan-Pro is very interested in what is going on at Stratus… So much so, they have had at least two executive level meetings to discuss what to do about the "Stratus Issues".  Also, A group of approx. 30 Masters have decided to Stop Selling Unit Franchises for the time being and quite possibly forever.
Stratus Building Solutions is a similarly structured franchise competitor whose master franchisees have openly stated that the unsavory tactics used by master franchisees have been made necessary by the janitorial franchisor who sold them an otherwise unviable franchise.  Reasoned Source and others have said that while master franchisees share blame, they too are victims.
ARE YOU FAMILIAR WITH THE JAN-PRO MASTER FRANCHISE AND/OR UNIT FRANCHISE OPPORTUNITY?  WHAT DO YOU THINK? PLEASE SHARE A COMMENT – POSITIVE OR NEGATIVE – BELOW.

Have you had any experience with the Jan-Pro franchise (or similar company)?  Please share a comment below.
 
Jan-Pro is a commercial cleaning company that claims to be Entrepreneur magazine's #1 Fastest Growing Franchise in 2008 & 2009. According to Entrepreneur, there are currently more than 8100 Jan-Pro franchises in the U.S.  The franchise investment ranges from $3,300 to $54,300.
 
According to the Jan-Pro website, "The JAN-PRO® Franchise System is structured around the Master Franchise Concept. This concept takes advantage of a decentralized structure where each Master Franchise Owner acts as the Regional Franchisor in their exclusive market."
 
So, Jan-Pro "Master" franchisees sell "Unit" franchises and support the "Unit" franchisees in their territories.  "Unit Franchisees" do the actual cleaning of buildings, and are supplied with cleaning jobs from their Master.  According to JAN-PRO "Unit franchisees are assigned their first customers once they have completed training. JAN-PRO® staff will be there to provide assistance every step of the way, designing a complete work schedule and teaching how to complete each task in a proper and timely manner."
 
According to the JAN-PRO® website:
When you become a Unit Franchisee with JAN-PRO, you will enjoy:

-  Support from your regional master franchise office.

-  A steady income stream. You'll receive monthly income from the customers provided to you by your master franchise owner, without the expense of an accounting system and the worry of collecting the receivables.

-  The benefits of a recognized name. According to 2008 Entrepreneur Magazine, the #1 Fastest Growing Franchise overall.  Most building owners and managers prefer working with a larger company that has a good reputation, excellent references, and professional customer support and service.

-  Professional relations. Quality control, customer account inspections and customer support are provided by our specially trained technicians.

-  Unlimited growth potential. Additional customer accounts will be provided to build your business at a pace that meets your need
However, messages left by commenters alleging to be JAN-PRO unit franchisees claim that JAN-PRO Master Franchisees failed to provide the required cleaning jobs, and then refused to honor their guarantees.

 
Recently, Tryingtomake it wrote on ComplaintsBoard.com:
I purchased a franchise with Jan Pro in Northern New Jersey. I've been with them for almost a year. My husband had to go there and threaten them to get the first account. I had to hound them for months to get the second one. They keep giving me accounts where the people are pissed off and it takes us months to get them where we want them. They still have to give me one more account and I will hound them until they do.

 
By the way did I mention that even after you get all your account you will sill not make enough money because you WILL have to pay someone to help with the cleaning since they seem to bid extremely low so by the time you finish paying the royalty fees and your employees, you don't have any money left to even buy yourself a soda. Personally I think its a scam. They most probably charge more to the client that what they led us to believe.

 
I have no one to blame but myself for not fully researching this before buying into it. Oh well live and learn. For anyone out there thinking on doing business with the Jan Pro in Northern New Jersey. Think twice. One lady took the manager and pinned him to the wall (she got her money back)
krussi wrote:
we purchased a franchise a little over one year ago. We received accounts from another franchisee as you state for people who are not happy. They are suppose to fill the franchise within 120 days according to our franchise agreement or return the franchise fee. After one year we only were half full.

We decided to enforce the 120 days and gave them notice, they say they offered us enough to fill the franchise, it our word against theirs, they will not return our franchise fee. As you stated the only way to make any money is to clean them all yourself. I too think this is a scam. They did not fill our accounts but we find out that the guy taking our accounts just bought his franchise two months ago; they cannot fill ours but take someone elses money.

Has anyone else out there taken them to Court and won? There was a case in 2004 Guzman vs. Jan Pro. I spoke with Guzman's lawyer, I wish I would have researched more fully as well because Mr. Guzman had the same issues and he won. His lawyer told me to get out as fast as you can… I will pursue getting my money back, this is fraud.
WHAT DO YOU THINK? IS JAN-PRO A SCAM? DO EXPERIENCES VARY BY MASTER FRANCHISE TERRITORY? SHARE A COMMENT BELOW.
This post was originally published April 19, 2009.  Some comments were lossed due to computer error.  If you with to contact site admin, email UnhappyFranchisee[at]gmail.com.
N LYNN on April 26th, 2009 5:09 pm wrote:
We have an account we no longer wish to service – it doesn't pay enough for all the work required.
We gave them notice that we would no longer be working that account, but they say we can't quit it until they find someone to fill it. I don't think they are trying very hard.
I don't see anything about timeframes on our paperwork – how long do you think we are obligated to work this account?
guest on April 28th, 2009 11:20 am wrote:
I'm thinking about getting into this business. Can anyone comment on how well they are doing?
michael on April 29th, 2009 11:12 pm wrote:
if you need help let me know i can help i was hands on for so called jan pro
READ MORE ON JAN_PRO:
JAN-PRO Franchise Complaints  August 11, 2009
JAN-PRO: Janitorial Franchise Warning  October 14, 2009
JAN-PRO UnhappyFranchisee.com Responds to Jan-Pro Threat  December 27, 2011
JAN-PRO Threatens UnhappyFranchisee.com  December 27, 2011
Commercial Cleaning Franchises: 10 Reasons to NOT Buy One  February 25, 2010
FTC's Janitorial Franchise Buyer's Guide  October 14, 2009
Commercial cleaning franchise company Jan-Pro Franchising International sent a threatening email to UnhappyFranchisee.com.
(See JAN-PRO Threatens UnhappyFranchisee.com)
The letter, sent from Jan-Pro attorney Kathryn B. Shipe, alleged that UnhappyFranchisee.com was infringing of Jan-Pro's registered trademark.
UnhappyFranchisee.com's response follows:
12/27/11
Ms. Shipe:
Thanks for your "courtesy letter" regarding the single 240 x 120 pixel Jan-Pro logo that appeared on a single blog post on UnhappyFranchisee.com….
In regard to your objection to the use of the Jan-Pro logo on the UnhappyFranchisee.com website, please be advised that:
The right for bloggers and online publishers to use company logos is clearly protected under the Fair Use Doctrine.
The logo appeared on a blog post titled "JAN-PRO Franchise Complaints" that was accompanied by 600+ mostly negative comments about the Jan-Pro franchise program. If ever there were ever an "unlikelihood" of confusion, this would be it.
This logo was provided by Jan-Pro's own public relations agency for use in online and print publication. Your client provides this logo publicly in a downloadable format in order to encourage its use by writers, publishers and bloggers.
Even though continued use of the Jan-Pro logo on UnhappyFranchisee.com is fully within our rights under the Fair Use Doctrine, as a courtesy we have taken the following steps:
We have replaced the offending logo with a graphic that states "We are NOT JAN-PRO"
We have placed the "We are NOT JAN-PRO" graphic in several key places on our website, including our home page.
We have published a prominent post that includes both your Cease & Desist Courtesy Letter as well as further clarification that UnhappyFranchisee.com is not affiliated with your client, JAN-PRO.
We will publish this response letter as well, to ensure that no likelihood of confusion between UnhappyFranchisee.com and your client could possibly exist.
We invite your client, JAN-PRO, to provide a statement, clarification, rebuttal or rebuttals to any and all of the views expressed by individual commenters on UnhappyFranchisee.com. We will publish your client's rebuttal and clarification with the same or greater prominence as the views of the contains the individual commenters (whose views are not that of UnhappyFranchisee.com). Please extend this offer to your client on our behalf.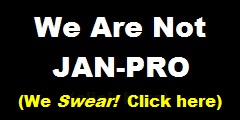 On a more philosophical note, it seems likely that an experienced attorney such as yourself would know that fair use of the Jan-Pro logo is entirely within our rights. We must assume that either 1) you believed that we are not aware of the legalities regarding freedom of speech on the Internet and thought we could be bullied, or 2) you were making contact as a first step for some further legal purpose.
Please be assured, in either event, that we are knowledgeable, resolute and outspoken when it comes to protecting the right to free speech, open discourse and transparency on the Internet. While we believe it is the right of each franchisee to share their experiences and their opinions, we also believe each franchisor has the right to dispute, rebut or disprove those opinions. We look forward to continuing to provide an open forum for both franchisees and franchisors, and hope your client will take us up on the invitation to participate in our forum.
ADMIN
UnhappyFranchisee.com
Statements or rebuttals are welcome and can be submitted to UnhappyFranchisee[at]gmail.com.
ARE YOU FAMILIAR WITH JAN-PRO FRANCHISING INTERNATIONAL?  FEEL FREE TO SHARE A COMMENT BELOW.

Guest post:  Ten Reasons Not to Buy a Commercial Cleaning Franchise Or a Janitorial Franchise by Ron Van Orden, CEO, Building Care Services 
I am a business broker and I have facilitated the sale of several commercial cleaning franchises and spoken to the owners of many more. I also have a commercial cleaning business. Every franchisee I have spoken to stated that if they could go back and go it again they would choose to not be a franchisee.
Let me start by saying that I do not necessarily have any problem with franchises. For budding business people franchises offer a structured and simple way to get into an industry. Usually franchises have an established brand identity and a training program. Franchisors are very good at selling franchises and typically have exciting brochures that describe the riches that will flow in once you get started. For some, franchises are the right way to go.
The point of this article is to point out a few items specific the commercial (business to business, not homes) cleaning / janitorial industry. One only has to to a internet search for commercial cleaning and the franchise opportunities are endless. Jani King touts themselves as the largest player here with, Jan Pro, ServiceMaster, Coverall and several others also having a national presence. Even with the size of these franchises they only have 10% market share in this industry. This article pertains to the unit franchises who actually perform the cleaning, not master franchises or area developers.
In a nutshell here is the concept. You purchase a franchise from a franchisor. With the franchise you get training, the equipment to perform the work (usually new) and some startup accounts. You purchase your insurance and bond through the franchisor. Once up an running the franchisor handles the billing, customer relations. Often you are required to purchase your supplies through the franchisor.
Let me stop here and say that a franchise is probably a good choice if you want to do the cleaning yourself and stay small. If you want to grow and add accounts and employees then you need new accounts. You can either get them yourself or purchase them from the franchisor….that brings me to my ten points.
1. Cost: The cost of acquiring new accounts are expensive! Usually they are in the neighborhood of 4x the monthly gross. A $500 account would cost you $2,000 – Ouch!
2. ROI: Using this example and a 40% profit margin it would take you 10 months to just recoup your money. I do not have a problem with fees – this is a competitive business and it costs money to get new business but at 4x this is a profit center for the franchisor not the franchisee.
3. Bidding Accounts With the franchisor bidding the accounts they are setting the price. They then bring them to and in some cases you are required to take it. They have no incentive to try to get the highest price, they just want to get the business.
4. Limitations With a franchise your growth is limited and you are confined to a geographic area.
5. Training I have not been through a franchisor training, but I will say that cleaning is easy! That is one of the beauties of this business – it is simple. There are many excellent internet resources and books that will teach you the tricks of commercial cleaning. Don't want to do that? You could hire an experienced janitor and he or she could teach you for far less that the cost of their training. You can get all the forms and software you need online for less than $200.
6. You have to buy their equipment or supplies Why not shop around, buy used or only buy as you need to. There are many accounts that do not require the top of the line floor buffer.
7. Do you really need the Brand? Customer loyalty is very low in this business. Most often customers only care about the consistency and quality of the work and the price rather than the name.
8. Are you just buying a job? Most people want to own a business because they want to be rewarded for performing. With a franchise your rewards may be limited.
9. Don't want to do Sales, Billing or deal with Customer follow up? There are alternatives. There are Janitorial brokers who sell accounts for those who don't like to sell. You can work as a subcontractor and never have to deal with the customer. You can outsource the billing if you want.
10. Beware of projections and financial promises No one can predict how well you will do in this industry. This business is resilient to economic pressures and will always be in demand but no one can predict the future.
For some franchises, with the option of getting a "business in a box" is irresistible. My advice is to start small, buy what you need as you go and avoid going into debt as much as possible as you go.
Ron Van Orden is the CEO of Building Care Services a Sales and Marketing Solution for janitorial and building maintenance professionals and companies located in Los Angeles, California. http://www.BuildingCareServices.com
Article Source: http://EzineArticles.com/?expert=Ron_Van_Orden
WHAT DO YOU THINK?  SHARE A COMMENT BELOW.
Interested in Janitorial or Commercial Cleaning franchises?  The FTC and the Maryland Attorney General's Office jointly produced the Buying a Janitorial Services Franchise guide reproduced below.  While it was published in 2001, it is just as valid today.  Also read:
JAN-PRO: Janitorial Franchise Warning
CHAMPION CLEAN Using Bogus Franchise Statistics
_______________________________________
Buying a Janitorial Services Franchise
Produced jointly with the Maryland Attorney General's Office.
If you're thinking about starting your own business and have only a small amount to invest, you may be considering buying a janitorial services franchise. For a fee, a janitorial service company (the "franchisor") typically provides you (the "franchisee") with customers and marketing, billing and collection services.
Every franchisor has success stories to share. Be cautious. While success in the janitorial service industry is possible, it's not a guarantee.
A glossary of terms commonly used in the franchise industry is included at the end of this brochure.
How Janitorial Services Franchises Work
In a typical janitorial cleaning franchise, you pay the franchisor a fee for a "package" of cleaning accounts. The fee is based on the dollar value of cleaning accounts that the franchisor will make available. The fee usually is about half the gross income the accounts are supposed to generate in a year. For example, for a fee of $10,000, you'll get accounts worth $20,000; for a fee of $15,000, you'll get accounts worth $30,000. You also may have to pay ongoing royalty or management fees.
The franchisor may offer you financing. This may sound especially attractive if you have trouble getting credit from traditional lenders.
The franchisor is supposed to offer you cleaning accounts that will produce the level of income represented in the package you purchased. However, several factors can affect that level of income. For example, if you don't accept an account, the franchisor may not have to offer you a substitute. Or, if you refuse an account because you feel it's located too far away, you may lose your right to that income. Also, if you lose accounts because you did a poor cleaning job, the franchisor doesn't have to replace those accounts.
Problems You May Face
The Federal Trade Commission and the Maryland Attorney General's Office advise you to use caution when thinking about buying a janitorial services franchise, which often appeal to immigrants and others who speak limited English. The franchise agreement you'll receive from the franchisor may be long and complex. It may be difficult to understand your legal rights and obligations, and the obligations of the franchisor. Consider getting professional advice. Ask a lawyer, accountant or business advisor to review the franchise agreement. The money and time you spend on professional help may save you from a bad investment.
Here are some of the problems you may face:
Accounts offered versus accounts received. There may be a difference between the accounts the franchisor promises to offer you and the accounts you actually receive, as well as the revenue that comes with them. For example, the franchisor may promise to offer you accounts generating $1,000 in monthly billings for the first year. To meet its obligations, the franchisor may offer you more than one cleaning account. But given time conflicts, distance issues or other problems, you may not be able to accept all the accounts the franchisor offers. What's more, the franchisor may offer the same accounts to several franchisees on a first-come, first-served basis. If you can't accept an account because you can't get to the location, or if another franchisee accepts the account first, the franchisor may have satisfied its obligation to offer you accounts. Because the franchisor may not tell you about this policy before you buy the "package" of accounts, you should not count on receiving all the revenue that the franchisor promised at first.
Rejected accounts. The franchisor may not have to replace an account that you reject.
Franchisor-selected accounts. The franchisor usually selects accounts for you. The size, number and location of the accounts may not be what you expect. For example, the franchisor may require you to service more than one account at the same time, or the job sites may be far apart.
Lost accounts. Most janitorial franchise agreements specify that if a customer cancels the cleaning contract, the franchisor doesn't have to replace the account for you. In fact, you may have to pay an extra sales and marketing fee for a new account to make up for the lost income.
Integration clauses. The franchise agreement you sign may contain a clause that limits the terms of your agreement to those specifically detailed in the written franchise agreement. This means that any oral claims or promises made by the franchisor are not part of your agreement. This is one reason why it's so important to get all promises in writing in the franchise agreement.
First year time lag for receiving accounts. The package of accounts you buy will suggest a level of income within a year. But the franchisor may take several months to supply you with the promised accounts. That means you may not earn any income until several months after you've purchased the package, so you may not earn the estimated annual income. Therefore, it's important to have other sources of income during your first few months of operation.
Ongoing fees. The franchisor may charge you a monthly management or service fee. You'll have to pay the fee even if you don't have any income from your cleaning business that month. If you finance the franchise fee, you must make the monthly payment on that debt whether or not you're receiving income from the cleaning business. And although you may find customers without the franchisor's help, any income from a cleaning account you solicit will be included when the franchisor calculates the royalty and management fees you owe.
Franchisor-owned accounts. The franchisor may own all the customer accounts, including those that you get on your own. This means that if your franchise agreement ends, you will not be able to service the accounts for which you paid a fee, and you won't be able to service the accounts you got on your own, either.
Training. Get information about the franchisor's training program before you invest. The franchisor decides the type of training you'll get. It may involve watching videos and reading books; it may not involve classroom or on-site training.
Contract bidding procedures. The franchisor may not tell you how it bids for cleaning contracts or what specific services you must provide to the customers. The franchisor may only tell you that you should be able to earn $12 to $15 an hour doing janitorial work. However, when bidding for cleaning contracts, the franchisor may offer your services at a lower rate, and you may have no say in whether the amount charged is reasonable. So even though the account is represented as being worth a certain amount of money, it may not be worth that much to you, and you may not be able to make a profit once you pay for expenses like supplies and transportation costs.
Short-term accounts. People who operate janitorial franchises often find that customers rarely maintain an account for more than a year. That's because customers prefer short-term contracts so they can shop for the best deal. If the franchisor offers you replacement accounts, you may have to pay a new referral or marketing fee.
Performance obligations. You may have to meet minimum monthly performance or growth requirements. If you don't, you may lose the franchise. Worse yet, you may not have the right to a refund of your franchise fee.
Payment for services. The franchisor collects payment from your customers. If the customer doesn't pay, you don't get paid. The franchisor may not be legally obligated to force the customer to pay, but if the franchisor sues for payment, you may have to pay the legal costs.
Personal guarantees. Many franchisors require franchisees to personally guarantee the obligations of the franchise business. This means that if your business assets don't cover your franchise obligations, you could lose personal assets, like your home or car.
Anti-competition rules. You and your immediate family (your spouse and children) may not be allowed to have an ownership interest or perform services in another cleaning business, even if your family members don't have an ownership interest in your janitorial franchise. This restriction may continue even after your franchise ends.
The FTC's Franchise Rule
By law, a franchisor must give you a detailed disclosure document. The disclosure document should include:
the total number of franchises, and the number of franchises terminated or not renewed during the previous year;
the bases and assumptions for any claims about potential earnings or the earnings of existing franchisees;
the cost of starting and maintaining the business;
the names, addresses and telephone numbers of at least 10 franchisees who live closest to you (names, addresses and telephone numbers of at least 100 franchisees is required in some states, including Maryland) ;
the background and experience of the franchisor's key executives;
a fully audited financial statement of the franchisor;
any lawsuits against the franchisor or its directors by franchisees; and
the responsibilities you and the franchisor have to each other once you've purchased the franchise.
You should receive the disclosure document at least 10 business days before you pay any money or legally commit yourself to buying a franchise. Ten business days should give you enough time to review the document, get answers to your questions, talk to franchisees and get advice from an attorney, accountant or business advisor.
Protect Yourself
Buying a franchise is a big decision. Before you commit, take the following precautions:
Read the company's disclosure document. Review it carefully to learn more about your obligations, the litigation history of the franchisor and failure rates. This information will help you decide whether franchisees are dissatisfied with the franchise.
Talk to other franchisees. Don't rely only on the information the franchisor gives you. Talk to current and former franchisees about their experiences with the franchisor. Their names, telephone numbers and addresses should be in the company's disclosure document. The franchisor may refer you directly to franchisees who are known to be successful. Don't rely on references the company selects.
Contact your state franchise administrator. If you live in California, Hawaii, Illinois, Indiana, Maryland, Minnesota, New York, North Dakota, Rhode Island, South Dakota or Virginia, your state has an office that regulates the offer and sale of franchises. Contact your state franchise administrator before you invest. Ask if the franchise you're considering is registered to offer franchises in your state. If you live in Maryland, call the Maryland Attorney General's Office at (888) 743-0023, or visit www.oag.state.md.us. If you live outside of Maryland, you can find the name of your state franchise administrator, by calling the North American Securities Administrators Association at (202) 737-0900 or visit www.nasaa.org. You also may contact your state Attorney General (www.naag.org) or Better Business Bureau (www.bbb.org) for more information.
Get all promises in writing. If a salesperson tells you that the franchisor will give you accounts near your home, but the written agreement defines the geographic area more broadly, it's what's in the written agreement that counts. If a provision in the agreement is different from anything you discussed with the salesperson, demand that the written agreement be changed. If a salesperson tells you that you should be able to make $12 to $15 an hour, make sure that prediction is included in the disclosure document. If the salesperson or franchisor won't agree, walk away from the deal.
Review the franchise agreement carefully. It's important to understand all the conditions of the agreement. It controls your relationship with the franchisor. Make sure the agreement spells out the details so there are no surprises.
Understand your obligations. As a franchisee, you may have to pay royalties and other fees. Find out exactly what types of fees you'll have to pay, how much you'll pay and how often.
Investigate claims about potential earnings. The estimated value of the package of accounts you buy may not reflect the income you'll earn from servicing those accounts. Find out how the company assigns a value to the accounts. Ask how many franchisees made the represented income and where those franchisees are located.
Be cautious when financing. While financing your purchase through the franchisor may seem appealing, the terms of the financing agreement may not be the best deal for you. For example, you may have to sign a note to secure the debt and agree to terms that could make it tough for you to sue the company if you wanted to cancel your agreement. Before you agree to franchisor financing, be sure you understand all the terms of the deal.
Consider getting professional advice. Ask a lawyer, accountant or business advisor to review the disclosure document and franchise agreement. The money and time you spend on professional help may save you from a bad investment.
For More Information
The FTC also publishes a series of consumer brochures on franchising and business opportunities. For free copies, contact the Consumer Response Center, Federal Trade Commission, Washington, DC 20580, 1-877-FTC-HELP (1-877-382-4357), TDD: (202) 326-2502, www.ftc.gov.
The State of Maryland also publishes investor brochures about franchises and business opportunities. For copies, or for more information about Maryland's requirements regarding the sale of franchises and business opportunities, contact the Office of the Attorney General, Maryland Securities Division, 200 St. Paul Place, Baltimore, MD 21202, (410) 576-6360, www.oag.state.md.us, email: securities@oag.state.md.us.
Glossary of Terms
Disclosure Document – A written document that outlines the general franchise offering, including background information of the franchisor, a summary of the franchise agreement, and a list of current franchisees.
Franchise Agreement or Franchise Contract – The written document that spells out the legally binding obligations between the franchisor and the franchisee.
Franchise Fee – The purchase price for the franchise.
Franchisee – Any person who buys or invests in a franchise.
Franchisor – Any person who sells a franchise.
Management or Service Fee – A fee paid the franchisee for extra or ongoing support, such as providing additional or substitute accounts.
Royalty Fee – A specific payment made by the franchisee for the right to use the franchisor's trademark. In most instances, the franchisee pays this fee throughout the term of the agreement, regardless of anything else the franchisor may or may not do.
The FTC works for the consumer to prevent fraudulent, deceptive, and unfair business practices in the marketplace and to provide information to help consumers spot, stop, and avoid them. To file a complaint or to get free information on consumer issues, visit ftc.gov or call toll-free, 1-877-FTC-HELP (1-877-382-4357); TTY: 1-866-653-4261. The FTC enters consumer complaints into the Consumer Sentinel Network, a secure online database and investigative tool used by hundreds of civil and criminal law enforcement agencies in the U.S. and abroad.
WHAT DO YOU THINK?  SHARE A COMMENT BELOW.
In response to an Unhappy Franchisee.com post on the Jan-Pro commercial cleaning franchise (JAN-PRO Franchise Complaints), we received the following tips from a janitorial franchise insider.  Many commercial cleaning (janitorial) franchise opportunities work the same way (they market, bid and sell the cleaning jobs then provide them to franchisees to clean) and generate the same types of warnings.
On 2009/10/13, Former Jan-Pro Employee wrote:
As a former Employee of a Master Franchiser (company like Jan-Pro) I would like to say I feel your pain. I only knew of 2 franchises and worked for 1 of them. The one I worked for was not honest at all. However, they made sure they did nothing illegal. Now we're talking ethics…

They had me make franchisees sign TT's or Troubled Transfers before the franchisee (saw the building) agreed to it. Most accounts they offered were very underbid. Their commissions are based to where the sales person has no choice…also, the sales persons I delt with had no experience. I have many years of janitorial experience.

It's very sad to see people sold a dream, this is all of the money they have and the promise made to them was broken. They make promises to their employees that they broke, myself included. I know there must be Master Franchisers out there who are honest.

Remember this, do as much research as you can. This is your money!!! Tell them you want to talk to 50 franchisees before you make up your mind. Do not sign anything until you have shown the contract to a lawyer. When they say they will meet your designated business fulfillment it means 180 BUSINESS DAYS, not consecutive days!!!!!!! This is longer than 6 months!!!!! Do not agree to any account unless it meets your standards. They twist your arm and threaten you with the fact that if you deny business they are free of their obligation to give you what you paid for in 180 days this is why it is so important to know the facts before you sign!!!!! So remember to ask them if Your Master Franchiser or any representative has been cleaning this account (another franchisee) before you and were there problems that caused you to be the new cleaner.

You have the right to know how many cleaning days, how many hours they bid it at and whether or not it's a brand new account for the company. Refer to the contract before you sign it, know what your rights are. They are bound by Franchise Laws, they know them!!! You should too!

One of their bidding numbers years ago was $15 hour. So if it took 2 hours it would be $30 per cleaning. Now, you need to factor in GAS per trip, Cleaning Supplies, Franchise Fees, Insurance, Payments on the account if any, Employees + Burden if any…Suddenly, $15 isn't $15 anymore?????? You are responsible once you sign…remember that!
ARE YOU FAMILIAR WITH JAN-PRO OR OTHER COMMERCIAL CLEANING FRANCHISE OPPORTUNITIES?  SHARE A COMMENT BELOW.
JAN-PRO Franchise Complaints.
Janitorial franchises like Jani-King, Coverall and Jan-Pro are quite controversial, with detractors warning that franchisees are really just buying low paying jobs… or worse.  UnhappyFranchisee.com asked:  Is the JAN-PRO Franchise a Scam?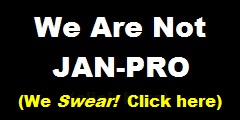 Here are some of the comments we received:
N LYNN wrote:
"We have an account we no longer wish to service – it doesn't pay enough for all the work required.
"We gave them notice that we would no longer be working that account, but they say we can't quit it until they find someone to fill it. I don't think they are trying very hard. "
Jeff wrote:
"These guys underbid all the competition, so low that no one can make any money. If you buy a franchise from Janpro, read their contract before anything. Don't gave them any money until you read the contract. You can Google them and read anything on Ripoff report to see what their former franchise people have to say about Janpro. I agree, they pay so low there is no way you can hire anybody, so low you will have to hire illegal immigrants to work for nothing because you can pay enough for the minimum wage because they bid so low onthe job and suckered you to buy the account because the cleaning is getting done for nothing…. Search and research if this business is for you, it is not a 100K business like you think, it takes a lot of work to earn that."
Patty wrote:
"Beware, Beware, Beware!!!!!!!!! Jan Pro franchise is a huge rip off. The business tactics they use are very deceitful. They lie to you to get you to buy into the business and AFTER you have given your money to them you find out the truth. You will not make money unless you work 24 hours a day and do all the work yourself. Find an ongoing lawsuit and join in if you can or start your own lawsuit against them to get your money back."
Jerry wrote:
"I to got rippedoff by jan-pro. They got me accounts that payed so low that I was making less than minimum wage. Since I posted my Phone number on another site I have been geting Tons of calls from people all over the country. I cant believe how many people from all over the country have called me. I even received a call from Canada. It's really sad how jan-pro keeps ripping off so many people and so many families. What is really sad is when they ripoff single Moms. Now many of us from all over the country are getting together and we are taking legal action. I'm now a member of a National Class Action Lawsuit."
ARE YOU FAMILIAR WITH THE JAN-PRO FRANCHISE?  PLEASE SHARE YOUR THOUGHTS & EXPERIENCES – GOOD OR BAD – BELOW.
READ MORE ON JAN-PRO:
JAN-PRO: Is Jan-Pro a Great Franchise Opportunity?
JAN-PRO: Is JAN-PRO Franchise a Scam?
JAN-PRO UnhappyFranchisee.com Responds to Jan-Pro Threat
JAN-PRO Threatens UnhappyFranchisee.com