JAN-PRO Threatens UnhappyFranchisee.com

Jan-Pro Franchising International and its affiliate JAN-PRO have threatened website UnhappyFranchisee.com with legal action over use of a 240 x 120 pixel Jan-Pro logo the company itself provided.
The logo appeared on a discussion page titled JAN-PRO Franchise Complaints.
The post itself contained brief excerpts from complaints alleging that (among other things) Jan-Pro underbids the jobs it provides to its franchisees so severely that the franchisees make less than minimum wage.
These brief excerpts then prompted 600+ comments, mostly from unhappy franchisees complaining that they were deceived and mistreated by Jan-Pro and/or Jan-Pro master franchisees.
In a threatening "courtesy" letter, Jan-Pro Attorney Kathryn B. Shipe expressed Jan-Pro's concern that the presence of the logo may create a "likelihood of confusion."
Jan-Pro is evidently concerned that UnhappyFranchisee.com readers may think that Jan-Pro itself created a website to give its detractors and unhappy franchisees the opportunity to post hundreds of franchise complaints against Jan-Pro.
Jan-Pro is evidently concerned that our readers will think Jan-Pro is promoting awareness of the many lawsuits from its angry franchisees.
Or that, as a public service, Jan-Pro decided to publicly promote the Federal Trade Commission's (FTC) warnings regarding janitorial & commercial cleaning  (FTC's Janitorial Franchise Buyer's Guide).
Or that Jan-Pro is itself reprinting articles on why would-be franchisees might want to steer away from commercial cleaning franchises altogether (Commercial Cleaning Franchises: 10 Reasons to NOT Buy One).
To be clear:  UnhappyFranchisee.com is not affiliated with, owned by nor funded by Jan-Pro Franchising International not its affiliate JAN-PRO.  Any resemblance is purely coincidental.
Jan-Pro Cease & Desist (Courtesy) Letter to UnhappyFranchisee.com
UnhappyFranchisee.com received the following Cease & Desist (courtesy) letter from Jan-Pro International attorney Kathryn B. Shipe via our domain registrar.  Emphasis is ours:
DBP Legal Dispute

Claim ID: 602279

Requestor First Name: Kathryn B

Requestor Last Name: Shipe

Requestor Firm: Shipe Law

Requestor Company: Jan-Pro Franchising International

Requestor Email: kitt.shipe@jan-pro.com

Requestor Phone: 678-336-1780

Complaint Nature: Trademark

Federal trademark registration number: 3529952

Additional Information: Jan-Pro Franchising International, Inc. ("JPI") and its affiliates have the JAN-PRO service mark to operate janitorial and building maintenance service businesses since 1991. Since that time, JPI has made considerable investments into the mark and has developed it into a valuable asset.

We recently became aware that your company is using the JPI mark as part of the Unhappyfranchisee website. Federal and state laws prohibit the use of another's mark that is likely to create the impression that the user is connected to or affiliated with the mark's owner. Section 43(a) of the federal Lanham Act, for example, provides that:

Any person who…uses in commerce…any word, term,name, symbol or device, or any combination thereof, or any false or misleading description of fact, or false or misleading representation of fact, which….is likely to cause confusion, or to cause mistake, or to deceive as to the affiliation, connection, or association of such person with another person, or to the origin, sponsorship, or approval of his or her goods, services, or commerical activities by another person….shall be liable in a civil actionby any person who believes that he or she is likely to be damaged by such act.

We are therefore writing this letter as a courtesy to offer your company an opportunity to avoid potential litigation by discontinuing its unlawful use of the JAN-PRO mark. In the absence of such a discontinuance, JPI will have no choice but to consider taking legal action to protect its rights.
Fair Use Protection for Bloggers Using Company Logos
You don't have to be Denny Crane to know that bloggers' rights to use company logos are protected under the Fair Use Doctrine.
Attorney and legal blogger Kevin O'Keefe states "The same protection that comes with using portions of others' content for critique and commentary, whether it be a blurb from the Wall Street Journal or a block quote from another blog, applies equally to using corporate logos."
O'Keefe quotes Boston Tech and IP Lawyer Erik Heels, an authority on fair use:
If you are writing and commenting about a company, product, or famous person, then it's a no-brainer that it's fair use to use the company's logo, product image, or headshot in your blog post.
As far as the likelihood of confusion, it may be useful to employ the "moron in a hurry" test.
Would even a "moron in a hurry" mistakenly believe that a franchise company would create and promote its own public complaint site, and never respond, answer or rebut any of the posted complaints?
(Time-starved and multitasking morons, feel free to weigh in below).
If there is any doubt that Ms. Shipe's fees may have been better spent supporting Jan-Pro franchisees, consider that the logo in question is widely distributed online (by Jan-Pro) for use by writers, bloggers and journalists.
Jan-Pro public relations experts routinely post the Jan-Pro logo on PRWeb.com and elsewhere in their efforts to encourage exposure for the Jan-Pro franchise program in periodicals and websites, with no apparent concern that those periodicals or websites might create brand "confusion."
UnhappyFranchisee.com is NOT JAN-PRO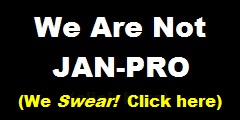 While we are not obligated to do so, UnhappyFranchisee.com has replaced the Jan-Pro logo with a graphic that links to this post and states clearly that we are NOT affiliated with Jan-Pro.  We will also place this graphic and link on any Jan-Pro related page on Unhappy Franchisee.
This will save Jan-Pro Franchising International any further related legal expense and allow them to focus on addressing the complaints posted by Jan-Pro franchisees.
Further, we would like to offer Jan-Pro Franchising International to provide a formal rebuttal, clarification or response to the allegations and complaints posted as comments on UnhappyFranchisee.com.  We will afford this statement or rebuttal the same prominence as the original JAN-PRO Franchise Complaints.
This will help clarify that the opinions voiced by the commenters are not shared by or endorsed by Jan-Pro Franchising International, Inc. ("JPI") and its affiliates have the JAN-PRO, further erasing even the remotest "likelihood of confustion."
Statements or rebuttals are welcome and can be submitted to UnhappyFranchisee[at]gmail.com.
NEXT:  JAN-PRO UnhappyFranchisee.com Responds to Jan-Pro Threat
ARE YOU FAMILIAR WITH JAN-PRO FRANCHISING INTERNATIONAL?  FEEL FREE TO SHARE A COMMENT BELOW.