MAC TOOLS Lawsuit Alleges Fraud, Labor Violations
According to a lawsuit filed by Marks & Klein, LLP, Stanley Black & Decker-owned Mac Tools tricks individuals into becoming Mac Tools distributors/franchisees, then forces them to perform repairs, process returns, and become repo men on a regular basis for no compensation.
In doing so, Mac Tools violates the Fair Labor Standards Act (FLSA) and the Minnesota Fair Labor Standards Act (MFLSA), according to the lawsuit.
The complaint, filed on behalf of Dee C. Walter, a Minnesota Mac Tools distributor of 39 years, also alleges that Mac Tools fails to comply with federal and state franchise laws.
Mac Tools has maintained that its opportunity is a "distributorship" and not a franchise.
[See Is MAC TOOLS Stanley Black & Decker Selling Illegal Franchises?]
[See  MAC TOOLS Guilty of Franchise Fraud?]
"MAC dictates… with an iron fist."
Mac Tools markets its mobile tool distributor/franchise opportunity with an emphasis on the freedom and autonomy Mac Tools provides.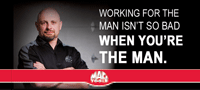 "As a franchise owner,
YOU ARE THE MAN.
" states the Mac Tools franchise ad on Franchise.com.
"No one is going to tell you to get to work or when you need to stay late."
[image, left, from Franchise.com]
But the lawsuit filed by franchise attorney Jerry Marks tells a different story.
"Mac captures its 'distributors' with false promises, then dominates, controls, and exploits them," the suit alleges.
"Mac aggressively dominates and controls the methods, details, and day-to-day business activities of the distributors to the detriment of the distributors and for the sole and exclusive purpose of inflating Mac's sales and profits…."
In sharp contrast to the freedom promised in Mac Tools franchise ads, the suit states "Mac dictates every minute of a distributor's day with an "iron fist."
"…warranty repairman for no compensation"
According to the suit, Plaintiff Dee C. Walter would have never signed up with Mac Tools if they had disclosed that he'd have to do 10-15 hours of work per week without compensation:
This lawsuit arises from Defendant's willful failure to properly compensate Plaintiff, who is a former Mac Tools distributor, for certain warranty and repair work that Defendant requires all Mac Tools distributors to perform, in violation of the Fair Labor Standards Act 29 U.S.C. § 201 et. seq. ("FLSA")…

A significant requirement that the Distributor Agreement, as well as the preceding "Disclosure Document" failed to disclose was the fact that distributors would have to perform certain repair and warranty work on broken tools purchased by Mac customers….

Mac and Stanley willfully failed to disclose any of the repair work that a distributor must perform in both the Disclosure Agreement and the Distributor Agreement. Instead of properly disclosing this additional, material and significant obligation to Plaintiff and other distributors prior to their entry into the various agreements, Mac and Stanley instead thrust these obligations on unsuspecting distributors after they have already entered into the system.

Had these burdensome obligations originally been disclosed by Defendants, plaintiff would not have entered into the various agreements and the Mac franchise system….

Mac's failure to disclose the numerous hours of warranty repair work that a distributor would have to perform each week, and Stanley failure to pay distributors a statutory mandated wage for the services performed constitutes an intentional fraud by omission and a violation of the Fair Labor Standards Act (FLSA).
The suit alleges that Mac Tools put an unfair burden on the longtime distributor:
Specifically, Mac required Plaintiff to repair or replace any broken items a customer may have had that were under warranty…

By way of example, Plaintiff was required to replace "stripped gears" in the heads of ratchet wrenches or replace defective tool chest drawer rails. Mac failed to compensate Plaintiff for the time he spent repairing this equipment…

Furthermore, Mac required Plaintiff to spend countless hours throughout each week packaging and returning broken warranty tools such as air guns, electronic diagnostic equipment, and floor jacks, without compensating Plaintiff for his time.

Additionally, Plaintiff incurred significant expenses in the hundreds of dollars on shipping charges returning warranty items to Mac, without Mac ever reimbursing Plaintiff…

Mac also required Plaintiff to spend countless hours per week repossessing equipment that Mac customers purchased directly from Mac, but could no longer afford to pay for. …

Plaintiff consistently spent between ten (10) and fifteen (15) hours a week performing these unpaid job requirements for Mac."
For violations of the Fair Labor Standards Act (FSLA) and the Minnesota Fair Labor Standards Act (MFSLA), the Plaintiff is seeking "unpaid wages, liquidated damages, attorneys' fees and costs of suit, prejudgement interest, and declaratory judgements that Plaintiff was acting as employees of Mac while performing any repair or warranty work entitling them to unpaid wages under the FSLA [and MFSLA]."
ARE YOU FAMILIAR WITH THE MAC TOOLS DISTRIBUTORSHIP OPPORTUNITY?  WHAT DO YOU THINK?  SHARE A COMMENT BELOW.
To contact the author or site admin, email UnhappyFranchisee[at]gmail.com.