JAN-PRO UnhappyFranchisee.com Responds to Jan-Pro Threat
Commercial cleaning franchise company Jan-Pro Franchising International sent a threatening email to UnhappyFranchisee.com.

(See JAN-PRO Threatens UnhappyFranchisee.com)
The letter, sent from Jan-Pro attorney Kathryn B. Shipe, alleged that UnhappyFranchisee.com was infringing of Jan-Pro's registered trademark.
UnhappyFranchisee.com's response follows:
12/27/11
Ms. Shipe:
Thanks for your "courtesy letter" regarding the single 240 x 120 pixel Jan-Pro logo that appeared on a single blog post on UnhappyFranchisee.com….
In regard to your objection to the use of the Jan-Pro logo on the UnhappyFranchisee.com website, please be advised that:
The right for bloggers and online publishers to use company logos is clearly protected under the Fair Use Doctrine.
The logo appeared on a blog post titled "JAN-PRO Franchise Complaints" that was accompanied by 600+ mostly negative comments about the Jan-Pro franchise program. If ever there were ever an "unlikelihood" of confusion, this would be it.
This logo was provided by Jan-Pro's own public relations agency for use in online and print publication. Your client provides this logo publicly in a downloadable format in order to encourage its use by writers, publishers and bloggers.
Even though continued use of the Jan-Pro logo on UnhappyFranchisee.com is fully within our rights under the Fair Use Doctrine, as a courtesy we have taken the following steps:
We have replaced the offending logo with a graphic that states "We are NOT JAN-PRO"
We have placed the "We are NOT JAN-PRO" graphic in several key places on our website, including our home page.
We have published a prominent post that includes both your Cease & Desist Courtesy Letter as well as further clarification that UnhappyFranchisee.com is not affiliated with your client, JAN-PRO.
We will publish this response letter as well, to ensure that no likelihood of confusion between UnhappyFranchisee.com and your client could possibly exist.
We invite your client, JAN-PRO, to provide a statement, clarification, rebuttal or rebuttals to any and all of the views expressed by individual commenters on UnhappyFranchisee.com. We will publish your client's rebuttal and clarification with the same or greater prominence as the views of the contains the individual commenters (whose views are not that of UnhappyFranchisee.com). Please extend this offer to your client on our behalf.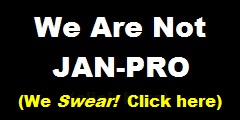 On a more philosophical note, it seems likely that an experienced attorney such as yourself would know that fair use of the Jan-Pro logo is entirely within our rights. We must assume that either 1) you believed that we are not aware of the legalities regarding freedom of speech on the Internet and thought we could be bullied, or 2) you were making contact as a first step for some further legal purpose.
Please be assured, in either event, that we are knowledgeable, resolute and outspoken when it comes to protecting the right to free speech, open discourse and transparency on the Internet. While we believe it is the right of each franchisee to share their experiences and their opinions, we also believe each franchisor has the right to dispute, rebut or disprove those opinions. We look forward to continuing to provide an open forum for both franchisees and franchisors, and hope your client will take us up on the invitation to participate in our forum.
ADMIN
UnhappyFranchisee.com
Statements or rebuttals are welcome and can be submitted to UnhappyFranchisee[at]gmail.com.
ARE YOU FAMILIAR WITH JAN-PRO FRANCHISING INTERNATIONAL?  FEEL FREE TO SHARE A COMMENT BELOW.