JAN-PRO: Is JAN-PRO Franchise a Scam?
Have you had any experience with the Jan-Pro franchise (or similar company)?  Please share a comment below.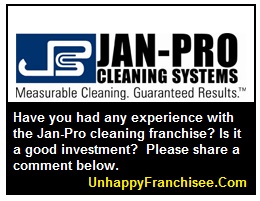 Jan-Pro is a commercial cleaning company that claims to be Entrepreneur magazine's #1 Fastest Growing Franchise in 2008 & 2009. According to Entrepreneur, there are currently more than 8100 Jan-Pro franchises in the U.S.  The franchise investment ranges from $3,300 to $54,300.
According to the Jan-Pro website, "The JAN-PRO® Franchise System is structured around the Master Franchise Concept. This concept takes advantage of a decentralized structure where each Master Franchise Owner acts as the Regional Franchisor in their exclusive market."
So, Jan-Pro "Master" franchisees sell "Unit" franchises and support the "Unit" franchisees in their territories.  "Unit Franchisees" do the actual cleaning of buildings, and are supplied with cleaning jobs from their Master.  According to JAN-PRO "Unit franchisees are assigned their first customers once they have completed training. JAN-PRO® staff will be there to provide assistance every step of the way, designing a complete work schedule and teaching how to complete each task in a proper and timely manner."
According to the JAN-PRO® website:
When you become a Unit Franchisee with JAN-PRO, you will enjoy:

–  Support from your regional master franchise office.

–  A steady income stream. You'll receive monthly income from the customers provided to you by your master franchise owner, without the expense of an accounting system and the worry of collecting the receivables.

–  The benefits of a recognized name. According to 2008 Entrepreneur Magazine, the #1 Fastest Growing Franchise overall.  Most building owners and managers prefer working with a larger company that has a good reputation, excellent references, and professional customer support and service.

–  Professional relations. Quality control, customer account inspections and customer support are provided by our specially trained technicians.

–  Unlimited growth potential. Additional customer accounts will be provided to build your business at a pace that meets your need
However, messages left by commenters alleging to be JAN-PRO unit franchisees claim that JAN-PRO Master Franchisees failed to provide the required cleaning jobs, and then refused to honor their guarantees.
Recently, Tryingtomake it wrote on ComplaintsBoard.com:
I purchased a franchise with Jan Pro. I've been with them for almost a year. My husband had to go there and threaten them to get the first account. I had to hound them for months to get the second one. They keep giving me accounts where the people are pissed off and it takes us months to get them where we want them. They still have to give me one more account and I will hound them until they do.

By the way did I mention that even after you get all your account you will sill not make enough money because you WILL have to pay someone to help with the cleaning since they seem to bid extremely low so by the time you finish paying the royalty fees and your employees, you don't have any money left to even buy yourself a soda. Personally I think its a scam. They most probably charge more to the client that what they led us to believe.
I have no one to blame but myself for not fully researching this before buying into it. Oh well live and learn. For anyone out there thinking on doing business with the Jan Pro. Think twice. One lady took the manager and pinned him to the wall (she got her money back)
krussi wrote:
we purchased a franchise a little over one year ago. We received accounts from another franchisee as you state for people who are not happy. They are suppose to fill the franchise within 120 days according to our franchise agreement or return the franchise fee. After one year we only were half full.

We decided to enforce the 120 days and gave them notice, they say they offered us enough to fill the franchise, it our word against theirs, they will not return our franchise fee. As you stated the only way to make any money is to clean them all yourself. I too think this is a scam. They did not fill our accounts but we find out that the guy taking our accounts just bought his franchise two months ago; they cannot fill ours but take someone elses money.

Has anyone else out there taken them to Court and won? There was a case in 2004 Guzman vs. Jan Pro. I spoke with Guzman's lawyer, I wish I would have researched more fully as well because Mr. Guzman had the same issues and he won. His lawyer told me to get out as fast as you can… I will pursue getting my money back, this is fraud.
WHAT DO YOU THINK? IS JAN-PRO A SCAM? DO EXPERIENCES VARY BY MASTER FRANCHISE TERRITORY? SHARE A COMMENT BELOW.
This post was originally published April 19, 2009.  Some comments were lossed due to computer error.  If you with to contact site admin, email UnhappyFranchisee[at]gmail.com.
N LYNN on April 26th, 2009 5:09 pm wrote:
We have an account we no longer wish to service – it doesn't pay enough for all the work required.
We gave them notice that we would no longer be working that account, but they say we can't quit it until they find someone to fill it. I don't think they are trying very hard.
I don't see anything about timeframes on our paperwork – how long do you think we are obligated to work this account?
guest on April 28th, 2009 11:20 am wrote:
I'm thinking about getting into this business. Can anyone comment on how well they are doing?
michael on April 29th, 2009 11:12 pm wrote:
if you need help let me know i can help i was hands on for so called jan pro
READ MORE ON JAN_PRO:
JAN-PRO Franchise Complaints  August 11, 2009
JAN-PRO: Janitorial Franchise Warning  October 14, 2009
JAN-PRO UnhappyFranchisee.com Responds to Jan-Pro Threat  December 27, 2011
JAN-PRO Threatens UnhappyFranchisee.com  December 27, 2011
Commercial Cleaning Franchises: 10 Reasons to NOT Buy One  February 25, 2010
FTC's Janitorial Franchise Buyer's Guide  October 14, 2009