JAN-PRO: Janitorial Franchise Warning
In response to an Unhappy Franchisee.com post on the Jan-Pro commercial cleaning franchise (JAN-PRO Franchise Complaints), we received the following tips from a janitorial franchise insider.  Many commercial cleaning (janitorial) work the same way (they market, bid and sell the cleaning jobs then provide them to franchisees to clean) and generate the same types of warnings.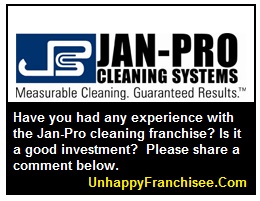 Former Jan-Pro Employee wrote:
As a former Employee of a Master Franchiser (company like Jan-Pro) I would like to say I feel your pain. I only knew of 2 franchises and worked for 1 of them. The one I worked for was not honest at all. However, they made sure they did nothing illegal. Now we're talking ethics…

They had me make franchisees sign TT's or Troubled Transfers before the franchisee (saw the building) agreed to it. Most accounts they offered were very underbid. Their commissions are based to where the sales person has no choice…also, the sales persons I delt with had no experience. I have many years of janitorial experience.

It's very sad to see people sold a dream, this is all of the money they have and the promise made to them was broken. They make promises to their employees that they broke, myself included. I know there must be Master Franchisers out there who are honest.

Remember this, do as much research as you can. This is your money!!! Tell them you want to talk to 50 franchisees before you make up your mind. Do not sign anything until you have shown the contract to a lawyer. When they say they will meet your designated business fulfillment it means 180 BUSINESS DAYS, not consecutive days!!!!!!! This is longer than 6 months!!!!! Do not agree to any account unless it meets your standards. They twist your arm and threaten you with the fact that if you deny business they are free of their obligation to give you what you paid for in 180 days this is why it is so important to know the facts before you sign!!!!! So remember to ask them if Your Master Franchiser or any representative has been cleaning this account (another franchisee) before you and were there problems that caused you to be the new cleaner.

You have the right to know how many cleaning days, how many hours they bid it at and whether or not it's a brand new account for the company. Refer to the contract before you sign it, know what your rights are. They are bound by Franchise Laws, they know them!!! You should too!

One of their bidding numbers years ago was $15 hour. So if it took 2 hours it would be $30 per cleaning. Now, you need to factor in GAS per trip, Cleaning Supplies, Franchise Fees, Insurance, Payments on the account if any, Employees + Burden if any…Suddenly, $15 isn't $15 anymore?????? You are responsible once you sign…remember that!
ARE YOU FAMILIAR WITH JAN-PRO OR OTHER COMMERCIAL CLEANING FRANCHISE OPPORTUNITIES?  SHARE A COMMENT BELOW.